Hi-tech health checks as venue plans for leisure sector restart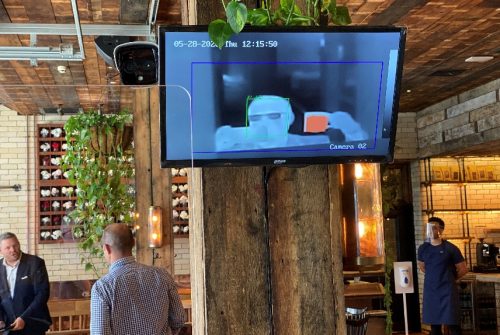 Manchester's Albert's Schloss has installed a thermal imaging camera as part of a comprehensive safety plan drawn up in preparation for the popular bar and restaurant's reopening.
The Government has indicated that bars and restaurants that meet strict health and safety rules could be eligible to reopen from early July.
The iconic Manchester venue's operator Mission Mars, which also has bars and restaurants in Liverpool, Leeds and Birmingham, believes the technology will be crucial in giving confidence to both customers and staff once the Government gives the green light to reopen.
The camera has been installed at the entrance by Bury-based technology solutions specialist Avoira.
The artificial intelligence powered technology will automatically scan the foreheads of those wanting to enter and within a second identify anyone carrying a raised body temperature.
The venue's reception staff will be immediately notified by an audio alert and a monitor sited above the bar's welcome desk.
"Whilst checking in, guests will have their temperature measured by the camera," explained Mission Mars director Neil McLeod.
"If they have an abnormal reading our staff will then discreetly ask them if there may be any reason for it. They may have rushed to meet someone, in which case we would give them five minutes, then re-test them."
Anyone with an unexplained raised body temperature will be politely denied entry and advised to seek medical advice.
Mr McLeod believes Albert's Schloss is the first of the city's bars and restaurants to deploy thermal imaging as part of its COVID-19 protocols: "I'm not aware of anyone else doing it at this stage."
This is despite former health secretary Jeremy Hunt last month joining those calling for temperature checks in restaurants and offices.
Avoira's managing director, Andrew Roberts, said: "We've seen many educational institutions already commit to this technology, but hospitality businesses have held back.
"Once the timing of reopening and the nature of remaining restrictions are confirmed we expect that to change. Its very installation so effectively communicates to customers that a business is taking their safety seriously."
Mr McLeod agreed: "Thermal imaging is a great tool that is part of a mix of actions and facilities which will promote the safety of our guests.
"It's very visual, a marker that things have changed and something that will help build confidence among our employees and guests so they can enjoy themselves."
He added that among other measures to protect staff, all employees will have their temperature checked daily: "If a staff member contracts the disease then their work colleagues will be in their bubble and will need to isolate, which could close us down again."
Mission Mars will monitor use of the technology at Albert's Schloss before deciding whether to introduce it at other venues in its portfolio.
In Manchester these include live music venues Albert Hall, The Deaf Institute and Gorilla, Trof bar in the city's Northern quarter and two Rudy's pizzeria restaurants. The company also owns Liverpool's Albert's Schenke bar and a Rudy's in Birmingham, Leeds and Liverpool.
Mission Mars has developed a highly detailed plan to manage COVID-19 risk at Albert's Schloss.
Guests will be greeted outside by a hand sanitiser-dispensing beer pump before being temperature screened.
There will be no bar service, with orders handled via a website or at the table from single-use paper menus. Furniture has also been arranged to support social distancing with toilet arrangements reconfigured to prevent congestion.
The solution chosen by Mission Mars is just one of a range of thermal detection technology bundles launched last month by Avoira.
These embrace a range of fixed, turret and hand-held thermal detection camera systems, together with a walk-through solution.
The Hikvision cameras Avoira deploys are the only ones on the market to operate as standard to within +/- 0.5 degrees Celsius.
This is in line with International Organisation for Standardisation requirement for the use of screening thermographs for human febrile temperature screening.