People on the Move: Polaris; Avison Young; Constantine Law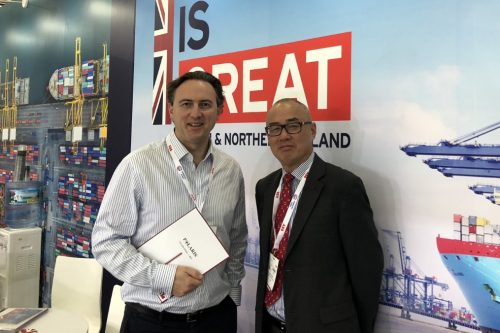 North West PR and marketing company Polaris Media has appointed Shanghai-based Chen Li Ming as its Chinese representative to support its operations in the maritime sector.
Polaris managing director Ben Pinnington said the company, which has offices in Ellesmere Port and Manchester, has appointed Chen to help give its Chinese maritime clients on-the-ground support as well as greater cultural understanding.
Chen has worked in the Chinese maritime and shipbuilding industry for 20 years and is a naval architect by profession.
Ben said: "Polaris has identified China as a key growth market as the world's biggest maritime nation.
"We saw the scale of the Chinese maritime industry when we promoted the UK pavilion at the Marintec maritime trade fair in Shanghai in December with the Society of Maritime Industries.
"And we are now working with Chinese clients and we felt we needed more in-country expertise.
"Moreover, our UK and overseas clients have also requested more help with creating awareness and opportunities in China. We've worked with Chen for some time, through the SMI, and we are pleased to welcome him to our team."
Polaris was founded in 2011 and operates mainly in the maritime, engineering, manufacturing, energy and construction industries. Maritime has become its biggest sector with clients across the UK while exports markets include China, India, Oman and Poland.
::
Shola Oso has joined Avison Young in Manchester as a senior surveyor, with a wealth of experience in the retail and office markets on both agency and client side, having previously worked at Workman, Matalan Retail, CBRE and Savills.
Shola's appointment further strengthens the management team at a crucial time, with an influx of mixed-use development projects in the region and the occupier experience during recovery from the COVID-19 pandemic being critical to the value of investor assets.
She will be working with a wide range of clients across Avison Young's North West portfolio, including the Greater Manchester Property Venture Fund (GMPVF) and Manchester City Council.
Given her previous experience working on retail, leisure and mixed-used assets for an impressive array of clients, her understanding of them and their ambitions, priorities and challenges will be invaluable in town centre regeneration design projects and mixed-use development management.
Emma Berry, director of the real estate management team, said: "We are very pleased to have been able to bring Shola on board during what is a challenging time for many businesses, including our own.
"We are fortunate to have a healthy portfolio of instructions in the region and aspire to expand this.
"We want to remain agile to respond to the evolving needs of our clients and prospects, providing expert management advice in response to new ways of both occupying and managing buildings and spaces, in light of the recent health crisis, but also changing lifestyle and workplace expectations.
"We are a people-centered business, and Shola's problem-solving and forward-thinking skills, combined with her pragmatic and open personality, are exactly what Avison Young looks for in new recruits."
Shola said: "It's certainly an unusual time for anyone to be starting a new role, but it feels like an exciting time to be joining Avison Young.
"I'm particularly looking forward to bringing my experience from client side into the team, and working alongside the forward thinkers I've already met, as well as working on the implementation of Avison Young's plans for the region."
In addition to Shola's new appointment, Jay Rutter, who was formerly a senior surveyor in the team, has been promoted to associate.
Jay was part of the team that recently retained the management contract at Manchester City Council's prestigious Royal Mills development and looks after instructions for Fiera Capital.
Alex Rothwell has also passed his APC and is well on the road to a successful real estate career. Having already been involved with management instructions for Avison Young's smaller investors, he will now be joining the team working with private equity fund managers and public corporations.
Real estate management is one of the five key growth areas for Avison Young globally.
In the UK alone, the real estate management team currently has £20bn assets under management, employing more than 250 people across 13 offices.
The team manages a wide variety of property including offices, business parks, industrial and logistics and retail, as well as mixed-use schemes and a number of high-profile assets.
::
Constantine Law, the employment law specialist firm, has recruited Will Clayton as a new partner.
Will joins from Knights, where he was an employment partner for more than four years helping regional, national and international employers with their workforce issues.
Prior to that he was a partner in the Manchester office of Hill Dickinson and Taylors Solicitors. Will began his career by qualifying as a barrister and then as a solicitor and has specialised in labour law for more than 23 years.
Will covers the full employment law remit and works closely with business owners and senior leadership teams to implement workforce changes, resolve employment disputes, ensure legal compliance and to protect their businesses and confidential information.
In particular, he specialises in injunctive relief work in the High Court, strategic workforce advice and restructuring and TUPE; dispute resolution; terminations and employee relations; director, shareholder, LLP and partnership dispute and exits and senior executive battles and settlements.
Retaining his Manchester and Cheshire base, Will joins a growing team of senior lawyers at Constantine Law, a firm set up by John Hayes in 2015 which last year recruited employment partner Alan Lewis and regulatory specialist and partner Sarah Wallace.
Managing partner, John Hayes, said: "At Constantine Law we have created a new type of law firm – one that is entrepreneurial and agile and works to a lean business model delivering a smarter, more responsive service to our clients.
"We are without the fixed costs of many firms which enables us to offer senior expert advice at extremely good value. In times like these, we believe this is even more attractive to clients.
"The coronavirus pandemic has showed that agile working is the way forward and Will's decision to join us at this time is a testament to our business model. We are delighted to welcome him to the firm. We are looking to hire further senior lawyers of his calibre and grow the business further."