Developing low carbon skills could create 33,000 jobs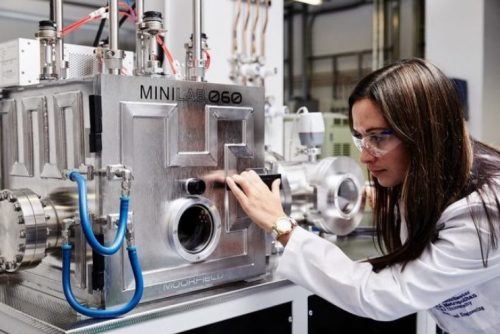 Manchester Metropolitan University will lead a new project that aims to define and develop the skills needed by the future workforce if the North West is to successfully decarbonise.
The goal is to develop the roles required by the sector and create as many as 33,000 jobs in the UK.
The university, along with partners across the region, is working to define the existing skills gaps in the sustainable energy sector and highlight where investment in infrastructure and employment is needed.
A strategy will be developed to bridge these skills gaps and outline a roadmap to a low carbon future in line with the Government's targets to have net zero carbon emissions by 2050.
Manchester Metropolitan University's Fuel Cell Innovation Centre, a technology hub specialising in harnessing renewable energy from hydrogen, is leading the project alongside the University of Chester.
They hope to utilise the expertise of academic institutions that form part of the North West Energy and Hydrogen Cluster, a team of energy industry businesses, local authorities, universities and other training providers who are collaborating to meet the challenge of decarbonising the region.
The strategy could savie 10 million tonnes of CO2 per year.
Amer Gaffar, director of the Manchester Fuel Cell Innovation Centre, said: "In order to successfully decarbonise we must deploy a range of technologies – from hydrogen power, to carbon capture storage.
"But we must also generate new job roles and skillsets.
"We can do that by attracting new talent and training up the next generation, not only getting them interested in climate action and the clean energy sector, but also educating them on the topic and giving them the skills to secure employment in the sector while they are still at school, college or university.
"We must also look to our existing and experienced workforces and how we can upskill them and get them ready for a cleaner, greener sector.
"With that in mind, the academic institutions that form part of the North West Energy and Hydrogen Cluster have an obvious and important role to play."
As part of the strategy, six academic institutions will be signing a charter committing to developing courses and rolling out qualifications and training opportunities in these areas.
Manchester Metropolitan University is leading the way with the launch in September of a new two week online course aimed at individuals who are hoping to upskill and move into the clean energy sector.
The university also works closely with schools and colleges across Europe through the HySchools project, which teaches pupils all about clean energy, specifically the role of hydrogen power and technology, which will play an integral role to successfully decarbonising the region and the UK.
Amer Gaffar added: "Hydrogen power and fuel cell technology is set to play a key part in the overall strategy to decarbonise the North West.
"While a transition towards things like electric vehicles offer obvious advantages, this solution also comes with flaws such as the need for charging infrastructure, which comes with substancial cost implications.
"This is where hydrogen as a fuel source comes in.
"Hydrogen is not only a clean energy source, with the only by-products being electricity, heat and water, but it also offers two to three times more energy than other fuel sources.
"Hydrogen-powered fuel cells also have limitless uses, with the ability to power cars, homes, whole transport networks and even national grids."
Going forward, the university hopes to use HySchools to improve the confidence of teachers in delivering lessons on the subject, creating rich learning resources, and showcasing career opportunities for young people.
Besides the North West Energy and Hydrogen Cluster, other clusters across the UK are also coming forward, including collaborations in Teesside, Humberside, Grangemouth near Falkirk in Scotland, South Wales and Southampton.
Under the Government's plans, at least one industrial cluster must decarbonise fully by 2040, with the remaining five becoming carbon neutral by 2050.
The North West is bidding to become the UK's first net zero carbon cluster under current plans.