Coronavirus business update: Latest news across the North West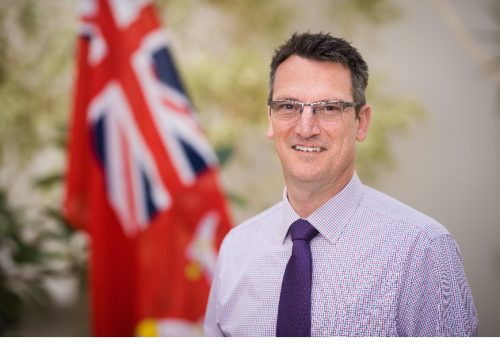 One of the world's leading flag states, the Isle of Man Ship Registry, is set to launch the first seafarer welfare app designed by a ship registry.
Isle of Man Ship Registry director Cameron Mitchell said the app is in the final stages of development and is set go live later this month.
It will be available for free to around 11,000 seafarers sailing on more than 400 vessels under the Isle of Man flag.
Cameron, who served as a marine engineer at sea for 17 years with shipping lines including Maersk and Farstad, said the introduction of the app is being accelerated to tackle the immense challenges facing seafarers caught in the coronavirus pandemic.
"Safety is a fundamental pillar of our ethos as a high-quality flag state," he said.
"Even before COVID we recognised that something had to be done that delivered tangible results to help seafarers in the wilderness of the sea.
"We recognised that while there is support for seafarers in port, through the many brilliant chaplaincies and seafarer charities, the 'weak link' is support while at sea.
"I raised it at the Red Ensign Group and with the seafarer charity ISWAN and it was clear to us that the problem of seafarer mental health was becoming more acute, with seafarers spending more time alone in their cabin than ever before.
"The app has many functions, but a key one is to provide social activities to get seafarers interacting more on-board to combat that isolation."
Cameron said the IOM team has produced the app with maritime training organisation Tapiit, which will live stream its support and training sessions via the app.
"The app provides structured welfare support for the seafarer from nutritional advice to live interactive support sessions for mental health and fitness," he said.
"The feedback we are receiving from ship owners, both clients and non-clients, is really positive. Ship owners want to find new better ways to help and protect seafarers and want to embrace digital innovation.
"We hope this app will be a step forward for the industry and make a positive difference to many thousands of seafarers sailing under the Isle of Man flag."
Cameron was introduced to Tapiit through Merseyside cluster organisation Mersey Maritime.
Richard Turner, chief executive of Tapiit, which has offices in Liverpool and the Isle of Man, said: "From my time working at Shell and setting up Tapiit, mental health, in particular, has always been the key problem area we have sought to tackle, so we are very much on the same wavelength as the IOM.
"When it goes live it will be the most comprehensive crew welfare app in the world."
::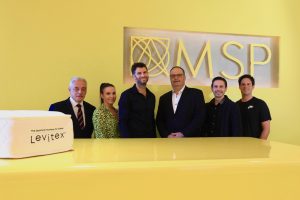 A Manchester-based start-up has taken delivery of new stock for the first time since the coronavirus pandemic hit after lending its support to hospitals across the North West over the past three months.
Levitex, based at Manchester Science Park, is hoping to get its growth plans back on track after COVID-19 put the brakes on the official launch of its 'gravity defying' pillows, which contain a unique type of foam technology.
The pillows have been created following a series of clinical trials and are specially designed to improve posture during sleep, easing neck and back pain.
Levitex medical director, Dr Ilan Lieberman, a pain management specialist, returned to the NHS frontline as part of the team at the intensive care unit (ICU) at Wythenshawe Hospital in April to help in the fight against COVID-19.
During that time, more than 200 Levitex pillows were also donated to local hospitals, including Manchester Children's Hospital, North Manchester General, Wythenshawe Hospital, Salford Royal, and Lancashire Teaching Hospital in Preston, to aid patients in their recovery from the virus.
Despite lockdown putting a halt on businesses across the country, Levitex is now preparing to distribute its range of pillows to customers for the first time since its successful Kickstarter campaign in October 2019.
Levitex founder and chief executive, James Leinhardt, said: "COVID-19 has presented new challenges for all businesses, but I'm so proud of our team to have battled through this period whilst doing everything we could to help those in Manchester and the wider North West suffering with the virus.
"I've spent most of my career working with NHS trusts, care homes and local authorities across the country and that's why I wanted to create a product that would genuinely help people. Good sleep posture is so important, and we've taken a scientific approach to everything in order to create a product that helps reduce things like neck pain and back ache."
::
Business rates experts at Colliers International are urging the Government to revisit its grant scheme for businesses – set up to help with the financial impact of the COVID-19 pandemic – and to consider redeploying some of the funds to help those businesses and the three million workers so far "excluded" from receiving any government financial help.
According to latest government figures, of the £12.33bn originally allocated to local authorities to pay to businesses via the Small Business Grants Fund (SBGF) and Retail, Hospitality and Leisure Grants Fund (RHLGF) some £10.65bn, or just over 86%, has been paid out, leaving £1.7bn still undistributed to businesses.
In the North West alone there are £160.5m of outstanding grant payments still to be distributed, which is nearly 10% of the region's initial allocation of just over £1.64bn, despite the fund being set up 15 weeks ago on March 23. Several local authorities have still not distributed millions of pounds.
Liverpool City Council has paid out £94.5m (88%) of its £107.8m allocation
Cheshire East has allocated £82m (86%) of its £95.5m allocation
Manchester City Council has paid out £96.4m (79.7%) of its £121m allocation
Wigan Council has paid out £59.5m (74%) of its £80.9m allocation.
Blackpool has paid out £43.6m (74%) of its £59.1m allocation
John Webber, head of business rates at Colliers International, said: "I find it incredible that £1.7bn of the Government's grant scheme has still not been distributed to businesses, despite the scheme being set up four-and-a-half months ago. And this seems to be the pattern across the country.
"The North West region is not an exception. Manchester City Council alone, for example still has £24.6m of allocated funds still not distributed all this time later.
"One could conclude that this is because either certain local authorities have been too short staffed or inefficient in handing out much needed grants, or, and what is probably more likely, state aid rules are stopping some businesses who have multiple properties from accessing all the grants.
"This might, particularly, apply to multiple store retailers. If this is the case, then there will still be some funds going begging."
He added: "We have a bizarre scenario where, on one hand, we have three million workers and businesses 'excluded' from receiving government help in terms of grants, or the discretionary fund, many of which may soon be pulling the plug on their companies.
"And on the other hand we have £1.7bn of English grant money sitting there and not claimed after four-and-a-half months. Perhaps it would be sensible to conclude that if, after 15 weeks, a number of businesses still have not claimed funds, it probably means the grant allocated is very unlikely to be used.
"The Government might consider clawing back any grant monies not distributed by certain local authorities to use in those areas where businesses do need greater support."