Combined Authority approves £17m funding boost for Littlewoods Studios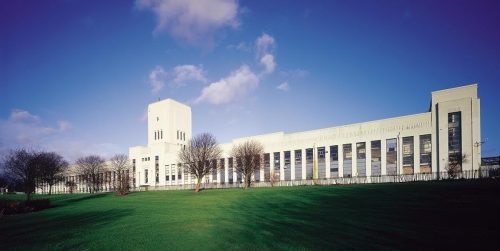 Littlewoods Studios has taken a major step forward with a £17m funding commitment from the Liverpool City Region Combined Authority's Strategic Investment Fund today (July 31).
With the project identified as a key component of LCR's £8.8bn 'Building Back Better' economic recovery plan published last week, the funding comes via the Government's Getting Building Fund, allocated by the combined authority.
This initial tranche of £11m forms part of a package potentially worth an overall £17m.
The funding also comes just days after the Government announced a £500m insurance fund to kick-start the UK's TV and film industry, which has been stalled by the COVID-19 pandemic.
The ambitious £54m regeneration project will transform the iconic Littlewoods Building on Edge Lane into the new home for the big and small screen.
Having lain derelict for years the building is set to become a world-class film and television complex with the UK's oldest film studios, Twickenham, already signed up as the anchor tenant.
The plans were put in jeopardy in September 2018 when the Art Deco building was ravaged by fire.
At one point nine fire engines and three platform ladder units were on the scene tackling the blaze.
However, a structural engineer from Liverpool City Council assessed the building and had no concerns over its structural integrity.
Working in partnership to deliver the project, Liverpool City Council own the freehold of the building with Capital&Centric owning the long lease.
Part of the funding will be used by the council to deliver temporary 'pop up' studios to be built on land neighbouring Littlewoods.
Scheduled to be operational by the end of the year, these studios will capitalise on current demand for studio space and will enable the city region to begin to reap the economic benefits of purpose-built studio space, in advance of the main development by Capital&Centric.
Liverpool is the most filmed city outside of London, with 1,750 film days recorded in 2019 involving 324 productions including Sky Atlantic's Tin Star and Netflix UK's The Irregulars.
Liverpool Film Office, the oldest in the UK, is currently administering a £2m production fund to attract more filming in the city region and this week has welcomed back the start of a number of productions.
Steve Rotheram, Metro Mayor of the Liverpool City Region, said: "Our region has a longstanding role as the country's cultural capital and the development of Littlewoods Studios is central to ensuring that we remain that way in the future.
"Given the economic impact that coronavirus has had on our region, establishing ourselves as an international hub for film and TV with world class facilities will be a really important string to our bow.
"We have seen our region's streets become a key location for filming in recent years, but now we will be able to capitalise on our pre-eminent position as a worldwide destination offering the whole creative package, driving thousands more jobs and generating millions of pounds for the local economy."
Joe Anderson, Mayor of Liverpool, said: "Littlewoods Studios is a hugely exciting regeneration project and this funding will ensure we can deliver the studios for the people of Liverpool.
"With streaming services like Netflix booming during lockdown, there's going to be more demand than ever for studio space.
"While Liverpool has a blossoming digital and film industry, we want to capitalise on filming opportunities and the economic benefits they bring.
"Littlewoods Studios is going to change all that, providing Hollywood-standard facilities that will complete our world-class offer."
Adam Higgins, co-founder of developer Capital&Centric, said: "This funding just goes to show what a huge opportunity Littlewoods Studios is.
"Not only is it a key project within the Liverpool City Region's economic recovery plan, it will deliver long lasting regeneration impacts for generations to come.
"A project of this scale was always going to be a challenge, but despite the impact of the fire, we've had the full support of the city council and combined authority.
"We know people have been frustrated that things haven't moved more quickly, but we've all been working really hard behind the scenes and with this funding in place we're going to do everything we can to get on site before the end of the year."
Lynn Saunders, head of Liverpool Film Office and LCR Production Fund Manager, said: "Liverpool needs permanent sound studios to fully maximise the potential of our region's film and TV sector. The Littlewoods project is key and when delivered will be an important part of the region's economic recovery."
In its heyday Littlewoods employed thousands of people with the local area feeling the impact when its largest employer closed.
The new studios is set to help to regenerate the local area, create jobs and drive investment.
According to economic experts Ekosgen, Littlewoods Studios will support up to 3,650 jobs and result in an annual boost of £199m (GVA) to the local economy.
Anchor tenant Twickenham Studios recently reaffirmed its commitment to the project, following news that it is expanding with a £50m investment supporting projects across the UK, including its new 85,000 sq ft campus at Littlewoods.
World-renowned Twickenham Studios is famous for its work on movies such as the Oscar winning Bohemian Rhapsody, Blade Runner, The Italian Job, Gandhi and, more recently, The Martian and Baby Driver.
Jeremy Rainbird, at Twickenham, said: "We are delighted to be working alongside Liverpool City Council, the Liverpool City Region Combined Authority and Capital&Centric in the delivery of this landmark scheme.
"Indeed, this is a key strategic opportunity for our parent company Time+Space Studios in its evolution to curate the largest independent family of studios and creative communities in the country."