Private equity firm injects further £2m into Rossendale drugs industry specialist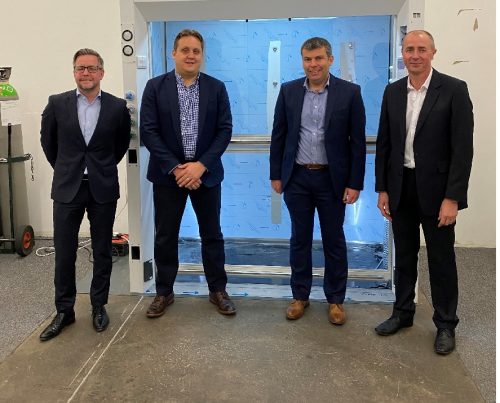 Foresight Group has invested a further £2m follow-on investment into Rossendale-based Envair Technology.
The company is a provider of containment solutions that facilitates faster and more flexible drug R&D and manufacture across the globe.
The investment will support the acquisition of Leigh-based Total Containment Solutions (TCS), a designer and manufacturer of high specification pharmaceutical fume cupboards, increasing the company's product portfolio as it supports customers in the pharmaceutical, bio-pharmaceutical, healthcare and industrial markets.
The transaction will enable the company to engage with customers further up the drug development and manufacturing value chain.
Envair Technology today supports the safe manufacture of therapeutics, while TCS is focused on supporting pharmaceutical clients to operate R&D laboratories safely and efficiently.
The business is particularly focused on drug development and manufacture involving high-potency active pharmaceutical ingredients (APIs), such as oncology treatments, protecting workers as well as preventing stock contamination with its best-in-class technology.
The company is experiencing rapid expansion while having a positive social impact.
For example, throughout the COVID-19 pandemic, it worked closely with research and medical facilities to build products that protected key-workers and accelerated the quest for a vaccine.
Foresight's investment realises value for TCS's shareholders, with the management team joining forces with Envair Technology.
Envair managing director, Gary Bagshaw, said: "It is just one year since Envair combined with ONFAB to create Envair Technology.
"In that time, we have continued to grow and thrive, whilst maintaining our levels of customer service and fully seeing the benefits associated with the integration of the two businesses.
"This acquisition further widens our product offering and flexibility to respond to client needs and, as such, we welcome Dave McCabe and the TCS team to Envair Technology and look forward to accelerating our combined growth story.
"With Foresight leading this acquisition, the Envair Technology team has been given the freedom to continue to operate the existing group businesses, with the deal process having a minimal impact, whilst progressing smoothly and efficiently."
Dave McCabe, TCS managing director, said: "TCS has gone from strength to strength over 15 very successful years and we've established ourselves as the market leader in the fume cupboard market with blue chip customers across pharmaceutical, commercial and education sectors.
"Joining Envair Technology will bring significant benefits for all shareholders as we combine our expertise across the laboratory containment market.
"The combination of TCS and Envair Technology will allow us to expand to wider markets and serve customers even better. Throughout the investment process it has been a pleasure to work with the Foresight and Envair Technology teams."
Chris Wardle, director at Foresight, said: "Envair Technology provides systems and services that allow drug discovery and manufacture to happen quickly and safely, something that is increasingly important as the global market becomes more integrated and therapies more customised.
"The market is growing rapidly and with leading technology, the company is quickly capturing market share and winning new customers.
"The TCS acquisition grows the product portfolio and increases the group's contact with high-value customers.
"It also provides supply chain security and synergies, which will improve both customer service and margins. We are excited to be joined by Dave, Ian and the team on the journey."