Coronavirus business update: Latest news across the North West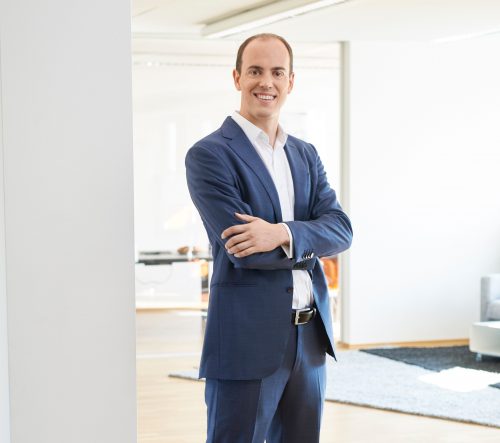 European identity verification provider, IDnow is reporting substantial growth across its global operations as COVID-19 accelerates the need for digital processes.
The German company opened a Manchester office earlier this year as part of its global expansion.
Compared with the first half of 2019, 2020 figures reveal transactions across all IDnow's products – AutoIdent, VideoIdent and eSign – have increased 59%, while order intakes over the same period have risen by 358%.
Specifically, transactions via IDnow AutoIdent have grown tenfold, with an increase of more than 1,000% in the number of transactions recorded between January and June 2020.
Following its launch into the UK the company has secured big brands including Allied Irish Bank, UBS and BP.
The firm provides AI-based technology that can check all security features on ID documents. Its hybrid approach combines humans and technology to ensure a safe and efficient process for clients and their customers.
Armin Bauer, CTO and co-founder, said: "COVID-19 has really brought into focus the need for enhanced safety measures when it comes to identity.
"Cyber crime is on the rise in line with the increased use of online transactions, so firms must be confident they have an effective and robust safety system in place to reduce the risk of identity fraud for their business and their customers.
"Our latest figures show businesses across the world are taking this risk seriously as they seek ways to embed stringent security without impacting on the customer journey or onboarding process."
The latest predictions from Cybersecurity Ventures suggest the damage from internet fraud will amount to $6 trillion worldwide in 2021, making it one of the fastest growing crimes globally. IDnow provides AI-based technology enabling the identities of more than seven billion customers from 193 different countries to be verified.
::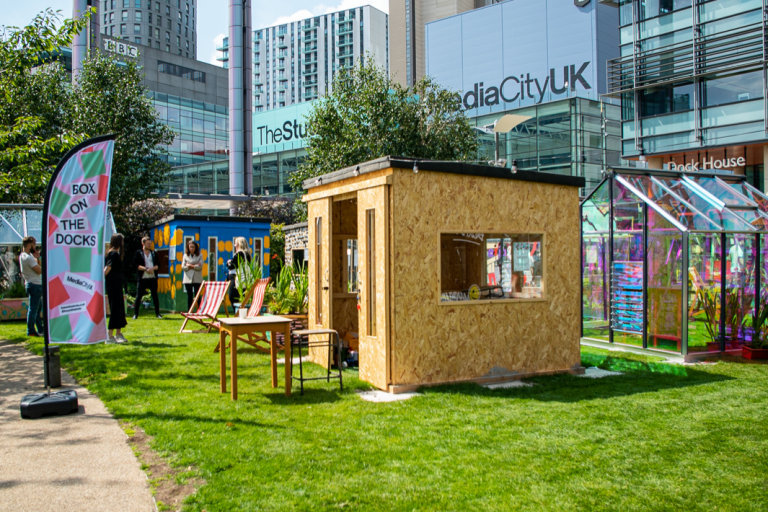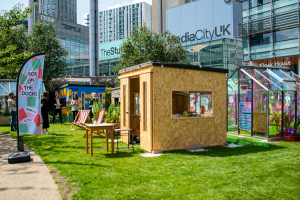 North West diners have a unique new dining experience this Summer, as Altrincham-based commercial fitout company Consensus Workspace has worked with Wayne Hemingway and MediaCityUK to install 'Box on the Docks', a series of 30 bespoke outdoor constructions for local hospitality providers in the Salford community.
Each box will provide additional outside space for eating and drinking and has been decorated by an independent artist, with designs including neon light installations and murals, sound projections and poetry.
Consensus was approached by MediaCityUK and Peel to supply and fit the structures once Hemingway Design's proposals were approved and worked quickly to install the structures safely and securely for launch at the end of July.
Andy Plastow, Consensus Workspace managing director, said: "The high winds at MediaCity meant that off-the-shelf structures were not an option. We worked with Elite Greenhouses to create specially strengthened glass booths and built extra strong sheds for the boxes, as they needed to be robust enough for the location while still staying true to the initial designs and providing a fun dining experience for all."
Stephen Wild, managing director at MediaCityUK, said: "We know the hospitality and creative industries have been among the hardest hit by the impact of COVID-19, and 'Box on the Docks' is our way of helping them back on their feet.
"Box on the Docks is the first in a series of initiatives, which will see us partnering with our key occupiers and the wider cultural community to deliver exciting outdoor activities during these uniquely challenging times."
Wayne Hemingway, co-founder of HemingwayDesign said: "We are 'glass half full' and after all these months of lockdown we are keen to emerge having fun – safely of course – and support both local creative practitioners as well as the cafés and restaurants who have been shut down for all these months.
"Box on the Docks delivers on all these and gives people a welcome dash of serendipity. It was a quick turnaround and Consensus Workspace were brilliant at getting the structures created quickly so that our artists could get to work."
::
YUDU, a software company specialising in digital publishing and crisis communications, has secured a £300.000 loan from Rosebud, a fund managed by GC Business Finance, to accelerate the growth of its flagship product, Sentinel.
Sentinel is a crisis management platform that improves operational resilience by enabling mass notification alerts, document sharing, communications via chat channels and instant conference calls.
Clitheroe-based YUDU has already used the loan from Rosebud to expand Sentinel's development team and recruit marketing experts to promote the product more effectively.
The funding has also helped YUDU to launch Sentinel Check-in, a new track and trace solution for pubs.
To compensate for a shortfall in sales due to the COVID-19 pandemic and ensure that the Rosebud loan is ringfenced to support Sentinel's growth, GC Business Finance has also delivered a £100,000 loan to YUDU under the Coronavirus Business Interruption Loan Scheme (CBILS).
Rosebud provides business finance to growing businesses in Lancashire County Council's administration area, backed by Lancashire County Developments Limited.
YUDU chief executive, Richard Stephenson, said: "After launching Sentinel we quickly recognised that we needed financial support to build on its early success. We sought a partner that recognised our position in the market, offered suitable rates and could support us through the coronavirus pandemic.
"GC Business Finance took the time to understand our strategy and make appropriate recommendations, enabling us to focus on growing the business. The finance from Rosebud has already helped us to launch a new track and trace solution for pubs, while the CBILS loan has ensured that we can remain agile and respond to market conditions under COVID-19."
Matt Robinson, fund manager at Rosebud, said: "As a leading software company with a fast-growing product, YUDU was the perfect fit for a Rosebud loan.
"The funds, together with the CBILS loan, have supported YUDU to maintain growth momentum, and will deliver a significant boost to Lancashire's local economy at a time of market uncertainty due to COVID-19."