Scottish group expands with move to North West offices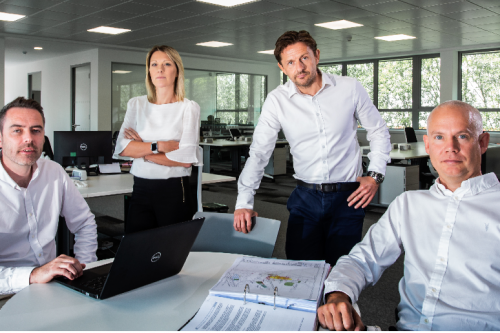 Principal contractor and specialist trade experts, Linear Group has launched its main contracting arm, Linear DC, into the North of England, less than 18 months since the business was established in Scotland.
The business, which has announced several new additions to its workforce, will be working out of new offices in Altrincham.
Headed by newly-appointed managing director for England, Dan Hooker, the new business will extend the group's footprint and capability in the region by focusing on a commitment to delivering excellence through collaboration.
Dan, previously of Laing O'Rourke, Morgan Sindall and Overbury, brings more than 27 years' experience in construction, covering multi-sector projects across the North of England.
In addition, Andy Ineson joins the team as contract manager, following several years with ISG and Overbury, and more than 24 years' construction experience.
Two further additions to the new team are Angela Eckersley, group planning manager, and Matt Hurley, who takes up the role of senior project manager.
Stephen Holmes, Linear Group chief executive, said: "Following the success of Linear Design and Construct in Scotland, we felt it was time to spread our wings and expand our main contracting footprint into the North of England, where we have been successfully operating Linear Projects since 2008.
"Dan, Andy, Angela and Matt bring impressive experience and credentials to bolster our main contracting capability, and also strengthen our offer and presence in and around the region.
"I am delighted to welcome them to the group and look forward to working with them to optimise the potential of our collective offer and drive success as we push our ambitions forward."
Dan Hooker said: "I am delighted to be part of the team at Linear and massively excited by the ambition which drives the group.
"Having worked in the region for many years, I truly feel there is a real opportunity for Linear DC to make its mark and add value to clients across the diverse sectors operating here.
"I am looking forward to seeing where we can take the Linear name and bringing further success to the group's impressive 27 year track record."
Linear Group, including LDC Manchester, has also recently secured several new projects.