Airports boss rails against government travel restrictions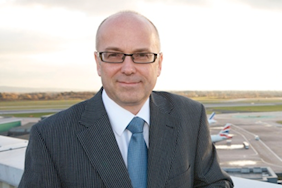 The boss of Manchester Airports Group (MAG) has criticised the Government's blanket travel ban imposed at short notice on UK holidaymakers.
People returning from Spain must quarantine for two weeks after a rise in coronavirus infections there, and, most recently, the Government has now imposed similar measures affecting travel from France, Monaco, the Netherlands, Malta, Turks and Caicos, and Aruba, effective from Saturday, August 15.
The new measures sparked panic among UK holidaymakers desperate to avoid being forced into a two week lockdown on their return to Britain.
There were also sharp increases on ticket prices for return travel as people hastily tried to re-book tickets to avoid the Saturday deadline.
Tim Alderslade, chief executive of Airlines UK, the industry association representing UK-registered carriers, said: "It's another devastating blow to the travel industry already reeling from the worst crisis in its history."
And bosses at MAG, which includes Manchester, East Midlands and Stansted airports, echoed his concerns, today.
MAG chief executive, Charlie Cornish, said: "We fully support swift and decisive action to restrict travel to overseas regions that are experiencing increases in infection rates.
"But the Government should act with the same urgency to enable travel to places where rates have fallen to acceptable levels, or that already present a low risk to holidaymakers.
"Current restrictions have blocked travel to the vast majority of the most popular destinations British travellers fly to each Summer.
"That includes the likes of the Canary Islands, with infection rates a fraction of those seen in mainland Spain, and places like Portugal, where rates have fallen consistently for a number of weeks.
"The Government has failed to appreciate the importance of access to these low-risk destinations to the British public, and to the long-term prospects of the aviation industry."
He added: "Meanwhile, we have seen other countries, such as Germany, move quickly to develop flexible and risk-based approaches to international travel restrictions and the development of testing regimes.
"Aside from impacting the Summer holiday plans of millions of people, jobs – and the wider recovery of the travel and tourism sector – are being put at risk by the approach currently being adopted by the UK."
Meanwhile, weekend reports claim that MAG has appealed to HM Revenue & Customs to waive £30m of business rates following the Treasury's decision to ignore a plea for financial aid from the aviation industry.