Manufacturers embrace opportunities of industry 4.0
X

Register for free to receive latest news stories direct to your inbox
Register
The UK's advanced manufacturing sector is heading into a period of new opportunities as well as big challenges, but it can maintain its world-class status.
That was the consensus of a panel of manufacturing experts who shared their thoughts on how the sector can thrive in the years ahead.
It was the first in a series of three Manufacturing the Recovery webinars that are being held by TheBusinessDesk.com and law firm Freeths.
Prof David Bailey, professor of business economics at Birmingham Business School, said: "We're entering the fourth industrial revolution. Industry 4.0 will transform our whole economy, actually, in terms of automation, use of sensors, drones, artificial intelligence and much more.
"That opens up potentially big challenges, but also whole new opportunities [and] completely new markets will be created.
"A lot of jobs will be destroyed – and new ones created. We have got to train and retrain our workers throughout their lives."
Freeths partner James Berry said the changes are bringing about "exciting" opportunities for the sector and makes reshoring a genuine option for many.
"Over the years, some clients have seen work and business lost to the Far East," he said.
"Now I think there's a real sense that actually we can compete, we should be looking to compete and, by really embracing Industry 4.0, that we can continue to be world class."
Maintaining the UK's world-class status will depend on long-term collaboration and innovation.
Jacobs CMS-I has just launched a new research facility in Cumbria that will focus on innovative solutions to nuclear decommissioning challenges.
It will support the supply chain in the region that supports the work at Sellafield and in the wider UK nuclear industry.
John Maddison, director of engineering development at Jacobs Critical Mission Solutions International, said: "We in the UK have an opportunity to lead and to do that we need to embrace innovation, automation and digitisation.
"But that opportunity is real now and over the next 10-20 years, and that's exciting."
Manufacturers of all sizes can transform their businesses through the use of automation and other industry 4.0 techniques.
Jason Aldridge, managing director of Arrowsmith Engineering, part of AS.G Group, is hugely positive about the difference it has made to his business.
"When we bought in our first cobot I was absolutely amazed at the difference it made and the productivity increase we saw," he said.
"It didn't lose jobs, it created more – we got more productive and it allowed us to win more work.
"Automation and digitalisation could give us that leap that British manufacturing – certainly the supply chain – needs, and I can just see it absolutely transforming us."
---
Replay the Manufacturing the Recovery webinar:
---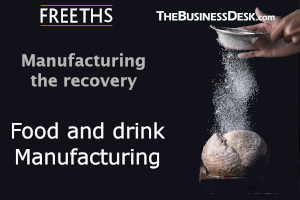 The next webinar in the Manufacturing the Recovery series is focused on the food and drink sector and is taking place on Tuesday, September 8.