Pet project proves a winner for former reality TV star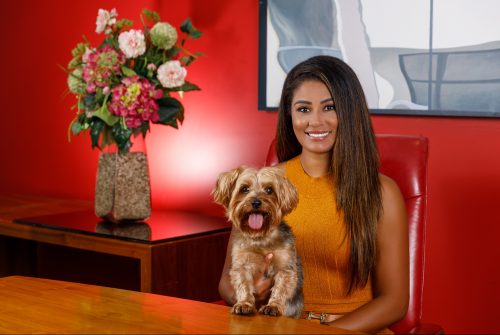 Former model and reality TV star Layla Flaherty has switched the celebrity spotlight to her four-legged clients, running one of the UK's most in-demand animal agencies.
Five years ago, fed up of the fake party lifestyle, the former Desperate Scousewives star decided to combine the three things she knew and loved best – modelling, TV and animals – to launch her own business.
Today, her Urban Paws UK venture operates from Manchester and London, as well as a Liverpool studio, and is the go-to animal agency for luxury brands and leading high street names wanting to add anything from cats to camels to their campaigns.
Retailers including John Lewis, IKEA and Aldi have all featured Urban Paws animals in commercials and her pet supermodels have 'walked' for high fashion labels like Tom Ford, Burberry, Gucci and Stella McCartney.
They've appeared in videos for chart megastars Rihanna and Little Mix, as well as in theatre and films where they're given their own chill-out green room to relax in between takes.
Layla also has a roster of animal social media influencers who can command five-figure sums to post a photo of themselves posing with the latest product or living a dream lifestyle by the pool of a new luxury hotel.
And, armed with their pet passports, her A-list clients jet off across Europe on assignments, with their lucky owners as chaperones.
She said: "I spent a year training, and creating a business plan before I launched Urban Paws and originally I thought it would be small and local at first and then maybe by about year four I could aim to get to well-known pet brands like Pedigree Chum.
"But after year one it just took off and it was blue chip company after blue chip company and we went international straight away."
After starting off using mostly cats and dogs belonging to friends for photographic work, Urban Paws now has not just models on its books – including top dogs considered to be the Kate Moss and the Cara Delavigne of the canine world – but an extensive list of actors, influencers, bloggers and vloggers.
With companies always looking for fresh, quirky ways to make their brand stand out, the demand for animals has never been higher.
Their humans, too, are seeing the growing opportunities for their pets to become an often highly-lucrative business, and Layla is contacted every day by ambitious owners asking her advice on how they can make their furry – and not-so-furry – friends famous.
It's not just pooches and moggies which are stealing the limelight, either.
Urban Paws has a whole range of animals available for bookings including birds, snakes, rabbits, pigs, hedgehogs and camels.
Chickens, too, are the unlikely superstars of pet modelling – one of Layla's most sought-after chickens appeared in a Gucci campaign alongside One Direction star Harry Styles.
She says some clients know exactly the animal they're looking for, but others rely on her expertise to find the right one for the job.
"Often we'll get a phone call saying, 'we're shooting a new sofa advert, this is what the dad, the mum and the kids look like, what do you suggest?'
"Then it's up to us to look at everything from the design of the set and the colour of the sofa to the age of the kids, and decide what will work best.
"The business now has a worldwide reach, so if a company is launching a product and they want it to be promoted in Europe and the US, we can place it with our influencers," said Layla.
"For instance, we could offer them two dogs from the UK, two from France, two from Germany and two from the US, all posting the same kind of content on their social media accounts.
"That way the client gets a worldwide campaign which has a potentially huge reach because some of our biggest influencers have followers into the millions."
Layla believes animals are becoming more influential, especially in advertising, because they don't divide opinion in the way a lot of human celebrities do.
"You can have someone who has a lot of followers, but for every fan who loves them, there'll be as many people who don't," she explains.
"People are more likely to pay attention to what an animal has to say, even if obviously it's the owner saying it for them, because they just love animals. You get that emotional connection with them.
"It might seem odd that an animal has millions of followers, but I think a lot of people are just mesmerised by the lives that they lead.
"They get to travel, to go to film premieres and to have this extraordinary lifestyle and there's just something fascinating about that. It's not even a jealousy thing, it's just a 'wow'."
It's rare these days for a campaign not to feature some kind of animal, even if it's a subtle appearance, and some of Layla's biggest clients now have a CV that any model would be thrilled with.
"Most models couldn't even imagine working for the kind of brands that our animals do, especially the high fashion ones.
"I was in the industry for years before I started Urban Paws and I certainly didn't, and some of the owners say for years they went to castings and never succeeded.
"Now their animals are famous wherever they go, they get invited to all the biggest celebrity events and they're in magazines and on TV. They're living that dream through their pets."