New £3m assembly centre will help manufacturer's export ambitions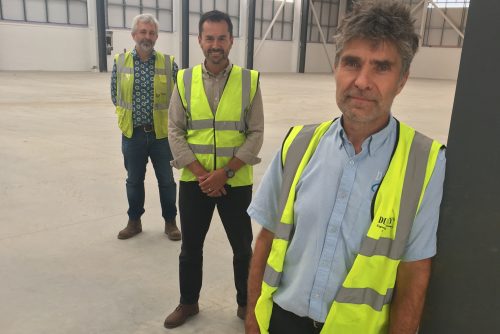 Rochdale manufacturer Dunphy Combustion is focused on growth with the opening of a new £3m assembly centre.
The family-owned business, which specialises in the design, manufacture, installation and maintenance of combustion equipment and boiler rooms across the world, described construction of the 35,000 sq ft unit as a "landmark day" in its 56-year history.
The two-bay industrial unit was built by Heywood-based PLP Construction while the four 60-tonne cranes were supplied by another Rochdale business in Granada Material Handling.
Eddie Kuligowski, operations director at Dunphy, said the company had been "bulging at the seams" until construction of the new assembly centre.
"Previously we'd had a fabrications centre and assembly area under one roof," he said.
"The R&D facility completed in 2015 has allowed us to expand the bio energy centre side of the business. This new centre will allow us to double our capacity.
"Until now we've had to turn down work. There's nothing worse than taking an order and not being able to deliver it, so we turned work down.
"Around 50% of our work goes to export and this opens up new markets for us. This is a long-term investment for us."
Dunphy employs 110 people and has an annual turnover of £14m. Customers include Shell and Rolls-Royce. The new building is expected to be open in October.
Kuligowski said he was delighted to have been able to use two other Rochdale companies in the project.
"Like us, PLP Construction and Granada Material Handling are long-established Rochdale businesses."
Laurie Bradley is construction director of PLP Construction, which employs 45 people and has a £15m turnover. He said: "As a local business it's great to be involved in schemes like this in Rochdale."
Richard Lewis is the sales engineer at Granada Material Handling, which designs, manufactures and installs heavy duty lifting equipment. The company is 40 years old, employs 90 people and has a £20m turnover.
He said: "We've installed four 60 tonne cranes into the new Dunphy building across two bays. The cranes work in tandem so can lift as much as 120 tonnes.
"The cranes were only manufactured a mile away so it's fantastic that something as impressive as this can be delivered 100% by Rochdale businesses."