Coronavirus business update: Latest news across the North West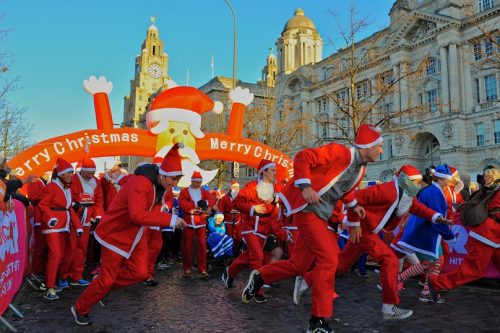 One of Merseyside's most popular public events is the latest casualty of the coronavirus pandemic – with this year's Liverpool Santa Dash being brought to a halt.
Highly regarded as the city's kick-start to Christmas, this year's event would have marked the 17th consecutive year of the festive fun run.
However, it is with great regret that organisers, BTR Liverpool, announce the Santa Dash 2020 will not be taking place in its usual format this year due to the ongoing global pandemic and strict social distancing guidelines.
The news will come as a huge disappointment to the thousands of Santas – young and old alike – who take part in the UK's biggest festive 5K fun run.
The run was created by BTR race director, Alan Rothwell, and was first staged in 2004. A separate 1K Mini Dash for under 12s was added in 2007, and blue Santa suits were introduced to cater for Everton fans three years later.
However, BTR says this year's run is not possible due to the large number of participants, volunteers, event support teams, and staff members who cannot be guaranteed a COVID-safe environment.
But the team has come up with a plan for 2020 to still enable eager dashing Santas to get their festive fix.
Alan Rothwell said: "Due to the size and scale of the Liverpool Santa Dash, it is impossible to host event with social distancing restrictions in place. Although we are only in September, we have made the decision early so we can inform people as soon as possible about the changes for this year.
"Not being able to host the event in its usual energetic and exciting format is hugely disappointing – the sea of red and blue Santas dashing round the city is quite spectacular. The event is a real highlight of the year, both for participants and the BTR team, but we are living in unprecedented times.
"However, given the growing popularity in virtual running and the absence of live running events – to ensure our dashing Santas still get their festive fix, we are making the BTR Liverpool Santa Dash virtual for 2020.
"The event will raise funds for eight fantastic charities who need a boost right now, and we're encouraging participants to complete their 5K festive fun run and enjoy Santa Dash day in their own way."
The Liverpool Santa Dash goes virtual on Sunday, December 6, 2020, allowing Santas to still pull on their running shoes, dash socially-distanced with a small group of friends, enjoy a festive fun run experience wherever they are located and still earn the bespoke Santa Dash medal.
The eight charities to benefit from this year's event are Alder Hey Children's Charity, Claire House Children's Hospice, Clatterbridge Cancer Charity, North West Air Ambulance, North West Cancer Research, Roy Castle Lung Cancer Foundation, Wirral Hospice St John's, and Zoe's Place Baby Hospice.
::
As part of its commitment to caring for the nation during the COVID-19 pandemic, hand hygiene brand Carex, made by Manchester-based PZ Cussons, has launched a 'buy one, donate one' charity promotion to help people stay safe, particularly as they return to work and school.
The 'buy one, donate one' campaign will mean that for every Carex 250ml refill bottle purchased between September 2, and October 14, Carex will donate one 250ml bottle of hand wash to In Kind Direct – up to a maximum of 500,000 donations – and 10p to Macmillan Cancer Support. The promotion will run across participating UK stores including Tesco and Morrison's.
The latest initiative further builds on Carex's support for charities, key workers and vulnerable communities across the UK during the pandemic.
To date, the company has donated more than 500,000 bottles of Carex hand wash and hand sanitiser to charities and vulnerable groups, including Macmillan Cancer Support, Age UK, the NHS and thousands of charities via In Kind Direct.
Neill Craigie, managing director Europe-Carex, said: "Carex is committed to helping those in need during the pandemic and keeping people safe and healthy. Our 'buy one, donate one' campaign means we can continue to provide essential support to our charity partners who have worked tirelessly throughout the crisis."
::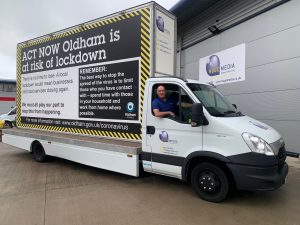 A Liverpool business is working with public health chiefs to push the social distancing message in COVID-19 hotspots across the North West.
Huge Media Advertising's growing fleet of mobile billboards are seen as ideal for reaching target audiences in areas where infection rates have spiked.
They have been used to encourage social distancing in Oldham, Pendle, Calderdale and Leicester, notably on GCSE results day when teenagers traditionally gather together.
The billboards are normally used to advertise the products, services and events of private and public companies.
Managing director, Neil Richards, said the ad-vans have proved an ideal way of taking the social distancing message into communities because of their mobility and agility.
He said: "Because our ad-vans are mobile, with two 6mx3m poster sides and a large rear panel, this gives over 40 sq metres of advertising space.
"Advertising can be targeted towards a chosen demographic with strategic positioning, plus the targeting of arterial roads and areas with heavy footfall. More and more businesses and public bodies are turning to this form of outdoor advertising.
"We also have a growing fleet of ad-bikes, giving us even more flexibility and agility in helping to get the message to the public in difficult locations that other forms of advertising don't reach so easily.
"This also gives our eco-friendly clients an opportunity to use pedal power which fits with their advertising ethos."
Huge Media Advertising's fleet works in prime locations across the UK, ranging from well-attended sports events, festivals and concerts to popular retail parks and shopping areas across the country, from Aberdeen to Plymouth and Swansea to Hull.
Its private sector customers include housebuilders, student property firms, solicitors and supermarkets.
In the public sector it has worked to get messages out for police and fire services as well as local authorities.
The company, which Neil started in 2011 with one sales rep, now employs eight people and has just moved to a fully equipped 3,500 sq ft warehouse in South Liverpool.