Turnaround strategy paying off for toilet roll manufacturer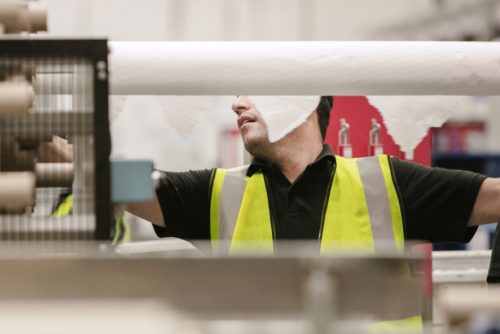 Blackburn-based toilet paper manufacturer Accrol reported strong progress in its turnaround strategy today with improved revenues and a reduced level of loss for the year to April 30.
Sales rose from £119.11m to £134.73m while the group's pre-tax loss narrowed from £14m to £1.891m.
Today's announcement revealed the group's gross margin improvement accelerated, increasing by 49% last year to 21.9% as the business continues its expansion into higher quality and higher value products.
Administration costs have already reduced by 43% in past two years, equating to a reduction of around £14.4m.
It also announced that all its staff are to be paid no less than the Real Living Wage by the second half of fiscal year 2021, maintaining that "operational efficiency is not driven by low pay in a sustainable business".
Today's statement said the group is on track to meet market expectations in the current financial year, but the board remains mindful of the continuing risk of operational disruption posed by COVID-19.
Executive chairman, Dan Wright, said: "The business has progressed enormously over the last three years.
"Despite the many challenges, the management team has simplified the business and created a strong foundation on which to begin the next phase of the group's development.
"I am excited for the future.
"The team has the ambition, ability and drive to build a much bigger business, applying Accrol's philosophies on great products at great value and world-class operational efficiency across a wider product range."
Chief executive, Gareth Jenkins, added: "After joining the organisation, almost three years ago, I reported to shareholders that the core of our business was a good one.
"Following the completion of the turnaround, this simplified and strengthened organisation provides a firm base on which to build a business of scale, by expanding in our core markets and diversifying into new personal hygiene and household products.
"The opportunities for a relentlessly efficient business, which delivers great-value products, are growing, as the world recalibrates in the aftershock of COVID-19 and consumers move away from brands which offer little value.
"Whilst the route to improvement is not consistently upward and in a straight line, I have no doubt that the rewards for shareholders looking at the long term, will be significant."
The company suffered a turbulent period three years ago when it said it had been significantly impacted by four major issues: An escalation in internal costs; input cost increases; an inability to agree timely price increases with customers; and adverse foreign exchange rate movements.
A new management team was appointed in August 2018, to help the firm turn its fortunes around.
Then, in January, 2019, Acrrol announced that it was being investigated by the Financial Conduct Authority FCA over statements made to the market in 2017.
However, in January this year, the FCA decided to close the investigation and take no action.