Coronavirus business update: Latest news across the North West
Cheshire East Council has given the green light to eight trial 'active travel' schemes introduced to help combat COVID-19 and make towns safer for cycling and walking.
These projects are being put in place in seven Cheshire East towns as a first phase to improve walking and cycling and improve access to town centres, areas for employment and schools.
The move followed recent submissions by town and parish councils and local members of more than 500 local ideas as to what measures may work in their towns and villages.
Now, eight of these schemes are to proceed on an experimental basis and people are being encouraged to provide feedback on the measures taken.
Three of the initial ideas put forward have been revised, in response to feedback from communities, and a ninth scheme, in Knutsford, has been withdrawn.
Cllr Laura Crane, cabinet member for highways and waste, said: "These initial projects are experimental and will be subject to ongoing feedback and discussions with our communities and stakeholders. That is why we sought the views of local residents and councillors and have responded to what they said.
"This engagement will enable us to monitor and refine these measures before anything is considered to be made permanent – so we get schemes that are right for each community.
"We will continue to work with town and parish councils to develop additional schemes. Our aim is to deliver active travel projects that are right for each town and developed in partnership with each local area and local members."
The first eight active travel schemes, totalling investment of £155,000, are at:
● Crewe town centre – improved access for cycles;
● Coronation Street, Crewe, near Sir William Stanier School – 20mph zone and other traffic calming measures to create a low traffic neighbourhood;
● Congleton town centre – improved access for cycles;
● Macclesfield town centre – improved access for cycles;
● Ivy Road, Macclesfield – traffic calming measures to reduce the volume and speed of through traffic;
● Hawthorn Lane, Wilmslow – 20mph zone and associated traffic calming measures;
● Old Middlewich Road, Sandbach – 20mph zone and parking suspension to provide a dedicated cycle lane;
● Lodge Road, Alsager – through traffic restricted in one direction to create more road space for cyclists and pedestrians.
Measures will also help to reserve capacity on public transport for those who really need it and should help to reduce congestion on some routes to schools. Further schemes will be developed in later phases, following pledged government funding of up to £619,000.
Cllr Crane added: "We know people's travel behaviour has changed during the lockdown and we are determined to lock in the benefits of more people walking and cycling to make our town centres safer, healthier and more welcoming to shoppers and visitors.
"We know ditching the car and taking up daily walking or cycling is good for your health, and good for the environment. Creating a safer environment in our towns will hopefully encourage more people out of their cars and to be more active, for those residents who are able to do so."
::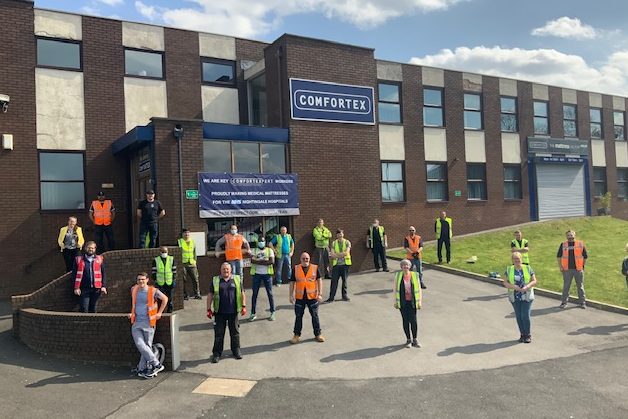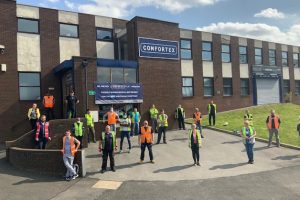 Specialist foam product manufacturer, Comfortex, has produced more than 14,000 medical mattresses for hospitals globally during the coronavirus pandemic with the support of six-figure funding from NatWest.
The Oldham-based business used Coronavirus Business Interruption Loan Scheme (CBILS) funding to continue manufacturing its medical care products during the COVID-19 lockdown, doubling output of medical mattresses for the NHS and hospitals internationally.
Comfortex has been manufacturing foam products since 1997 and specialises in mattresses for home, nursery and medical sectors.
The business was established by Ray Beckwith, who has more than 40 years' experience in the manufacturing industry, and Nathan Beckwith, who oversees the business as managing director.
The business is one of the largest independent employers in the Oldham area and almost all employees have now returned to work after the lockdown when the team was reduced to a core group of 22 staff due to social distancing measures.
In the last financial year, the business turnover exceeded £10m
Nathan said: "During the COVID-19 lockdown our team decided it was our duty to meet the increased demand for medical mattresses caused by the pandemic.
"Despite incurring losses to keep the business open, we were proud to do our part, with help from NatWest, to support our NHS and public health both in the UK and abroad.
"After streamlining all our resources and concentrating on medical products we are pleased to have welcomed almost all our staff back to work in our other mattress sectors. We are now looking forward to meeting our future growth plans."
Christopher Hesketh, senior relationship manager at NatWest, said: "Comfortex is an incredibly successful business that has grown year-on-year since launching.
"The support we provided enabled the business to continue manufacturing thousands of products for the medical sector during the pandemic. We have worked with the business since 1998 and will continue to support Ray, Nathan and the team with their goals for future expansion."
::
One of Bury's leading business figures is warning that complacency over the spread of COVID-19 could seriously undermine the local economy.
Andrew Roberts, chair of the Bury Business Leadership Group, says rising infection rates across the borough mean businesses should take the threat of a local lockdown seriously.
He cautioned: "With six consecutive weeks of rising infection rates the direction of travel is really alarming.
"Bury businesses need to be absolutely meticulous in following national and local restrictions, otherwise they might face much more stringent measures, a local lockdown that could harm their businesses and the wider local economy."
Mr Roberts, who is also local Bury president of Greater Manchester Chamber of Commerce and managing director of locally based technology company, Avoira, said that neighbouring economies could benefit if Bury doesn't get its act together.
"Other Greater Manchester towns have reduced or maintained low infection rates. Trade will move to those boroughs if they see restrictions lifted whilst Bury goes into lockdown.
"To stop this happening, businesses must ensure they have, and enforce, rigorous COVID safety protocols.
"These might include implementing segregation in communal areas like canteens and smoking areas, one-way systems, temperature testing and sanitation stations. If such measures keep a company, and Bury, in business, that's an investment, not a cost."
He said that while the reasons are unclear as to why Bury's rates continue to rise while others fall, he believes that here and elsewhere people are becoming complacent.
"Complacency seems to have set in with people feeling that the danger of infection is over, or that, if they're young and healthy, it doesn't matter if they pick up the virus. That is so, so wrong.
"Whilst it's true the virus presents much lower risk to younger people, the danger – the very real danger – is that they spread it to the more vulnerable in the community."