Law firm plots further expansion following acquisition approval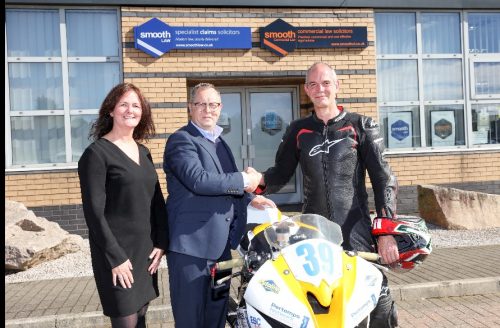 Regulatory approval has been given for a Kirkby law firm to acquire its Warrington target, for an undisclosed sum.
Smooth Law's takeover of SorryMate Group follows a successful second quarter for the North Liverpool operation.
With the requisite ABS approval granted by the SRA, Smooth Law says the acquisition is another clear statement of intent, with the firm's headcount now rising to 25 across its two businesses.
With ambitious plans of continued growth throughout the region and a marketing strategy already in place to further increase turnover and employment by 2021, Smooth Law is continuing to look for further growth opportunities to expand its consumer offering.
Smooth Law and Smooth Commercial Law are specialist claimant law firms.
They help clients with personal injury claims of all types, covering a wide range of commercial legal services, as well as a variety of financial mis-selling issues, respectively.
SorryMate is a boutique law firm specialising in motorcycle, cycle and large value claims.
It assists and advises clients with potentially life-changing injuries and has a unique presence and reputation within the wider motorcycle fraternity.
Smooth Law director, Paul McKittrick, said: "The acquisition of SorryMate Group Ltd is another step in the right direction for Smooth Law.
"We are very pleased to associate ourselves with a fellow practice that is dedicated to its clients and we will certainly be implementing an 'if it's not broken, don't fix it' attitude, to allow SorryMate to maintain its strong ethos and core values that have served it so well over the years.
"This deal will also help us weather the storm in terms of forthcoming government-led changes to the personal injury small claims limit.
"These detrimental changes will now have minimal impact on our existing business model, activity and fee income, and that will help us with planned growth in quarter four and beyond."
Fergus Dalgarno, partner at SorryMate Group, said: "I am very excited about this deal – we look out for our biker clients like family because we are bikers, too.
"It is clear from my conversations with Paul that the Smooth team is going to support the company's continued growth plans, which will allow us to continue on our primary focus of looking after our biker community, which has specific needs and we pride ourselves on being bikers who really care – it's our sole aim to get other bikers back on their feet after an accident."
Paul McKittrick added: "Looking to the future now, we have the funding to acquire other practices who share our client-focused values."