Hitachi scraps plans for Anglesey N-plant dashing hopes of 9,000 jobs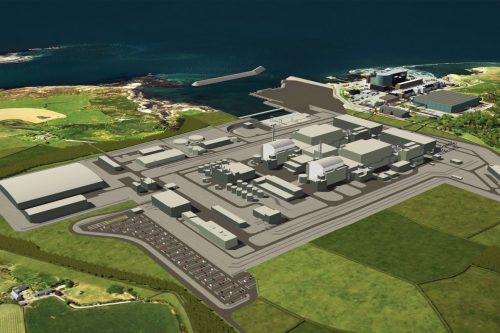 Plans to build a £20bn nuclear power station at Wylfa, in Anglesey, have been scrapped.
Japanese backer, Hitachi, has pulled out of the deal to build the plant – a replacement for the previous Wylfa N-plant which closed in 2015 – and a second site in Oldbury, South Gloucestershire.
Work on both sites had been suspended in January last year due to funding problems after Hitachi failed to reach an agreement with the UK government.
It was claimed that up to 9,000 jobs would have been created during the construction of the Wylfa Newydd site, which would have had a 60-year lifetime.
Fears for the project were confirmed after the Isle of Anglesey council said Hitachi had informed it in writing that it was withdrawing from the development.
Council leader, Llinos Medi. said: "This is very disappointing, particularly at such a difficult time economically."
Hitachi said the "investment environment has become increasingly severe due to the impact of COVID-19".
It had already written off £2.1bn spent on the plans.
Horizon Nuclear, the Hitachi-owned developer of the project, said: "Horizon will now take steps for the orderly closing down of all its current development activities, but will keep the lines of communication open with government and other key stakeholders regarding future options at both our sites."
The People Against Wylfa B action group welcomed the decision, saying: "It would have ruined the environment over an area which is 10 times greater than the current site."
It called on Hitachi to "ensure that no nuclear scheme will happen on the site in the future" and return the site to its "former state, for community benefit".
It added: "Proposals to develop green energy schemes would be an area where Hitachi's expertise could create many jobs here."
A two-reactor plant at Wylfa could have provided power for up to five million homes.
Hitachi bought the Horizon nuclear project at Anglesey and Gloucestershire in October, 2012, in a deal understood to have been worth £700m for the two sites and rights to build new reactors.
The venture was sold by German-owned E.ON and RWE who decided to pull out of the project in March that year.