Plans for £75m banking HQ 'temporarily paused' over 'future ways of working'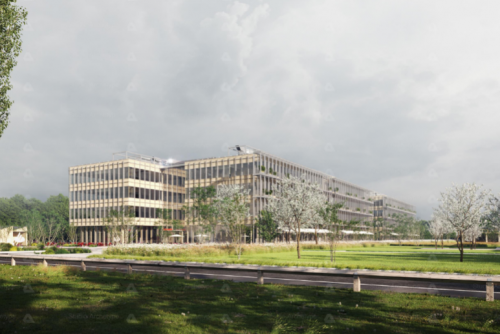 Changes to working practices due to pandemic lockdown measures have been blamed for the suspension of a £75m development by banking group Santander.
The UK arm of the Spanish bank was granted planning permission almost a year ago to build "a new high-quality and highly sustainable office, together with a new public park and new pavilions, which are available for public use" at it Bridle Road site in Bootle, North Merseyside.
It would replace the current office block, which was built in the 1960s and previously home to Girobank, which was earmarked for demolition following completion of the new base.
Santander planned to relocate its 2,500-strong workforce to the new development, adjacent to the current office complex.
The proposals comprised a 220,000 sq ft campus, which was seen as a flagship scheme for the South Sefton area.
It would house a state-of-the-art contact centre, as well as a public park, gym, multi-faith room, parenting room, restaurant and three separate retail units within the grounds.
Work was due to start this year, with a completion date of 2022 pencilled in.
But the bank has now decided to put its plans on hold, following drastic changes to working practices following the coronavirus pandemic.
Most of its staff have been working from home since the second quarter of the year, which raises questions on how necessary a new, £75m office scheme is in the 'new normal' following the pandemic.
A Santander spokesperson said: "We are temporarily pausing the site project we had planned in Bootle while we consider the impact of COVID-19 on our future ways of working.
"We have briefed our colleagues and the Communication Workers' Union and will be working closely with them as our thinking progresses."
They said the majority of colleagues in Bootle have been working from home since March, adding: "During lockdown we have sought the views of colleagues across the bank on working arrangements.
"We are reviewing this feedback as we consider how best we support our customers in the 'new normal'."