Multi-let development sold for £17.6m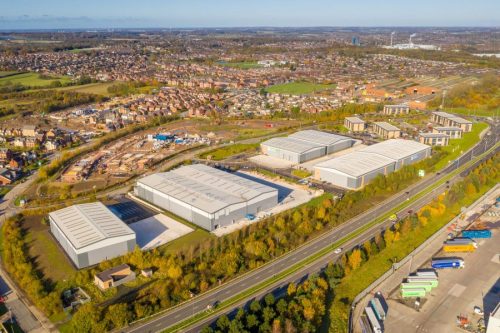 An industrial development on the outskirts of St Helens has been bought for £17.6m, reflecting the interest for well-connected space for logistics and offices.
Investment manager InfraRed Capital Partners has bought units with 162,000 sq ft of space at Mere Grange, which lies close to the M62.
This phase of the Network Space scheme has been delivered in the last three years and is now 90% let to occupiers Dresser Natural Gas Solutions, Kilwaughter, Synergy, Ormazabal and a global e-commerce retailer.
InfraRed had bought a 1m sq ft portfolio of 25 industrial sites and two development sites from Network Space in 2018 for £93m.
Dean Harrison, investment director at InfraRed Capital Partners, said: "The asset's proximity to Liverpool and Manchester and direct motorway access to the M62 positions it well for last mile delivery and urban servicing. The recent letting to a global e-commerce retailer is evidence of the asset's attractiveness for e-commerce occupiers.
"The accelerated shift to e-commerce during recent months has increased demand for modern, high-quality urban logistics assets. We are looking to expand our urban logistic holdings in the UK and Western Europe throughout 2020 and beyond with substantial capital available for deployment."
Network Space first began work on the 30-acre site in 2007, with a 60,000 sq ft speculative office scheme, which was subsequently sold.
A revised agreement between Network Space, Homes England and St Helens MBC led to industrial and logistics workspace being delivered on 10-acres of the site in 2017, alongside the sale of eight acres to Anwyl Homes for 82 homes.
The development of four speculative industrial units totalling 90,000 sq ft was delivered in 2018, before a further 72,000 sq ft of space was designed and built for occupiers Synergy and Ormazabal.
Stephen Barnes, managing director of Network Space Developments, said: "Our partnership with Homes England and St Helens MBC at Mere Grange has proved a great success. The quality of the design and specification, the environment we have created and this location has enabled us to bring forward a first class scheme delivering new jobs and investment, as well as providing new homes in the Borough.
"Having successfully completed the development and secured a first class tenant line up, it is great to team up again with Infrared Capital Partners, who we are also currently developing 300,000 sq ft of space for elsewhere in the North West."