'Transformative' six months for hydrogen energy tech business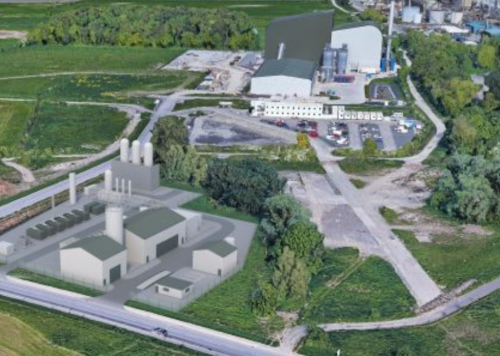 Bingley and Chester-based technology company Powerhouse Energy, which specialises in hydrogen production from waste plastic and used tyres, has reported major progress during the first six months of 2020.
The listed business raised £5m and agreed an investment deal as part of the development of its proprietary DMG technology to produce hydrogen from waste plastic.
The money is to support the first commercial-scale installation at Protos, a Peel L&P energy park development near Ellesmere Port, Cheshire.
A planning application was submitted in September 2019, and in March 2020 Cheshire West and Chester planning committee approved plans for the DMG® Technology to be utilised on the Protos Site.
During the same period, Peel and Powerhouse signed commercial terms for the application of the DMG® technology whereby Powerhouse will receive an annual license fee of £500,000 for each DMG® plant that Peel develops once commissioned.
Under the terms of the contract, Peel has committed, subsequent to commissioning of Protos, to build a further ten projects.
Powerhouse Energy says it is now in discussions with customers in the UK and internationally to sell its DMG® process, to generate energy for industrial consumption and community power.
Post-period highlights for the business include the completion of its acquisition of Waste2Tricity Limited (W2T).
David Ryan, Powerhouse Energy's CEO, said: "The first six months of 2020 have been transformative for Powerhouse.
"The completion of the W2T acquisition enables Powerhouse to move closer to Peel as the UK developer of the DMG® process and we share their vision of the Powerhouse technology being at the centre of community based plastic-to-hydrogen facilities. 
"With the Protos engineering definition phase completed, Powerhouse will now be able to focus on our priority of completing the financial close of the Protos project and moving into execution of this exciting first application of the technology."
Tim Yeo, chairman, added: "I am delighted by the progress made by Powerhouse in 2020. In particular investors, including new institutional investors, have shown confidence in the management of the company by backing a £5m fund raise.
"Following the successful integration of W2T we are looking forward to completion of the first application of our waste plastic-to-hydrogen technology at Protos, within the North West Hydrogen Hub. 
"Our demonstrably strengthened partnership with Peel will serve as the model for the roll out of DMG® technology both here in the UK and worldwide."