Tool hire group to axe 300 jobs through closure of 134 branches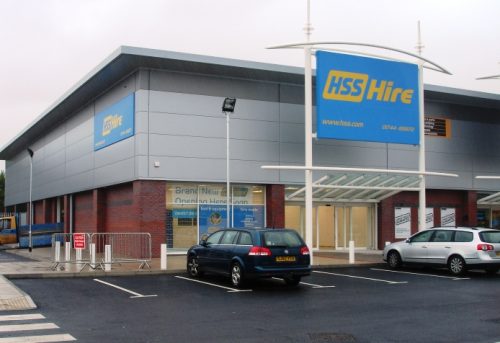 Manchester tool hire group HSS Hire is cutting 300 jobs with the closure of 134 depots, it announced today.
Its interim results for the six months to June 27, revealed a faster shift to "digital platforms to be a more agile, technology-driven business and allow the business to reduce its physical footprint to a leaner branch structure", resulting in the latest branch closures.
The group said it is working with property restructuring advisors to finalise the site reduction and has entered into consultation with around 300 employees.
Delivering the half year results, chief executive Steve Ashmore said: "We responded quickly and decisively to preserve cash, optimise financial performance and ensure continuity of supply to our customers. I am incredibly proud of all our employees for their dedicated hard work in helping do this.
"Whilst COVID-19 had a significant impact on our performance in the first six months, I am encouraged by the resilience of HSS during a very challenging period.
"Our recent investment in technology has proved critical, allowing us to support our customers during lockdown, our digital channels and Click-and-Collect service providing low-contact alternatives to branches.
"As a result, we have now seen revenue return to above 90% of 2019 levels with profitability back to pre-COVID-19 levels."
He added: "While our strategic ambitions remain unchanged, COVID-19 has demonstrated that we are now ready to accelerate our strategy by further investing in our technological platforms.
"These investments will allow us to reduce our physical footprint which, whilst regrettably resulting in the loss of around 300 roles, allows us to become a more agile, technology-driven business which is essential in our markets as well as reducing costs and enhancing shareholder value.
"This will build on our already differentiated commercial proposition and create the most advanced, customer-centric offer in an increasingly competitive marketplace."
In the six month period, the group achieved revenues of £125.8m, on an IFRS 16 basis, compared with £161.4m for the same period a year ago.
Pre-tax losses increased from £7.4m last year to £12.9m this year.
HSS said it has seen an improving revenue and profit trend since April with recovery ahead of expectations.
It strengthened its liquidity position through pro-active cash and cost management. It had cash and total facility headroom of £68.7m at June 27, maintained at £66.4m at September 26.
No dividend has been recommended.