Leasing firm helps drive continued growth at SEP Rail Services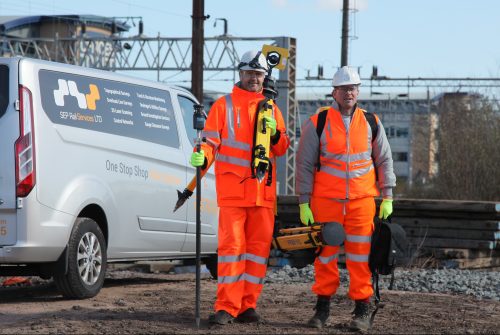 Warrington-based Academy Leasing has supported Lancashire firm SEP Rail Services expand its operations and secure new contracts.
The new fleet of leased vehicles supplied by Academy will play an instrumental role in helping drive the Ormskirk business forward.
The firm, which measures, models, and engineers the nation's railways, has built a strong reputation for the high quality, reliability, and flexibility of its services.
SEP Rail Services supports its clients throughout the lifetime of their projects, with services including railway track and structure monitoring, site engineering, and ground investigation.
With much of their time spent on the road, travelling between sites to carry out essential surveying services, investing in a new fleet of vehicles was a vital part of their growth journey.
The fleet, ranging from commercial vans to executive vehicles, will support employees across the entirety of the business.
Rikki Morrow, director at SEP Rail Services, said: "As a business, we are passionate about building long-standing and strategic relationships that we can always rely on. We are delighted that we have been able to depend on Academy Leasing for a high level of service and quick turnaround with every order we make.
"These fantastic new vehicles are a massive asset to the business and help our teams get out onto the road and support our expanding client base."
Just two-and-a-half years after the business was set up, SEP Rail Services is now recognised as one of the fastest growing rail surveying companies in the UK.
Having started with just a handful of staff, the business has now grown to a workforce with more than 40 full-time employees and report an annual turnover of approximately £3m.
Andrew Gosling, head of vehicles at Academy Leasing, said: "We are thrilled to continue supporting Rikki and the business as they continue to scale up and take on new contracts.
"In the short time the business has been trading, theirs is a fantastic success story and one we are proud to be a part of."
Academy Leasing, which is part of the 1pm Group of Companies, supports businesses across the nation with a multi-product range of business finance solutions from invoice finance, asset finance, commercial loans, through to vehicle finance.