VR group Immotion announces plans to raise £1m through share placing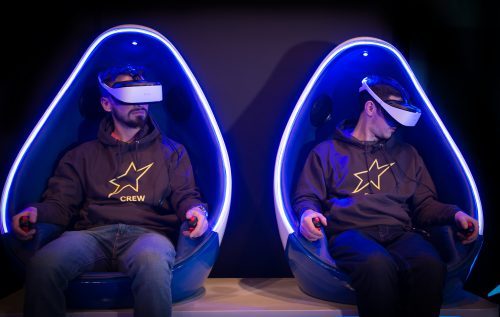 Immotion, the Salford-based virtual reality entertainment group, unveiled plans this morning to raise £1m through a share placing.
It said the net proceeds will be used to strengthen the group's balance sheet and provide funds to accelerate the growth of its new Let's Explore Oceans in-home product.
The issue price of 4p per share represents a premium of approximately 5.3% to the closing mid-market price of the company's existing ordinary shares of 3.8p on November 18.
WH Ireland and Alvarium Capital Partners are acting as joint brokers in relation to the fundraising and Immotion's executive directors, their families and certain managers have indicated interest to invest approximately £500,000 to the placing and subscription.
The fundraising shares, assuming full take-up, will represent approximately 6.2% of the company's enlarged issued share capital.
When the placing closed this afternoon (November 19), it had raised £1.2m.
Immotion also published a trading update, through to September 2020, this morning which said activity has been encouraging against the background of the current COVID-19 restrictions.
In October 2020 it saw the soft launch of the new 'Let's Explore Oceans' in-home product.
Early trading has been extremely encouraging and bodes well as a substantive addition to the group's location-based entertainment business.
Total revenue since marketing of the product started on October 15, 2020, up to and including November 15, 2020, was £213,000 (excluding VAT).
Sales have continued to scale as marketing spend, albeit throttled back, has increased. Units sold from October 15, to October 31, were 781, compared with 2,829 units sold in the first 15 days of November.
Monthly underlying central operating costs – excluding capitalised studio salaries and IFRS 16 charges – remain at circa £215,000 per month.
As the group scales Let's Explore in response to its initial success, with staff being brought off furlough to create new content to expand the Let's Explore range, operating costs will increase by around £20,000 per month.
However, Immotion believes the increased revenue and contribution generated from this activity will, in the coming months, more than offset these costs.
Current cash in the business is approximately £1m.
Overall levels of trading at location-based sites that are operational – including the UK, USA and rest of the world locations – has continued to be encouraging, despite ongoing restrictions on attendance and the corresponding adverse impact on footfall.
Eighteen partner sites remain closed completely or are not operating Immotion's installation (87 headsets). However, based on discussions with partners, the group is hopeful operations will resume at a further three sites (12 headsets) in the coming weeks.
While the latest UK lockdown is disappointing, it is noteworthy that 19 of the 25 partner sites trading at the end of October 2020 are outside the UK and that November would typically be a weak month for the UK partner and ImmotionVR sites.
While closed for the current lockdown, ImmotionVR will benefit from furlough grants and rents at three of the five sites are turnover-related.
Group chief executive, Martin Higginson, said: "We are thrilled at the response to the 'Let's Explore Oceans' product.
"Initial sales have been extremely encouraging and have given us the confidence to not only accelerate the roll-out of Let's Explore Oceans, but to also commit to launching additional genres, being Dinosaurs and Space.
"Trading in our 'Location Based Entertainment' sites is encouraging given the circumstances, although the current UK lockdown has obviously impacted our UK revenues. That said, the majority of our LBE revenues are generated outside the UK."
He added: "Raising additional funds to support the accelerated expansion of the 'Let's Explore' range is, in my view, the right thing to do. Furthermore, the fact that this funding has, in the main, been provided by the directors and their families shows their commitment and faith in the group's prospects.
"Launching a new product in such challenging times has been tough and I am immensely proud of what we have achieved.
"The initial success of the 'Let's Explore Oceans' product is a real testament to the hard work and dedication of our team and I am looking forward to expanding both the geographies and product range in the coming months and years."