£26m deal for key industrial park situated in Knowsley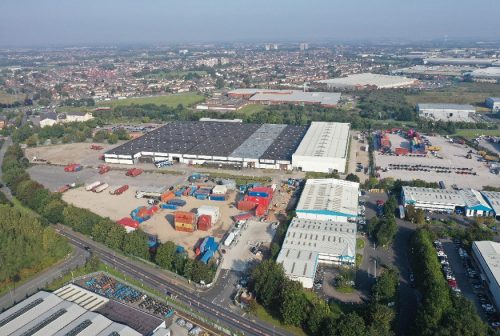 Property regeneration company Harworth Group has acquired Saturn Park, in Knowsley, for £26m, plus acquisition costs.
Harworth has offices in Manchester, Leeds, Rotheram and Birmingham.
It said the acquisition is in line with its strategy to grow its predominantly industrial investment portfolio through the purchase of high yielding properties with inherent value and growth potential.
Situated on a 35.2 acre site, Saturn Park comprises around 416,000 sq ft of modern warehouse space across three units with ancillary offices, plus about 13.1 acres of open storage land, which together generate a passing rent of £2.14m per annum with a WAULT (weighted average unexpired lease term) to expiry of 5.25 years.
This reflects a net initial yield of approximately 7.7% and a reversionary yield of about 9.0%.
The value of the gross assets subject to the transaction is £26m and the acquisition will be funded through existing financial resources.
Located adjacent to junction four of the M57, Saturn Park is conveniently positioned for access to the Port of Liverpool and the M58, M62 and M6 motorways.
The site's warehouse space is let to two tenants including Singleton Trading, a specialist importer and distributor of toys and goods to the North West, which occupies two units totalling about 317,600 sq ft.
The third unit of around 77,000 sq ft is let to Relonchem, an independent pharmaceutical company.
Four tenants occupy the majority of the open storage land across five leases, generating an annual passing rent of approximately £628,000, while about 10,500 sq ft of the 22,000 sq ft of office space is let to the NHS.
Harworth will use its significant asset management experience to drive further value at Saturn, including refurbishment works and enhanced marketing of the remaining vacant office space and land, while also exploring the potential for further development on the 4.25 acres of currently vacant land on the site.
The group's existing investment portfolio generates £17.2m of income per annum (as at June 30, 2020), making a considerable contribution to its profits and value gains while covering the company's overheads.
In March 2020, Harworth appointed Richard Bousfield as head of income to boost its in-house asset management capabilities as it seeks to maximise capital values and rental income across the portfolio.
He is also responsible for identifying and acquiring additional high-yielding investments with asset management potential, including the opportunity for further development.
Chief executive, Lynda Shillaw, said: "This off-market transaction is an excellent use of our significant financial headroom to further improve the resilience and depth of our investment portfolio, whilst also providing clear asset management opportunities to generate future value gains.
"The acquisition also underlines our ongoing commitment to invest in our core regions and given the obvious synergies to the Port of Liverpool, it directly supports government efforts to rebalance the UK economy."