Construction due to start at Protos energy recovery facility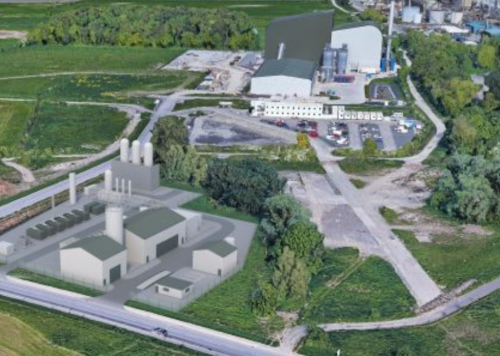 Construction is due to start on a 49MW energy recovery facility at Peel L&P Environmental's Protos strategic energy and resource hub, after it was announced that a consortium including Covanta, Green Investment Group and Biffa had reached financial close on the project.
The facility will use proven technology to generate low carbon electricity from up to 400,000 tonnes of non-recyclable waste which would otherwise be destined for landfill or exported overseas.
Planning permission was granted for an energy from waste facility at Protos in 2016.
Sustainable waste and energy solutions company Covanta will operate the facility which will take around three years to build, while waste company Biffa will provide the majority of the non-recyclable waste that will power the facility.
Located near Ellesmere Port in Cheshire, Protos is one of the key projects driving forward Net Zero North West – which is aiming to develop the UK's first low carbon industrial cluster by 2030 – and West Cheshire's response to its declared climate emergency.
Jayne Hennessy, development manager at Peel L&P Environmental, said: "This is a great next step for Protos and the North West's ambitions to become the UK's first low carbon industrial cluster by 2030.
"Once operational, the energy recovery facility will generate enough low-carbon energy to power around 90,000 homes, helping to reduce reliance on fossil fuels while diverting waste from landfill."
Tony McShane, Covanta's vice president of UK construction, said: "Once the Protos energy recovery facility enters operations in 2024, it will be a major addition to Peel L&Ps energy and resource hub site.
"The new facility will not only create future employment opportunities, it will also help the North West region maximise the beneficial use of non-recyclable resources."
The three-year construction phase will provide significant economic opportunities to the local and regional area and once operational the facility will create up to 50 permanent jobs.
Construction of the facility will be led by a joint venture between Mytilineos SA and Standardkessel Baumgarte GmbH, both of whom have a long and successful track record of delivering infrastructure projects in the UK and around the world.
In the future, local schools and other interested parties will have the opportunity to visit the facility to learn about sustainable waste management.