Liverpool City Mayor Joe Anderson to step aside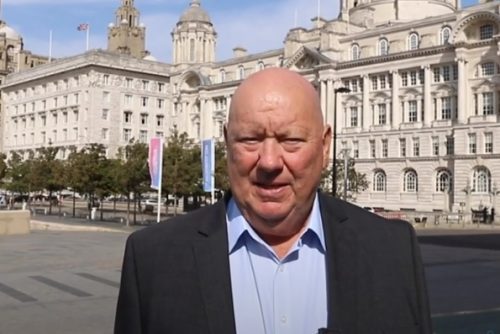 Joe Anderson, the elected mayor of Liverpool, is to step down while police inquiries continue following his arrest last week in connection with offences of bribery and witness intimidation linked to investigations into building and development contracts in Liverpool.
He and four other men were arrested on December 4, as part of investigations into the ongoing police inquiry Operation Aloft. All were released on police bail.
He said his deputy, Wendy Simon, would act as mayor in his place.
Mr Anderson, 62, issued a statemet today outlining his actions.
He said: "I have always done what I believe is best for the city, and I am taking the following action with those best intentions in mind.
"It is important that everyone in Liverpool knows that our leaders are focused on what is most important to the people; their livelihoods and, with a pandemic still in force, their lives.
"For this reason, I believe it is important that the city, and government, are reassured that our city is, indeed, operating in the correct way.
"I am, therefore, stepping away from decision-making within the council through a period of unpaid leave, until the police make clear their intentions with the investigation on 31 December."
He said he wanted to focus on his family and on "returning to a normal they can recognise, with the reassurance that I am no longer under suspicion."
He added: "Therefore, I am going to focus on cooperating with the police in their ongoing inquiry, as I believe time will make it clear that I have no case to answer.
"This situation has not dampened my passion for our city and the inspiring people who live and work here, most particularly the dedicated public servants who work within the council and the cabinet.
"They will continue their incredible work, as we would expect, against the challenging circumstances we find ourselves in.
"But I am not prepared to contribute my own circumstances to those challenges, so I have reached this decision for that reason alone."
He said his arrest was a "painful shock for me and my family, following a difficult few months".
His 70-year-old brother, Bill, died of coronavirus in October.
And he added: "I am very grateful for the many messages of support I have received and I have faith that, as always, the future of our city is bright and its best days are ahead."
There were calls last weekend for Mr Anderson to step aside following his arrest, and his administrative suspension from the Labour Party.
Cllr Richard Kemp, leader of the Liberal Democrats on the city council, said: "We need to have an urgent meeting of senior politicians in the city, including myself as opposition leader, to consider how the council as a whole moves forward and how we support the chief executive."
Also, former Labour MP for Walton, Peter Kilfoyle, said: "Joe cannot continue as mayor while being investigated by the police. He can't carry on."