Merseyrail seeks to reinstate some services following commuters' outcry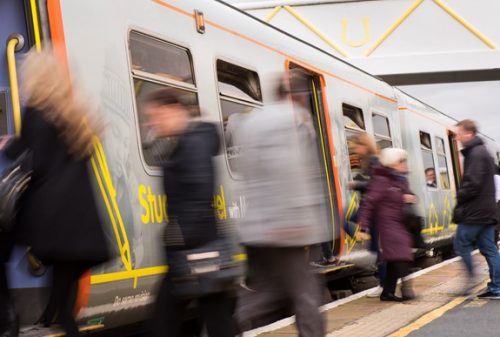 Rail operator Merseyrail is attempting to start some services across its network this morning (June 8) after saying it would be unable to run any train services today due to adverse weather conditions – to the ire of many commuters.
The operator issued an announcement late yesterday afternoon about the total cancellation of services, claiming that snow and ice on the live electric third rail could lead to severe delays and damage to its trains.
It also confirmed it would not provide a bus replacement service for commuters.
Widespread snow and ice was forecast overnight, but Merseyside awoke to a light dusting of snow which soon disappeared after light rain.
Now, Merseyrail said work has taken place to clear lines and the network is being assessed.
A statement said: "We are currently working towards reintroducing passenger services on a line-by-line basis this morning with the aim of running our timetabled service from approximately mid-day.
"Services may be subject to delay and passengers are advised to continue checking @merseyrail on Twitter and the website before they travel."
The operator said it made its "difficult decision" yesterday because it believed it was very unlikely that trains would be able to operate this morning: "We had hoped that this advance notice would give passengers enough time to make alternative travel arrangements."
It added: "This morning, specialised trains were deployed on to the network to assess lines and lay anti-ice. If successful, our own trains would run along the lines, without passengers, to determine if it was safe to begin a passenger service. It would not have been possible to complete this prior to the first timetabled train at approximately 05:30 due to forecasted weather continuing into the morning.
"During the test runs this morning, the test trains did become stuck, meaning if we had committed to running a timetabled passenger service, there would have been an extremely high number of cancellations on the network throughout the morning."
It added: "We are sorry for any inconvenience caused."
A return to service would be welcomed by commuters, but last night's announcement drew angry condemnation from many on social media, particularly from key workers who said they had been left stranded by Merseyrail's decision, or severely out of pocket having to resort to taxis or buses.
One train user, @sogupdates, tweeted this morning: "How come you're still not running if there's no snow? What about key workers, I'm unavoidably going to be late to work because busses (sic) don't run as early as trains and I can't afford a £40 round trip in a taxi to do my key worker role."
Another, @bexq77, tweeted: "No snow. I don't drive. I am a keyworker looking after other keyworker's children. Huge inconvenience this morning because what? It's a bit chilly."
@jenb883 tweeted: "Absolute madness that you have stopped all trains on 'predictions' this rail service is poor! Lessons never learnt!
And @peakrob commented on Twitter: "Best not to reopen Merseyrail ever again – just to be on the safe side. After all moving trains can be dangerous and anything could happen on those stairs and lethal escalators. And people could get paper cuts from the tickets. The whole thing is completely lethal."