People: Napthens; ArchiPhonic; Livingbridge; Solutions Asset Finance; First Choice Homes Oldham, Medicash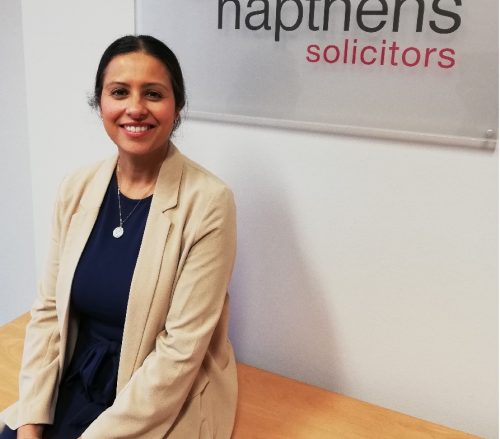 North West law firm Napthens has appointed senior associate solicitor Shahida Jogi to the firm's wills and estate planning team in the Liverpool office.
Since qualifying as a solicitor in 2002, Shahida has practised wholly in the field of private client law, working for a number of national commercial law firms throughout her career, such as Hill Dickinson and DWF. She joins following eight years with Weightmans.
Bringing with her 18 years' experience, Shahida has provided advice on wills and estate planning to a wide portfolio of clients, including business owners, lottery winners and former footballers.
Specialising in wealth preservation and legacy planning, Shahida regularly works alongside financial advisors, accountants and wealth managers to provide a comprehensive and well-rounded approach to meet her clients' aims.
In addition to her role at Napthens, Shahida sits on the committee of the Professional Liverpool Private Client Specialist Group, which aims to share professional knowledge and strengthen networks with industry across Liverpool City region.
She has also been a contributor to the Institute of Directors, ICAEW, and Police Superintendents' Association, regularly hosting seminars on legal updates and sharing best practice.
Shahida said: "Napthens is a leading name in the North West legal sector and has really embedded itself in the Liverpool business community. The firm has a strong reputation for their bespoke approach to supporting clients and I'm very much looking forward to joining the team and building on the firms' estate planning offering, particularly here in Liverpool."
In 2018 Napthens opened an office in The Plaza, Old Hall Street, Liverpool to develop its presence in the city region and complement its existing locations across Lancashire, Cumbria and in Southport.
Gareth McIntegart, head of Napthens' Liverpool office, said: "Liverpool City Region is a key part of Napthens' future growth plans and we are excited to welcome Shahida to our team. Having practised in the city for more than 18 years, Shahida brings with her a wealth of experience that will prove invaluable to our clients whilst her active role within the financial and professional services community means Shahida will have an important part to play as we continue to develop our presence and profile in the city.
As part of that, we are continuing to recruit high calibre talent and look forward to making further announcements over the coming months as we look to expand our service offering and strengthen our client base across the region."
::
Liverpool-based architectural design practice, ArchiPhonic, has appointed five new members to its team, expanding its employee base from six to 11 full-time staff.
The firm has welcomed Hannah Faulkner as architectural assistant, three new architects, Eve Greenall, Harriet Powell-Hall and Tom Gregory, and business development manager, Luke Rumney, to support its existing team and expanding client base.
The expansion comes following an influx of new appointments and increased demand from current clients, with ArchiPhonic having been instructed on 90 new projects – a 30% increase on new instructions in 2019 – despite a challenging year in 2020.
Hannah Faulker joined the team during the first national lockdown and is a specialist in residential and urban design. A LJMU Liverpool Architecture Society prize winner, Hannah was also selected as a postgraduate nominee to represent the university for the Architect's Journal Student Prize 2020.
Luke Rumney has experience working with blue chip clients such as The Peel Group, Bruntwood and Morgan Sindall and also as a construction site manager. He brings to the team extensive knowledge of the manufacturing, property and construction sectors and a personal approach to business development which will facilitate continued growth and enhance relationship-building with prospective and existing clients.
Eve Greenall joins the team from a North West practice focused on public sector education projects. A specialist in interior design, CGI image creation and technical detailing, architect Eve also has significant experience in the residential sector, having worked on a range of projects from extensions in conservation areas delivered for private clients, to multimillion-pound residential schemes.
Newly-qualified architect Harriet Powell-Hall specialises in concept design, feasibility studies and masterplanning, and has a passion for interior design and sustainability. She joins ArchiPhonic from a practice specialising in healthcare, housing and transport, as well as having worked on residential, heritage and educational projects.
Rounding off the raft of appointments is Tom Gregory who brings significant expertise in delivering large-scale commercial projects. His experience spans the hospitality, leisure and residential sector and he also has a number of high-profile hotel and student accommodation projects to his name.
ArchiPhonic co-director, Adam Mokhtar, said: "There is no doubt that last year was a challenging one, for our business and the sector as a whole. However, as a team we approached working through the pandemic with an attitude of positivity in the face of adversity, which has worked out very well.
"We have been fortunate to experience growth over the past 12 months and be in a position to expand our team so significantly. Hannah, Eve, Tom, Harriet and Luke have a wealth of skills and experience that will be essential to our plans for 2021 and beyond.
"Recruiting for such vital roles and bedding in a new team while under national restrictions has been a challenge in itself, but the whole team – new and existing members – have responded brilliantly."
Co-director, David Banister, added: "We are starting the year in this privileged position thanks to the hard work, commitment and flexibility of our team and the vision and positive attitudes of the clients who have instructed us on new projects. We would like to thank all of them for their hard work, support and belief in us.
"We are pleased to be starting 2021 with an exceptionally strong team in place and a host of significant and exciting projects in the pipeline."
::
Mid-market private equity investor Livingbridge has bolstered its leadership team with the appointments of James Titmuss to partner, Joe McGee to associate director, and Yun Ma to investment manager.
James joined Livingbridge's Manchester office in 2006 after nearly a decade in corporate finance. Since joining Livingbridge he has developed a strong track record in partnering with fast growing, entrepreneurial companies including many of Livingbridge's successful Northern-based investments such as On The Beach, inov-8, Giacom and Onyx Group.
He played a central role in forging Livingbridge's partnership with Bright Futures Care, a provider of care and education to children and young adults with learning disabilities. The investment, made through the firm's Enterprise 2 fund, built on Livingbridge's experience in the healthcare sector where James has also been heavily involved in several investments including Witherslack Group, Vanguard Healthcare, The SLC Group and Helping Hands.
Based in Livingbridge's London office and members of the investment team and growth acceleration team, respectively, Joe McGee and Yun Ma will continue to support Livingbridge's investments with high performing companies across the firm's key sectors.
Wol Kolade, Livingbridge managing partner, said: "I am delighted to welcome James into the partnership. His loyalty, extensive experience, and unique skillset have been invaluable in developing the strength of our Manchester office and the reputation of the firm more broadly over the past 14 years, and I wish him every success in his new role."
::
Cheshire-based asset finance provider Solutions Asset Finance has appointed a new managing director to deliver its ambitious growth plans for 2021 and beyond.
Jane Tabiner, who has worked at Ellesmere Port-based Solutions Asset Finance for more than a decade, initially joined the firm on a short-term basis before working her way up to operations director in 2019.
Jane has now been promoted to managing director, marking a new chapter for the company, with the new MD set to spearhead the company's growth plans as it looks to increase its market share in 2021 and beyond.
Jane's appointment will also see former MD, Steve Bowers, take on the role of chief executive officer – an entirely new role within the firm.
SAF provides tailored, flexible financial solutions for suppliers working in both the public and private sector with extensive experience in facilitating finance solutions for the NHS.
The company also provides sales support to blue chip suppliers of equipment and energy solutions, using its solutions to help them drive stronger revenues.
Jane said: "I'm absolutely thrilled to have been appointed as SAF's new managing director. We have positive and progressive plans in place for the coming few years and I'm excited to be leading the charge and seeing where our company can go next.
"When you have worked with a firm for 10 years, there aren't many elements of the business you haven't been exposed to, so I'm looking forward to bringing those strands together in my new role. I'm excited to continue to work alongside SAF's fantastic team and suppliers to bring our plans to fruition."
Steve Bowers said: "This latest appointment signals the start of a new era for SAF. We're really proud of the journey the business has been on over the past 15 years. With Jane leading us, I have no doubt we will continue to grow and flourish as we provide unique funding solutions to our suppliers."
SAF has funded more than £500m of sales for the public sector since its inception in 2006 and helps NHS Trusts and private companies make their projects a reality through bespoke financial solutions.
::
First Choice Homes Oldham (FCHO) has announced the appointment of Donna Cezair as its new chief executive.
Following a rigorous recruitment process which included both staff and customer panels, FCHO's board has now formally appointed Ms Cezair who will start in mid-January and take over from current interim CEO, Keith Wrate.
Ged Lucas, chair of FCHO's board, said: "I am delighted to announce that Donna is joining us at FCHO. We had 38 people interested in the role, which we whittled down to five great candidates who went through the recruitment process, but her previous track record, experience in housing and strategic vision really impressed us.
"Donna is a vital asset to ensure we continue to be an excellent, forward-thinking landlord and provide first class services to our customers."
Donna has more than 30 years' experience in the housing sector. She began her career as a housing officer in 1989 and has worked her way up through a number of senior positions to her most recent post as CEO of Valleys to Coast Housing Association in 2019.
Over the past few years Donna has run her own consultancy business providing strategic advice to companies helping to drive continuous improvements and increase service impact. She also has extensive experience in leading organisational change and transformation at senior level.
Donna Cezair said: "I am absolutely delighted to have been appointed as the new CEO at FCHO and can't wait to get started.
"It's a really exciting time for Oldham and the wider Greater Manchester region due to brilliant partnership working around regeneration and economic development.
"I want FCHO to play a bigger part in this by working with our partners to strengthen relationships and help develop the area and support to residents, which will continue to make Oldham a fantastic place to live and work."
::
Liverpool-based Medicash, the UK's oldest health cash plan provider, has appointed two new non-executive directors to its board.
As it celebrates its 150 th anniversary, Medicash has appointed Jonathan Brown and Jean Ellis to its board.
Jean Ellis joins from DSG Chartered Accountants. With 30 years' experience Ellis is currently a corporate and audit partner at DSG, specialising in not-for-profit and third sector audit clients. She is also trustee for two local charities, a member of the Finance Committee at Liverpool Chamber of Commerce and a board member at Liverpool Hope University.
She said: "My time working as a chartered accountant, group tax manager and financial director has given me a valuable insight into the commercial world. I believe this experience, plus my experience working as an insolvency practitioner, enables me to really develop my clients. I'm really looking forward to helping Medicash drive forward its ambitions in the next chapter of its history."
Meanwhile, Jonathan Brown joins with more than 30 years of experience as a corporate lawyer. Operating out of Hill Dickinson's Liverpool office, he specialises in all forms of the mergers and acquisitions market, including IPOs, development capital and joint ventures.
He has acted for a wide variety of clients and has excellent experience in a wide variety of industry sectors. Brown currently sits on the boards of Derwent Lodge Estates, Stobart Group and Stobart Air, while also being the chair of Hill Dickinson and Praetura Group, a financial services investment and lending business.
During his career Brown has helped transact the sale of Swinton Insurance NI to Abbey Insurance and acted for Stobart Group in the acquisitions of many businesses including James Irlam & Sons and London Southend Airport Company.
Brown said: "I am very pleased to be appointed a non-executive director of Medicash which has an excellent reputation for customer service. Medicash was founded in the 19th century but is very much a 21st century organisation. I very much look forward to working with board colleagues to continue achieving success for all the stakeholders of Medicash."
Sue Weir, Medicash chief executive, said: "We are delighted to welcome Jean and Jonathan to our board to help lead the next stage of our development. They have extensive commercial experience, and I am sure they will bring new ideas which will benefit both our customers and the wider team. They are a great addition to the Medicash Board."