Brexit creates stormy waters for Irish Sea ferry service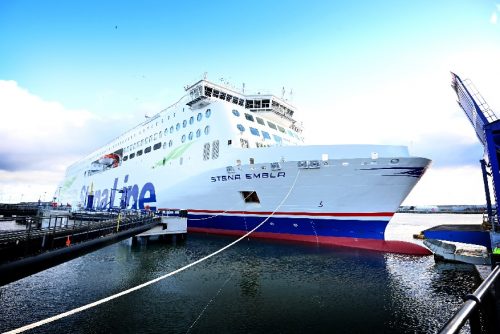 Ferry company Stena has switched its newest vessel, Stena Embla, from its Belfast-Liverpool route even before she enters service as trade falls following Brexit.
Stena Embla was due to enter service on the trade and passenger route later this month.
But following the UK's exit from the European Union on January 1, trade between Northern Ireland and the North West has fallen, with more direct routes to the continent growing in popularity.
The Stena Embla will now service the Rosslare-Cherbourg route, starting from today (January 14).
Following Brexit Northern Ireland remains in the EU single market for goods and continues to enforce EU customs rules at its ports, meaning most commercial goods entering the country from Great Britain need a customs declaration.
Hauliers have complained about the amount of 'red tape' now required, which could be a factor behind the decline in Irish Sea trade.
Stena Line's Irish Sea trade director, Paul Grant, said: "Given the short term market distortion, we have decided to temporarily deploy our new Stena Embla vessel on the Rosslare-Cherbourg route.
"Clearly, Brexit has created an increase in the demand for direct freight routes, and in particular driver accompanied freight, so the addition of Stena Embla, whilst temporary, plus the recently introduced Stena Foreteller to the route, will provide a welcome addition for our customers at this time."
He added: "Stena Line has always prided itself on being flexible when it comes to the efficient deployment of its fleet.
"Having very experienced onshore and onboard teams means that we are able to respond to market and customer demands rapidly.
"At present we are currently reviewing our Rosslare-Cherbourg operations and will keep engaging with our customers to identify the most appropriate Stena Line operation for the route."
Stena Embla will make three weekly return trips between Rosslare and Cherbourg, which, alongside the Stena Foreteller, will see Stena Line operate 12 crossing per week between Ireland and the continent.
Stena Embla was built in China and was due to join her sister ship, Stena Edda, on the popular Belfast-Liverpool route later this month.
Embla has the capacity to carry 1,000 passengers, 120 cars and 3,100 lane metres of freight. This will provide a significant 20% increase in freight capacity.