Mayfield Manchester developer launches major restructure after sinking to £50m loss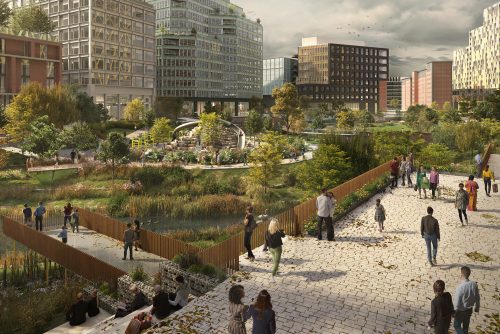 Mayfield Manchester developer U+I has embarked on a major restructure with its chief executive and chief financial officer departing after it recorded a £50m half-year loss.
It has begun a 100-day review of the business that will look to slash costs and refocus entirely on regeneration projects. The review will be led by Richard Upton, its chief development officer who has been made chief executive with immediate effect.
Upton, who is a speaker at TheBusinessDesk.com's Invest North conference in March, said "the last six months has been an incredibly challenging period for the company".
The half-year pre-tax losses were more than double last year's. It resulted from development and trading losses of £25m, a reduction in its investment portfolio of £10m, and net operating costs of £15m.
The developer plans to significantly change its business. Its review will put its development and trading portfolio into two areas core regeneration schemes – including Mayfield in Manchester – and non-core assets which it will look to dispose of in the next two years.
U+I will also dispose of its non-core assets in its investment portfolio, and will no longer treat its investment properties separately to its development and trading.
It said it will be "in effect pivoting the investment portfolio to one focused on total rather than purely income return" and will look to use its regeneration expertise to add value.
Its programme of disposals is targeted to deliver £50m in this financial year and more than £80m next year.
Upton said: "This review will focus on our strengths in value-add complex, mixed-use regeneration, whilst delivering more predictable, consistent returns as we leverage the opportunity to reveal the full potential of the business.
"The changes we are putting in place will enable us to capitalise on long-term behavioural shifts and the opportunities presented by the Government's 'Build, Build, Build' agenda, whilst strengthening our cash reserves, reducing our debt, increasing our ability to pay dividends and generating shareholder value."
It is targeting annual cost savings of £5m a year this year, rising to £9m a year by 2023. It will look to do this by reducing staff numbers by 41%, relocating to a smaller office and getting rid of the lease for its headquarters in Howick Place in central London, and simplifying its group structure.
It has also suspended the interim dividend, which will see it keep hold of £3m.
The 6.5-acre Mayfield development is one of the few bright spots for the company.
In August it secured £23m in grant funding from the Government's Getting Building Fund and in December became the first grant recipient to start on site.
Mayfield is a £1.4bn regeneration scheme that aims to provide 1,500 homes, 1.6m sq ft of commercial space alongside leisure and a hotel.
The management changes see chief executive Matthew Weiner stand down after six years in charge, although he will stay on until May as an executive director.
Chief financial and operating officer Marcus Shepherd will leave the board after the completion of the results for the current financial year.
Upton has been with U+I since 2014, after it acquired the property development company he started and led, Cathedral Group.
Peter Williams, chairman of U+I, said: "I want to thank both Matthew and Marcus for the huge contribution they have made in creating the distinctive U+I brand we have today.
"Richard has been an entrepreneurial driving force in several property businesses and is passionate about regeneration. His vision, leadership and energy will help the Group enormously in the next stage of its development."
Its share price closed last night at 73p, more than 60% down from its peak last February before the pandemic, giving it a market value of less than £100m.