Manchester office market confidence returns with strong fourth quarter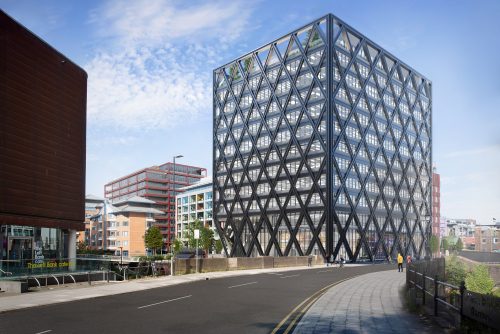 Data in from the Manchester Office Agents Forum (MOAF) reports a strong fourth quarter in 2020 for the Manchester city centre office market with 349,543 sq ft of deals transacted, representing the highest quarterly take-up of the year.
Fourth quarter take-up was a significant increase on the 69,106 sq ft recorded in Q3 and only slightly behind the 375,405 sq ft transacted in the same period in 2019.
Total take-up for the year reached 800,188 sq ft over 146 deals, representing a respectable performance given the challenges presented by the COVID-19 pandemic. While the annual take-up was down on the five year average, this is consistent with other markets across the UK, including London.
Manchester's office market showed resilience with some large, notable deals concluding in the city centre in the year, including BT who took 175,683 sq ft at Four New Bailey, Hilti who took 42,559 sq ft at Circle Square, and Hana who took 28,125 sq ft at Landmark.
Mark Garner, associate director of office agency at CBRE, said: "2020 was obviously a very challenging year for the property industry, and the office sector in particular, however, we are already seeing signs of recovery.
"Interestingly, the strongest quarter of the year in Manchester city centre was Q4, aided by BT's commitment to Four New Bailey. This affirmed that major occupiers still have an appetite for large office HQ's and remain attracted by the high quality developments, access to skills and international connectivity that Manchester offers."
Outside the city centre, the South Manchester office market transacted 272,667 sq ft over 179 deals with notable deals including Hall Analytical at Waterside Court, Cheisi taking 10,044 at 4 Manchester Green, and Numero taking 7,313 sq ft at Glasshouse, Alderley Park.
Salford Quays and Old Trafford recorded 226,598 sq ft over 62 deals with a number of large transactions including Marlow Fire & Security leasing 25,568 sq ft at 5 Central Park, Tech Mahindra taking 23,580 sq ft at The Vic and HMCTS taking 17,700 sq ft at Metro.
Garner added: "The trend of flexible working was here long before 2020, however, the pandemic has acted as an accelerator, pushing us forward by maybe five to 10 years.
"Whilst offices may be looked at differently going forward, their importance as a collaboration 'nerve centre' remains true for many occupiers."
He said the office provides an environment of fast paced communication which simply can't be replicated at home and there are many companies reporting 'work from home fatigue' setting in with their staff, especially amongst the younger work force.
With the promising vaccine updates providing light at the end of the tunnel, there is optimism that take-up will recover well in the future.
Andrew Crabtree, transactions and asset management at OBI, said: "Occupiers who had paused their relocation plans in 2020 have had a substantial period to review their occupational requirements against the backdrop of more agile working practices.
"We have already started to see a number of existing financial, legal, and professional service occupiers relocate within the city centre in 2021.
"We expect this to continue in 2021 with the addition of occupiers in the e-commerce, fintech and cyber sectors being attracted by Manchester's digital and tech talent."
The MOAF forum comprises the property agencies Avison Young, BE Group, CBRE, Colliers International, Canning O'Neill, Cushman and Wakefield, Edwards and Co, Hallam Property Consultants, JLL, Knight Frank, LSH, Matthews & Goodman, OBI, Savills, Sixteen and TSG Property Consultants.