Call for local authorities to focus on housing targets
New figures show that some North West local authorities are struggling to meet their housing targets.
Housing Minister, Christopher Pincher, recently urged councils in England to deliver housing programmes without delay to meet the Government's proposed 300,000 new homes per year target.
He has called on local authorities to meet the Government's deadline of December 2023 to finalise their Local Plans to aid the delivery of more housing stock.
However, the latest ONS (Office of National Statistics) figures show that a number of North West local authorities are struggling.
North West authorities, including Bolton, Bury, Rossendale and Trafford, have struggled to meet their targets again, achieving less than 75% of their annual target for 2020 and falling into the category where a presumption in favour of sustainable development is the default position.
This means sustainable windfall sites and allocated sites will be favoured to drive delivery back up.
Trafford is particularly struggling, delivering only half of its annual requirement over the past three years – 47% in 2018, 58% in 2019 and 61% in 2020.
All four North West authorities fall into this bracket for the first time, but it's likely they'll struggle to achieve the targets as not enough sites in sustainable, brownfield locations are coming forward quickly enough.
Authorities, including Oldham, continue to struggle and due to continued lack of delivery, has an additional buffer to contend with.
Stockport and Tameside fall just short on meeting their targets so are required to put an Action Plan in place, but it's not all bad news for them, as they've improved since 2019 from 74% and 75% delivery rates to 92% and 89%, respectively.
Manchester (133%), Wigan (137%) and Sefton (103%)have exceeded their 2020 delivery rates, while Liverpool (from 181% to 152%) and Bury (from 61% to 52%) are the only authorities that have delivered less in 2020 than in 2019.
Joanna Gabrilatsou, planning director in the Manchester team of commercial real estate services company JLL, said: "The annual housing delivery rates have been published weeks after the changes made by the Government to the Standard Housing Methodology which sought to level up the regions.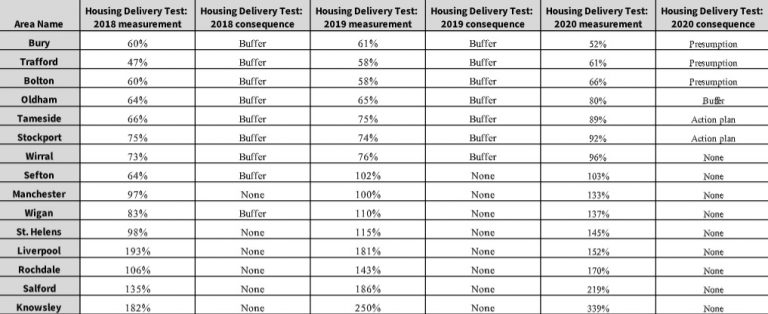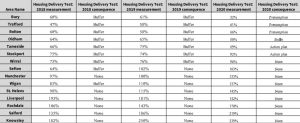 "Overall, most Greater Manchester and Merseyside authorities appear to be improving their delivery rates year-on-year for the past three years and contributing to the Government's housing agenda. It's just that for many it's not enough."
Kieran McLaughlin, head of residential land and development for the North at JLL, said: "There is also a deep disconnect between national policy for growth and 'levelling up' with politics at a local level frustrating the progress of plan-making as shown in the delivery rates.
"What the market really needs is consistency of approach and an acceptance from local authorities that unpopular decisions have to be made, and in turn, spend more time and energy working with developers to provide infrastructure and quality place-making."