People: Liverpool School of Tropical Medicine; TalkTalk; Bring Digital; Open Media; Hope Capital; DSW Debt Advisory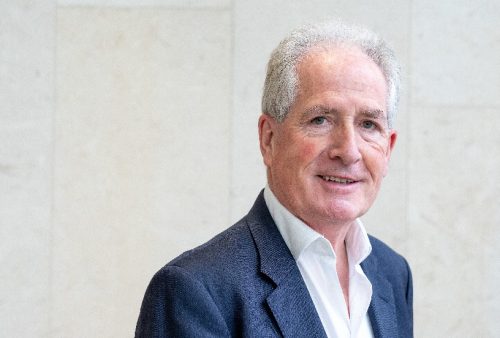 Liverpool School of Tropical Medicine (LSTM) has announced that Jim McKenna has formally taken up the position of chair of the Board of Trustees.
The initial announcement was made during LSTM's 121st AGM in November 2020, when he was formally appointed as a Trustee before taking the reins from Sue Russell who had been interim chair since the departure of James Ross in March 2020.
Jim, who is the former COO of Logica, an international IT service firm, is an experienced chair and non-executive director, who has worked extensively in the commercial, charity and higher education sectors.
He said: "I am looking forward to working closely with David, the senior leadership team and everyone at LSTM. I am confident that together we can ensure that it continues to build its reputation as a world leading institution by making a real difference in the lives of those living in disease endemic countries, attracting the very best researchers, and training the next generation of global health leaders."
Most notably in his extensive non-executive capacity experience, Jim is currently senior independent director at Wessex Water and chairman of SS Great Britain Trust, having previously been chair of the council at the University of East London (2001-2009), a Trustee of Cooperation Ireland (2004-2007), chair of Azzurri Communications (2008-2012) and chair of Catch 22 (2008-2019).
LSTM's director, Prof David Lalloo, said: "As we move towards our 125th  anniversary, LSTM is looking towards our future and I am delighted that Jim will be taking up the helm. I look forward to working with him and ensuring that LSTM goes from strength to strength in the years to come.
"LSTM, like all institutions, has been through many changes in the last 10 months as we have all adapted to a new and different way of working in what has been an unprecedented time for us all. I am sure that Jim will be an integral part of LSTM's future as we continue in our mission to end the cycle of poverty and poor health."
::
Manchester-based TalkTalk Group has appointed industry expert Ruth Kennedy to the new role of group fibre development director.
With more than 20 years' experience in the telecoms industry, Ruth will lead the organisation's alternative network fibre strategy, ensuring that more individuals and communities across the UK can benefit from faster and more reliable connectivity.
Ruth's remit will include working closely with suppliers to deliver reliable fibre networks. She will lead a growing team and collaborate with additional functions across the group on the development of new full-fibre solutions, ensuring that feedback from suppliers and customers is consistently taken on board.
This new role has been created as part of TalkTalk Group's ongoing commitment to enabling more businesses and communities to make the leap to full fibre connectivity.
Ruth brings a wealth of experience and industry knowledge to the position, having previously worked as group business development director at TalkTalk, building strategic supplier and business partnerships and supporting new business opportunities. Prior to this, Ruth worked her way through the ranks at TalkTalk over the course of eight years, working as part of the TalkTalk business team and building an in-depth understanding of the organisation's strategic aims.
She said: "It's a truly exciting time to be stepping into this new role at TalkTalk. Access to fast, secure and reliable connectivity has never been more important, which is why speeding up the roll-out of fibre for everyone is so crucial."
::
Multi-award-winning eCommerce agency Bring Digital has announced a new addition to its senior team to support the continued business growth, following record results in 2020.
Sophie Regan joins the agency as account director, following her recent role as global marketing manager with fitness brand Ultimate Performance.
She's previously worked as global media manager for retail giant Boohoo, as well as spending four years with the international agency MediaCom.
The move follows a year of major client wins for the Manchester-based agency. In 2020 Bring Digital added Misspap, Slaters Menswear and Boohoo to its growing list of prestigious eCommerce clients.
The addition of Sophie follows the recent move to strengthen the leadership team with the appointment of another MediaCom alumnus, Sarah Rostron, to the agency board.
"Making the move to Bring Digital is incredibly exciting," says Sophie. "The rate of growth with which we're starting 2021 means there will be plenty of opportunities to use my experience working with global eCommerce brands to full effect. I'm thrilled to play a part in this excited chapter of the agency story."
Managing director, Justin Young, said: "Sophie has joined the team at the perfect time. Her expertise in nurturing healthy business relationships with large scale eCommerce brands will prove instrumental in delivering our ambitious growth plans. We're so excited to welcome her to the business and look forward to Sophie being part of our continued success."
::
Liverpool-based Open Media has appointed Sophie Vassiliou as its new account manager.
Vassiliou joins with five years of experience in the out of home advertising industry and will be responsible for developing new business relationships and nurturing sales.
As an experienced OOH (out of home) professional, Vassiliou will be bringing valued and beneficial industry knowledge and skills to the fast-growing media owner.
Vassiliou will be based in London full time, alongside national sales director Fiona Ravlic, and account director Meg Ledger.
Open Media established a core London team in 2019 to complement the headquarters in Liverpool. The London sales team is a key part of the growth strategy, which will continue to roll out in 2021.
Sophie Vassiliou said: "The company's positive attitude and personable culture are aspects that greatly appeal to me and I am thrilled to now be a part of.
"With Open Media's strong OOH inventory and exciting expansion plans, I am looking forward to collaborating with our clients to create award winning campaigns."
Managing Director, Mike Smith, said: "We are delighted to welcome Sophie on board. Sophie joins as account manager, servicing and supporting across agencies and specialists within the London market. She brings a wealth of knowledge and experience to the team. We're very excited to be growing our team in London."
Open Media will continue with its expansion this year, focusing on the rollout of its D48 network, and new large format sites. The acquisition of these new sites, plus new additions to the team, will ensure the firm continues with a period of growth, following the COVID-19 outbreak.
::
Hope Capital has appointed a new sales director, Sinead Moynihan.
Sinead brings with her a wealth of experience and expertise from working in the specialist finance industry for the past eight years, delivering exceptional results in her previous roles, said the company.
It says her strengths lie in building and maintaining established broker relationships, developing and delivering sales strategies, product development, identifying gaps in the marketplace, while coaching and leading successful sales teams.
At Liverpool-based Hope Capital Sinead will be responsible for the management and development of new product ranges, devising sales strategies and implementing them to meet the diverse needs of brokers and their clients. In addition, Sinead will be working closely with the other directors in the business to introduce and manage new key accounts to ensure Hope Capital achieve its targets.
Sinead Moynihan said: "The opportunity to join Hope Capital at this exciting time was an extremely easy decision to make. Through working in the specialist finance industry, I have managed to build an extensive range of broker contacts and have a full understanding of what brokers require, in terms of products, services and systems.
"I am looking forward to playing a key part in ensuring we achieve the ambitious growth plans that have been put in place."
Chief executive, Jonathan Sealey, said: "We are delighted to welcome Sinead to Hope Capital. Using her wealth of specialist finance knowledge and expertise, we look forward to seeing Sinead help grow the business and add value to our offering.
"We achieved a series of notable accomplishments in 2020 and are dedicated to keeping up the momentum by continuing to provide bespoke and fast solutions to support our brokers and existing and new clients.
"Sinead's appointment follows several new appointments in recent months which are all part of our ambitious expansion strategy. We have lots of exciting plans for the business in 2021 and look forward to continuing to invest in talent and grow the business to ensure we are best positioned to deliver an outstanding service and be recognised as a leader in the specialist finance industry."
::
DSW Debt Advisory, which advises businesses on raising a wide variety of debt funding and is part of the Dow Schofield Watts group, has appointed Lynn Li as manager.
Lynn joins from Deloitte in Manchester where, as part of the debt advisory team, she worked on a wide range of financing deals including cross border transactions with a value of more than £200m.
A chartered financial analyst with a Master's degree in finance and investment, Lynn has seven years' experience in finance and started her career with RBS in London. Lynn, who grew up in Spain, speaks fluent Spanish, Mandarin and Cantonese.
Based in Daresbury, DSW Debt Advisory was founded in February 2020 by Phil Tarimo, who has held senior regional and national roles in banks including RBS and CYBG. He was joined by Simon Carrier, a former regional managing director at Shawbrook and Santander banks.
To date they have advised businesses across sectors including technology, manufacturing, business services, construction and property and with revenues ranging from £3m to £250m.
Phil Tarimo said: "We are delighted to welcome Lynn to the team. Her appointment is the next stage in our long term plan of offering corporate clients across the UK a truly differentiated experience."