"Business should always be 'people first'"


Phil Dunster is a respected figure in Manchester's digital marketing scene and the current MD of Numagoo. With over 15 years experience in marketing and business development roles he founded the full service agency in 2013 to deliver straight-talking and passionate advice to SMEs looking for commercial growth. 
---
I love all aspects of my job, especially meeting new people and building relationships with clients. I think the most rewarding part is working alongside clients to find the right digital solution to transform their business, deliver growth and make their life easier. Our work delivers real impact and return on investment, so we tend to make out clients really happy. That's an infectious feeling.
The next year is about one thing expansion. Thanks to a recent investment I've been able to bring in a new senior leadership team, which has really enhanced our capabilities, and we now have big plans for growth. Alongside winning more clients from the manufacturing, professional services and sport and leisure industries, we're hoping to work alongside businesses that are looking to roll out into China as our investors are specialists in helping UK businesses expand into that market. While one thing that will continue from 2020 is that mass migration online. Lots of businesses are now realising that the move online can't wait and the team I have in place now haS stacks of experience transforming offline businesses into huge online successes.
The biggest issue affecting digital at the moment is the number of companies that sell the dream to businesses that they can build their own website on a drag-and-drop platform for next to nothing and grow their business on the cheap. These platforms are full of bugs, bloated code and usually offer a terrible customer experience. Meaning the business makes no money and ends up writing off digital as something that can't work for them and its particularly worrying when you see businesses who pin their hopes on this solution but ultimately lose money. Unfortunately the problem grows as more of these platforms spring up and anyone searching for a digital agency is immediately hammered with Youtube and social media ads selling them a solution that seems cheaper and faster.
In the last 10 years there has been an explosion of digital agencies and digital became 'cool' where it previously had a bit of a reputation for being full of nerds. To be honest, the impact has been that agencies have gained a reputation for being more focused on their own brand and success than on their clients. A lot of our clients come to us disillusioned by agencies focused on creating a fun and quirky culture to attract bright young graduates. Our team have all run marketing and digital departments for SMEs on the client side, so we have experience that most agencies lack completely. We focus on learning the client's business and it's not usually glamorous and there are definitely no Google slides and pinball machines involved, but it does make a real difference to our clients and that is what matters to us.
Our strap-line is "Digital Done Right". We don't create unnecessary frills and overcomplicate things in order to increase our profit. We are as serious about our client's business as they are. Our goal is to find the right solution to their challenge in order to deliver growth. I think some marketing agencies get distracted by their own reputation and ego. That's the antithesis of Numagoo's approach.
I learned early on that if you realise you're on the wrong path, the worst thing you can do is stop. Changing direction isn't easy but it is a lot better than continuing with something that isn't working or stopping dead in the middle of a bad situation. I think that realising that early on with some false starts in businesses that weren't a good fit for me has turned into one of Numagoo's biggest strengths. Digital changes all the time and we aren't afraid to tell a client when we need to change direction to deliver what they need.
Honestly, my biggest career influence has been my family. They have supported me no matter how crazy the dream might have sounded to them. When I was younger my Uncle recommended that I read 'How to Win Friends and Influence People' by Dale Carnegie and the lessons in that book have been the bedrock of business for me. Business should always be 'people first' and that goes for the way we work as a team together and the way we work with our clients.
My work life is intense and involves being 'plugged in' constantly. I have a huge passion for what I do but at the end of the day it is important to me to disconnect and clear my head. I am lucky enough to live right on the edge of some amazing countryside, so when I need to relax, I take myself up into the hills with Albert, my dog, and just spend some time 'unplugged'.
---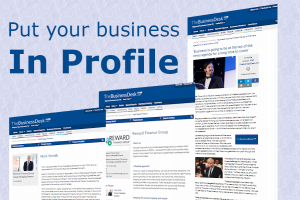 Appear in your own In Profile feature by signing up for a Business Profile on TheBusinessDesk.com.
The company and individual profiles on TheBusinessDesk.com are designed to help our clients build corporate and individual awareness within the regional business community and benefit from TheBusinessDesk's traffic and visibility in the business community and the search engines.