People: Freshfield; Hall Brown Family Law; Realm; Leonard Curtis; Broadway Insurance Brokers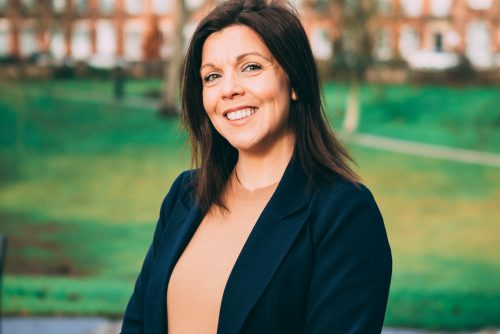 North West PR and marketing communications firm, Freshfield, has appointed experienced marketer, Christina Hamilton, to lead a new business development (BD) and marketing division.
Christina, who is a chartered marketer, joins Freshfield following a 15-year career in a range of senior in-house and agency marketing roles.
Heading up the new BD and marketing division Christina will lead a team that will help businesses across multiple sectors on business development programmes, marketing strategy and planning, inbound marketing programmes and training. She will also lead Freshfield's internal BD and marketing function.
Prior to Freshfield, Christina performed a senior marketing role at Munich Re Insurance in Liverpool, and has also run her own successful consultancy, Eden Whittle, working with national and divisional marketing teams for clients in the professional and financial services, and insurance sectors.
Christina's career highlights also include a successful spell at ReputationDefender as head of marketing and five years at RSM Tenon/Baker Tilly as a senior regional marketing manager.
Chief executive, Simon Turner, said: "The appointment is part of our strategy to invest in our capabilities to give our clients access to experienced and talented professionals across a broad range of marketing disciplines and sectors. Christina is a sophisticated marketing professional and we are delighted to have her on the team.
"She will complement our existing client teams in PR and communications, brand development and create, while adding greater depth to our sector specialisms."
Christina said: "I have seen first hand Freshfield's collaborative approach with clients, leaders and teams and this is what attracted me to join. The team has a genuine desire to help people. I am really looking forward to using my previous experience and ideas to help power the Freshfield proposition forward."
With offices in Winckley Square, Preston, and Spinningfields in Manchester, Freshfield is a multi-disciplined PR and marketing communications firm employing 16 people. It has four core service divisions in PR and communications, business development and marketing, brand development and design & development.
::
Manchester-based Hall Brown Family has announced a trio of appointments as it continues to go from strength to strength.
Two of the recruits have joined from competing firms.
Mollie van Geest has been added to the ranks of Hall Brown's London office as a solicitor after switching from Vardag's, while Michelle Ashworth has been made a senior solicitor in its Manchester headquarters following her move from Stowe Family Law.
Holly Cook has also joined the Manchester team having left the full service Berkshire firm Blandy and Blandy.
Managing partner and co-founder James Brown said that the hires reflected further strong growth in Hall Brown's nationwide caseload.
"Despite the ongoing COVID restrictions, we have been able to continue to work without interruption and we've seen a further steady increase in cases being handled by staff in all three of our offices.
"Our latest appointments are not just a reaction to that but part of our long term plan to bring in high calibre lawyers to serve clients as well as possibly can.
"Michelle brings with her a wealth of experience at a number of other established firms, while both Mollie and Holly have also proven themselves at some of our competitors.
"They have already settled in and begun to contribute to what we do as fully as we had expected."
He added: "There is no doubt that the current situation has heightened difficulties for many households – those with children and those without.
"I believe that we have succeeded in bringing together the strongest possible blend of talents to support individuals who need help."
The three appointments bring the total number of staff employed by Hall Brown to 47, 35 of whom are fee earners.
Having seen turnover top £4.3m during the last financial year – an increase of £800,000 on the previous 12 months – it has retained its top ranking in two of the most prestigious legal industry rankings.
It was dubbed "simply the best in the North West" by Legal 500 and saw four of its lawyers – Mr Hall and his co-founder James Brown and partners Beth Wilkins and Andrew Newbury – named as Leading Individuals, more than any other firm in the region.
In addition to being named as a Band 1 firm by the Chambers and Partners' guide, Hall Brown also saw a number of its team singled out for praise as Band 1 family lawyers in their own right.
::
Daniel Clarke has joined Realm as a junior consultant, after working at Robert Walters as a resourcer.
He will be progressing through the business's comprehensive training programme with a view to becoming a practice area specialist.
Realm's new hire comes shortly after three members of its existing team were promoted.
Lucy Wickham has progressed from junior consultant to associate consultant, senior consultant Paula Pawlowska has been promoted to principal consultant and administration manager Rebecca Hopwood is now Realm's office manager.
Duane Cormell, Realm's director, said: "I'm really pleased to welcome Daniel to Realm – I'm confident he will make a great addition to the team.
"I'm also delighted to have been able to promote Lucy, Rebecca and Paula.
"All three made a fantastic contribution to the business in 2020, whilst also developing as individuals and championing our core values.
"I'm proud to say that Daniel's joining means that we now have one of the largest, if not the largest, team of legal recruitment consultants whose focus is primarily the North West.
"I'm very excited to see what we can achieve together over the next 12 months."
::
Leonard Curtis Legal is supporting its ambitious growth plans with the hire of the highly experienced Katharine Lawrenson.
She joins the fast growing legal arm of Leonard Curtis Business Solutions Group to head up its dispute resolution team in the Manchester office.
She will also be in charge of developing LC Legal's dispute resolution offering to SMEs via the group's extensive accountancy referrer base and looking to develop working relationships within Leonard Curtis's 19-strong UK office network, primarily involving insolvencies, where her main expertise lies.
Katharine has 28 years' experience in the contentious business restructuring market acting for insolvency practitioners, companies, directors, banks and other financial institutions around their insolvency debt portfolios.
LC legal director, Andrew Gregory, said Katharine will help build the firm's profile in its own right: "She will be helping us develop work opportunities from the UK SME sector offering assistance with a range of issues including shareholder disputes, derivative claims, claims by and against directors, contractual and supply chain disputes. We are delighted to welcome a litigator of her skill and experience to our team."
Katharine said: "I am looking forward to working in a small, dynamic team that has flexibility to act on a wide range of matters without the constraints often imposed by a large firm. This includes being more creative with our fee structure and providing a more personal service at a senior level, the chance to become a firm's trusted advisor."
::
Broadway Insurance Brokers, a Cheshire-based boutique firm which represents many of the UK's leading entrepreneurs and wealthiest individuals, has recruited Robert Grindrod as its new director of business development.
Mr Grindrod is among the region's best known and most experienced bankers, having spent more than four decades in senior managerial roles for RBS and Svenska Handelsbanken.
Broadway chief executive, Daniel Lloyd-John, has described how Mr Grindrod's arrival promises to add even more drive to the firm's early progress: "When we launched, we set out only to hire extremely capable and respected individuals to provide business and private clients with the very best service possible.
"We believe that we're exceptionally lucky to have Robert join us, given his standing within the North West business community and his long track record of success. I know that he received a number of other job offers when he announced that he would be leaving Handelsbanken and for him to join us is something of a coup."
He added: "Robert fully understands what we're trying to do and having him on board will no doubt demonstrate to both our clients and competitors that Broadway has very quickly become a very serious proposition in insurance broking."
Bury-born Mr Grindrod has spent the entirety of his more than 40 year career working in Greater Manchester.
Since starting out at a branch in Oldham, he has become one of the most respected and trusted bankers in the North West. He spent more than 30 years with RBS, including a spell as one of its business development directors, before taking on the role of individual banking manager at fast-growing Handelsbanken, where he worked for another 14 years.
He joins Broadway just weeks after it revealed that it had generated more than £500,000 in gross written premiums in only its first three months in business.
Mr Grindrod's appointment takes the firm's total number of staff to nine, including Eleanor Moore who was recruited as private client director in October, along with Geraint Jones, who became Broadway's senior private client executive.