Businesses must respond to changing expectations of 'the workplace as an experience'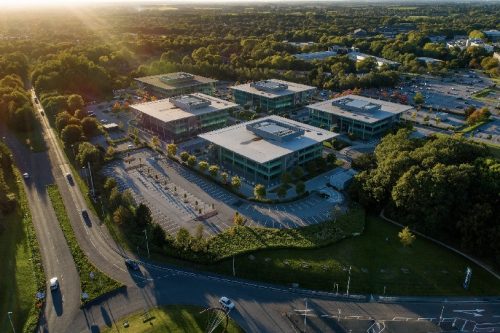 Businesses will need to respond to the changing expectations of its workforce when there is a more widespread return to the office.
A TheBusinessDesk.com virtual roundtable on The Future of the Office, in partnership with Warrington business park Birchwood Park, brought together property professionals and business owners and managers to discuss how they see working life changing in the wake of the pandemic.
Martin O'Rourke, commercial director at Birchwood Park, said: "One of the important things that we found talking to occupiers is that staff are an occupier's most important resource and they're also the most expensive resource. A lot of time and effort is spent on recruiting staff, but you've also got to then retain those staff. Occupiers have got to provide that environment, particularly for the next generation coming through.
"They've been in universities and seen that type of more relaxed environment. If you're a company trying to attract that next generation of graduates, you've got to be able to provide what they're used to."
Khalil Rener, director of Rener Wellbeing and co-author of The Future of the Office white paper, believes that Covid-19 "has strongly accelerated" the importance of workplace wellbeing.
He said: "Younger staff and the new generation are going to look for organisations who are offering out those different initiatives.
"Secondly, I think that bespoke tailored approach to it, creating those spaces, that flexibility. In the white paper, we talked about different areas, different heating, different lighting, and initiatives around physical activity.
"From an office space, it's about enabling people to have that healthy option, be able to be active, be able to do mindfulness, be able to have a creche and drop the kids off. As workplace wellbeing evolves, each organisation will have their own tailored approach."
Patrick Ames, head of design at Claremont Group Interiors, agrees that expectations continue to change and office occupiers should think of the workplace as "an experience".
He said: "We've done a lot of research into this. It changed from when I first started working, it was 'I'd love a company car' and then it became about tech – everyone wanted the mobile phone, the laptop – and now the bright young things are they're looking at what they want. The workplace is an experience – and that's what it should be.


"One of the analogies I use with clients is pubs exist for a reason – because we're social. Some people drink at home but you're driven to the pub to see your friends. Your social workplace is exactly the same, it's all about interaction and learning off each other."
But that desire to get back to the office does not necessarily mean get back to the same office. Places outside of the big cities have an offer that may have grown in attractiveness as workers have got used to not commuting and going for walks in quiet areas to break up the woring day.
John Adlen, growth director at Cheshire and Warrington LEP, said: "We've been having an interesting discussion at the sub region over the last 12 months now about what the impact of this would be on places like Cheshire and Warrington. Some interesting things have arisen for us. One is the potential positive impact for secondary locations, so places like Warrington, Chester, Crewe, places that are well connected into transport hubs but not necessarily as expensive as the big cities.
"HS2 arriving at Crewe, Northern Powerhouse Rail arriving at Warrington, could be real catalysts for those locations. People have got used to not having their commutes and they don't necessarily want to spend two hours trying to get into Manchester every morning. That might be a benefit to us and we're starting to think about how that might work."