University spin-out enables IBS diagnosis method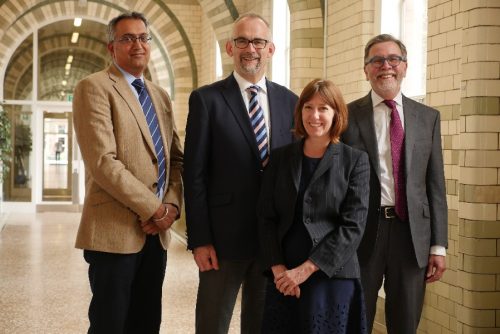 A University of Liverpool spin-out company is close to helping the diagnosis of a range of disorders, including irritable bowel syndrome (IBS).
Nidor Diagnostics is working with its industrial partner to carry out final validation of a new diagnostic for IBS before commercial launch.
The company is a spin-out between the University of Liverpool, the University of the West of England, Bristol, the University of Bristol and The Wellcome Trust.
It aims to provide a service to support the diagnosis of a range of disorders based on gases emitted from biological samples. The first products being developed are for the diagnosis and management of IBS, followed by inflammatory bowel disease.
For the first time ever, Nidor Diagnostics will be able to positively diagnose IBS and help patients to get the correct treatment.
The company has recently agreed to partner with an accredited clinical laboratory licensed to undertake trials for regulatory work. In addition, Nidor has received £75,500 funding from the Liverpool City Region Future Innovation Fund to build its first instruments to be trialed and validated by the laboratory.
Affecting more people worldwide than diabetes, IBS has a huge impact on the lives of patients, bringing cramps, severe pain and unpredictable bowel habits such as diarrhoea, constipation or often both.
Despite being a common condition there is currently no test to definitively diagnose the condition, with many doctors instead performing numerous tests to rule out other conditions. Consequently, diagnosis is often delayed, causing further patient anxiety.
Over-investigation of symptoms related to IBS can also prove costly and potentially dangerous.
Patients often perceive that an IBS diagnosis is only made when doctors don't know what is wrong. Additionally, if doctors give a treatment that does not work, patients lose faith in the diagnosis.
Previous studies from the University of Liverpool's Prof Chris Probert, co-inventor of the new diagnostic technology, have repeatedly shown that the gas pattern from stool samples can be used to separate patients with IBS from those with healthy bowels as well as those with inflamed bowels.
In collaboration with Kings College London, Prof Probert's group published data to show that it is also possible to predict which patients with IBS are likely and unlikely to respond to dietary treatment, as well as data to help make the diagnosis of inflammatory bowel disease, enabling fast-track treatment.
Nidor is planning to be able to launch its first services in late 2021.
Dr Peter Foster, CTO designate, said: "I have commercialised more than 40 diagnostic tests worldwide and see this as an exciting opportunity.
"Our partnership with an existing accredited testing laboratory which has all the required logistics for sample shipment and high quality standards will ensure that we set up our testing service with full validation to meet all regulatory standards to add to our already extensive clinical testing."
Dr Taj Mattu, CEO designate, said: "The university has laid the foundations that will result in a revolution in the diagnosis and management of medical conditions that currently require costly invasive procedures.
"The grant from LCR is truly enabling and will further reduce investor risk as we bring these innovative diagnostic tests to market through our established partners."
Chris Probert, Professor of Gastroenterology at University of Liverpool and co-inventor of the technology, said: "This is a game changer. No longer will patients have to tolerate delays as well as unnecessary tests before they are given a clear positive diagnosis of IBS and advice on how to manage this very common and debilitating disorder."
The University of Liverpool's IP commercialisation team has extensive experience of partnering with companies to license innovative technologies developed at the university and is skilled in taking these new products and services to market.
The £3m Future Innovation Fund programme was established by Liverpool City Region Metro Mayor Steve Rotheram to support Liverpool City Region's (LCR) small and medium sized enterprise (SME) community.
The fund aims to incentivise SMEs to innovate, adapt and diversify in response to, or in spite of, the challenges and opportunities presented by the coronavirus pandemic and its associated impacts on the economy and society.