People: DWF; Vypr; Fifield Glyn; Avison Young; MaxContact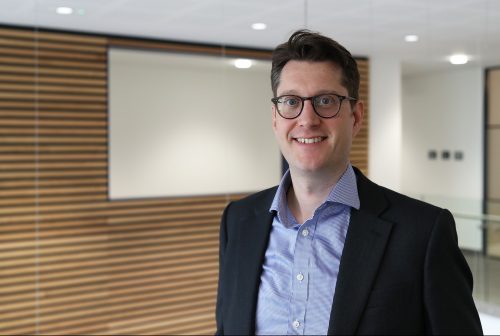 DWF, the Manchester-based global provider of integrated legal and business services, has appointed Darren Drabble as group general counsel and company secretary.
Darren will be a member of DWF's executive board with responsibility for providing senior management with strategic legal advice while also overseeing legal compliance and corporate governance across the group. He will also serve as company secretary to the board of DWF Group plc.
He will join DWF in April and will be formally appointed in his role on May 1, 2021. Darren joins from Radius Payment Solutions where he is the group legal director and company secretary.
He was group general counsel and company secretary for Moneysupermarket.com Group from 2007 to 2019. Prior to that, Darren was senior legal counsel at United Utilities Group for five years.
Sir Nigel Knowles, CEO of DWF Group, said: "Darren is an excellent addition to our executive board, bringing more than 18 years of in-house experience in a diverse range of roles.
"His background in working in senior legal roles for PLC's, coupled with his high degree of commercial acumen and corporate governance experience, will be valuable as we continue to grow as a business."
Darren said: "DWF is one of the most innovative and forward thinking legal businesses in the world. The business has grown rapidly over the years and is now doing well as a listed business. I look forward to supporting DWF as it progresses to the next phase of its development."
::
Market research and online consumer intelligence veteran Richard Thornton has been appointed to the board of fast-growing Manchester-based consumer insights business Vypr following a £2.5m investment backed by private equity firm YFM Equity Partners (YFM) in January 2021.
Vypr has built a cloud-based data validation platform that enables manufacturers and retailers to save time and costs on new product development by providing insight into what customers want to see on the shelves.
Its process combines research into behavioural science with its own well-segmented consumer panel, putting the client in full control and enabling them to test every aspect of their product innovation, from packaging, pricing and naming to product claims and ranging.
Richard further strengthens the Vypr board, having worked with customers and partners for more than 20 years in consultancy and commercial roles within the data and insights industry at high growth, fast scale SaaS technology businesses.
He has spent the past 12 years working for Cint, the global software leader in digital insights gathering, latterly as chief commercial officer, and is now a senior adviser to the company. Prior to that, Richard was managing director of Ciao Surveys, the European arm of Greenfield Online, and one of the early pioneers of online consumer research panels.
Chair of Vypr, Richard Law, said: "I'm very pleased to welcome Richard Thornton to Vypr's board at such a pivotal point in the business's development. Richard's sector experience, contacts and impressive strategic track record in our sector make him a perfect fit for Vypr at a time when the business's growth, both in terms of revenue and new strategic customers, is accelerating quickly.
"I believe that Vypr's prospects are exceptional and having Richard join us at the same time as receiving investment from YFM further enhances our market position and prospects."
Richard Thornton said: "Joining the Vypr board, alongside YFM Equity Partners, was too good an opportunity to miss. Vypr has a great value proposition, an extremely capable leadership team and is very well placed to help digitally transform an entire category with its agile and behavioural science-led approach to NPD.
"It is a unique offering in an area that is ripe for innovation and transformation through technology. I look forward to bringing my industry experience and SaaS technology background to help the business on its rapid growth journey."
Dan Freed, investment partner at YFM and board member of Vypr, said: "Richard is a welcome addition to the board, further boosting a strong management team at an exciting time in the business's development."
::
Chartered surveyors Fifield Glyn has announced that Oliver Buckingham has been appointed director of property management, both commercial and residential.
Oliver joined the company, which has offices in Manchester and near Northwich, in July 2015, together with his late father's firm, Buckingham's, as an associate and deputy head of commercial property management, which he has expanded considerably over the period.
Newly-appointed Graham Bennett, associate and deputy head of residential management, is responsible for all operational matters with the residential management.
::
Avison Young has made three senior appointments in its Manchester office with Alistair Greenhalgh joining as director in the hotels team, Demetri Papaioannou as associate in the business rates team and Lauren Verdi Bowker as senior surveyor in the building consultancy team.
Alistair has been working in the property sector for more than 20 years, with a range of experience including corporate, regional and high street clients. Part of Alistair's role will see him providing clients within the hotel industry with advice regarding disposals and acquisitions, as well as lease and management negotiations.
Meanwhile, Demetri joins the business rates team from a previous role as a senior surveyor, with more than seven years of commercial property experience. His work will span across a range of sectors including office, industrial, retail and leisure, both in the North West and nationally.
His role will include delivering advice to landlords and occupiers in relation to all business rates matters, such as challenging rateable values and business rates relief. This falls in line with Avison Young's 2021 top 10 trends, hyperlocal and workplace experience. The trends were recently released as part of a series of city reports, exploring the evolving realities of the UK commercial real estate landscape in the coming year.
Lauren Verdi Bowker, who has a background in dilapidations, acquisition surveys, contract administration, reinstatement cost assessments and planned maintenance reports, joins as senior surveyor in the building consultancy team and will be working on a variety of projects across the region.
Chris Cheap, managing director and principal of Avison Young Manchester, said: "We recently announced 10 new promotions in the Manchester office and it's brilliant to be able follow this up with the announcement of our three new starters.
"Alistair, Demetri and Lauren bring a wealth of experience to the business and to our clients, which is invaluable. Despite the impact of the pandemic, we continue to ambitiously grow our Manchester-based team to offer the range of services that our clients are seeking."
::
Contact centre software specialist MaxContact has appointed Alec Kemp as finance director to steer the business through a period of rapid private equity-backed growth.
Alec was previously FD of the UK wing of a large multinational Unified Communications as a Service (UCaaS) brand, and brings with him wide experience of guiding businesses during the transition from owner-manager to equity-backed investment models.
After years of steady growth, including a 30% sales boost in 2020, Manchester-based MaxContact is now working with specialist Software as a Service (SaaS) growth partner FPE Capital to accelerate its product development roadmap and grow its support and service teams.
Alec said: "When I started in my previous job, the business was in a very similar position to the one MaxContact is in now. That business went through a period of very rapid growth and is now a market leader, and there's no reason MaxContact can't do the same.
"It already has excellent technology and a very passionate, energetic management team. Now it has the investment to back its ambition."
Alec believes the business can treble in size over the next few years, thanks to the strength of its contact centre solution and trends in the wider market. He said the cloud software sector had taken huge strides forward in recent years.
"When I started in SaaS, businesses were asking if they should move to the cloud," he added.
"Now they're asking what and when they should move to the cloud. In this regard, the pandemic has accelerated the case for agile cloud-based contact centre software, which has been proven by lockdown and the need to quickly transition to remote working."
Alec joins the board and will lead a finance department focused on driving growth by identifying the most potent revenue streams and helping to devise strategies to take advantage of them. His current priority is setting the business up for future growth and building out essential departments like marketing, HR and procurement.
MaxContact is a feature-rich and cost-effective contact centre solution built by a team of contact centre experts. The company's cloud-based software integrates with existing technology like CRMs and bespoke industry applications, and supports seamless omnichannel communication across voice, email, SMS and social. Agents can access the service from anywhere and on any device.
MaxContact CEO, Ben Booth, said: "We're obviously delighted to have someone with Alec's experience and expertise on board as we start the next stage of our journey. Not only has Alec helped businesses in our position before, but he's also successfully steered businesses in this sector through phases of rapid growth. He knows exactly what we want to do and how to help us achieve it."
Alec spent nine years with PricewaterhouseCoopers in London and Hong Kong, before a five-year spell in Germany with a global manufacturing business in the automotive sector. His appointment by MaxContact coincides with the arrival of Lars Pedersen as chairman of the board.