People: Harvey Homes; Hodder+Partners; Aberla Group; Arete; Provenio

Bowden-based property developer Harvey Homes is beginning 2021 with a bang by bolstering its already strong team.
Arabella Durkin has been appointed as the group's new sales and customer care manager and will be responsible for supporting the company's clients during the buying process.
She will be looking after the properties at Harvey Homes' inaugural development in Knutsford (Swan Green) but will also be involved in Harvey Homes' future developments.
Andrew Kitto has also become part of the Harvey Homes team as the company's management accountant. He is responsible for all the financial side of things, including ensuring their processes and procedures are working as efficiently as possible.
Both Arabella and Andrew are strong additions to the team, with Arabella having worked in customer service for more than a decade, and Andrew having worked with construction, development and property companies since he qualified as an accountant more than 25 years ago.
Director Tom Ratcliffe said: "Arabella's knowledge of the local area is second-to-none as she previously lived down the road from the Swan Green development in Lower Peover and worked at an estate agents in Hale, where many of our buyers are hailing from.
"Andrew's knowledge of both the accounting and property industries is fantastic, and we know he will be a great asset to Harvey Homes.
"We are delighted that they have both joined the team and know they will help to reinforce our reputation for great customer service and general excellence."
Arabella said: "I have a real understanding of the local area in Knutsford and why people choose to live there, so I am looking forward to supporting Harvey Homes' buyers as they look for their dream homes.
"I am looking forward to what the future will bring as new developments are brought to life by Harvey Homes as I believe they are elevating the new build property market in the North West."
Harvey Homes is currently building 30 family homes in Swan Green, Lower Peover on Middlewich Road. Several families are already living in their new homes, with the development set to be completed in 2021.
::
Manchester architecutural services group Hodder+Partners has announced the appointment of Simon Guineberteau, Nick Wright and Richard Newman as associates.
Simon has been with Hodder+Partners for just under three years having studied in France as well as in Spain and graduating from the Ecole Nationale Superieure d'Architecture de apris La Vilette in 2014.
Prior to joining, Simon worked both in France and in the UK, initially at A3+ in Paris, then in London at Maybank & Matthews, Brisac Gonzalez and subsequently as an associate at Foster+Partners.
Nick has been with the practice since August 2014 after graduating with Distinction from the MArch course at Leeds School of Architecture.
Since his arrival, Nick has worked on large residential projects in Manchester, Birmingham and Leeds as well as student accommodation schemes in London, Oxford and Newcastle.
Most recently he was project architect for the award-winning Welcome Building at RHS Garden Bridgewater. Prior to joining, Nick worked at Wilson Mason and Partners in Samlesbury where he worked on the award-winning Manchester Cancer Research Centre, as well as a range of academic and accommodation projects across the Lancaster University Campus.
Richard joined Hodder+Partners in 2017 having achieved a Distinction in his Masters of Architecture at Manchester School of Architecture.
He moved to Manchester having been an undergraduate in Nottingham and worked in London. Richard has assisted in successfully achieving planning permission for St Michael's, a mixed use development on the site of the former police station and synagogue adjacent to Albert Square and the historic core, for Gary Neville and Ryan Giggs.
Richard has also been working with the team producing a framework, master plan and Build to Rent proposals for the regeneration of Bedminster Green in Bristol.
::
North West energy and utility infrastructure specialist, Aberla Group, has announced the appointment of Ben Whawell, the former chief financial officer of Stobart Group, as non-executive chairman.
Mike Fletcher will step down from his current position as Aberla's chairman to allocate more time to focus on his new business venture, multi-family investment office Arete Capital Partners, and to devote more time to his chairman position at AIM-listed Inspired Energy plc.
Mike has been chairman of Aberla since 2015, where the company's annual turnover has grown from start-up to a £15m enterprise employing 47 people. Mike will continue to serve as a non-executive director.
Mike Fletcher said: "I'm incredibly proud of the work we've achieved at Aberla over the last five years. I've enjoyed my time as chairman supporting the ambitions of Paul and our management team and seeing the business flourish.
"Ben Whawell is well known to me and was identified early on as someone who brings a wealth of operational experience and drive, I'm delighted that we have managed to secure his services. I look forward to working with Ben and the rest of the board to delivering our next phase of growth."
Ben Whawell brings more than 16 years' service in the energy industry and previous roles include 10 years as chief financial officer of Stobart Group and four years as chief executive officer of Stobart's energy division.
During his time with Stobart, Ben was part of the team which led the improvement in the group's share price from £1.30 to £3.00, raised £250m in equity and increased the energy division's EBITDA by 165% from £9.1m to £24.2m.
His success as a leader was recognised across industry, as Whawell was awarded the North West Finance Director of the Year Award on three occasions, in 2009, 2012 and 2013, and the Large Company Finance Director of the Year Award in 2012, which speaks to the quality of his work and his pedigree.
Ben said: "I am delighted to have been offered the opportunity to become chairman of Aberla. I greatly value the support already shown to me by the board, and I look forward to working with them.
"Aberla has enjoyed superb levels of growth in recent times, and they have the ingredients and the processes in place to be an industry leader. I look forward to being part of their journey."
Paul McCarren, Aberla CEO, said: "We're really looking forward to Ben joining us and to working with him over the coming months and years. We have ambitious plans and are looking to continuously evolve the business. Having someone of Ben's calibre and expertise will have immediate benefits.
"I'd also like to thank Mike for his commitment to Aberla over the past five years and the role he's played in developing the organisation."
The Aberla Group incorporates Aberla Energy, Aberla Utilities and Aberla M&E, and operates across the UK. With the group head office in Warrington and an M&E office in Manchester, the business has investor backing from Praetura Group and the Northern Powerhouse Investment Fund.
::
Multi-family investment office, Arete, has announced several key appointments to its growing team.
Andy Critchley and Mike Anslow are the Liverpool-based company's first two senior hires of 2021. This coincides with the company becoming a new backer of Manchester-based tech pioneers, Peak AI.
Critchley will join the Arete team as a senior investment manager. His 20-year career has seen him work with financial and insurance sector giants including PwC, and the FTSE 100 insurance PLC, RSA. His most recent investment roles have seen him overseeing the deployment of funds at MSIF and the Development Bank of Wales. In his new role, he'll be integral to Arete's deal origination, investment appraisal, structuring, and deal execution.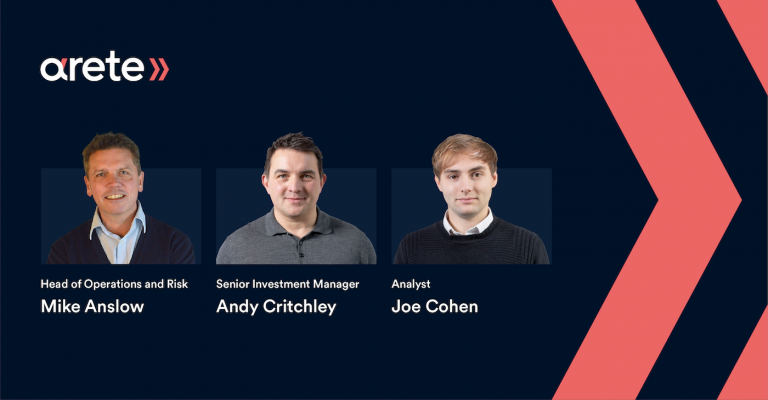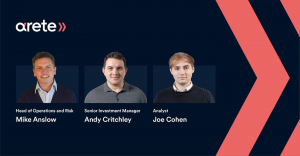 In addition, Mike Anslow will become Arete's head of operations and risk. In a career spanning 25 years, Anslow has held senior positions within several global brands including American Express, MBNA, and British Airways. Most recently he held key strategic roles within M&S, helping the organisation to renegotiation with M&S Retail and leading the project to build out the firm's branch network. In his new role at Arete, he'll be responsible for making sure deals meet all regulatory requirements.
Joint managing partner, Simon Lord, said: "2021 is already shaping up to be a big year for Arete having already struck an important investment deal with Peak AI in the last week.
"In welcoming Andy and Mike to the Arete team, too, we've bolstered our expertise and collective experience so that we're even better placed to deliver on our mission to provide transformational capital to some of the region's most ambitious entrepreneurs and companies."
Arete has also hired analyst Joe Cohen, who has experience in multi-strategy fund management and spent time at Acropolis Capital in London. His remit will be to work with the senior team to identify and analyse new investment opportunities.
::
Liverpool law firm Provenio has appointed Tom Handley as a director of the business.
Tom, formerly CEO at Exchange Chambers, will work closely with Provenio's main board as the firm continues to implement its growth strategy.
Under Tom's guidance, Exchange Chambers established itself as one of the largest full-service barristers' Chambers in England and Wales with close to 200 members and offices in Manchester, Liverpool and Leeds. Tom also led Exchange's expansion into new areas of law, such as a group litigation.
Prevenio managing partner, Mark Goodwin, said: "Tom has a proven track record and is widely respected in the legal services sector.
"His insight and commercial awareness, particularly in relation to the developing group litigation and funding, will be of huge benefit as we continue to build the business."
Tom Handley said: "Mark and the team at Provenio are recognised in the market as one of the leading litigation teams in the UK.
"With specialist expertise and a strong financial platform, the firm is ideally placed to realise new opportunities."
Provenio recently announced the launch of a £50m fund in partnership with global litigation funder Therium, to finance high value litigation and arbitration claims.
In December 2020, the firm also appointed David Gray as a consultant to its investment committee. David enjoyed a long and successful career at DLA Piper before retiring from the partnership in 2017. He was a partner for more than 25 years, head of the UK Litigation and Regulatory Group for 16 years, and Manchester office managing partner for four years.
Provenio was launched in 2019 by a team of senior litigation lawyers from DLA Piper's Liverpool office. Headed by founder and managing partner, Mark Goodwin, the team has decades of combined litigation experience at DLA Piper.