Regeneration on agenda for nine North West towns in £211m Towns Fund deals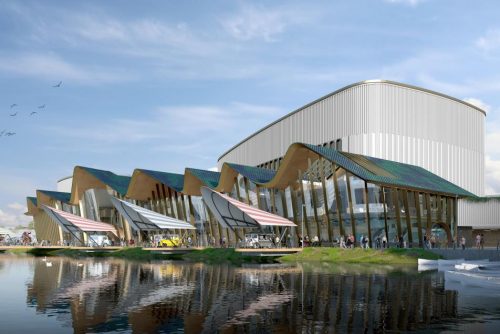 Nine North West towns were awarded a share of £211m from the Government's Towns Fund in yesterday's Budget, with Southport being the big winner.
The towns benefiting from the investments are: Preston, Workington, Bolton, Cheadle, Carlisle, Leyland, Southport, Staveley and Rochdale.
Southport has been awarded £37.5m towards projects including a waterfront events centre and the regeneration of Lord Street. The events centre will replace Southport Theatre, which closed in March last year when the operator entered liquidation.
Cllr Ian Maher, leader of Sefton Council, said: "After an incredibly hard year for the town's businesses and residents, the announcement of this funding is a really positive way to start 2021."
Sefton Council says the funding could help to create more than 1,000 jobs, around 300 construction jobs and attract an extra one million visitors per year.
Rob Fletcher, chair of the Southport Town Deal Board, said: "The hard work of the Town Deal Board has been rewarded in this funding announcement. The board has ensured that the views of the many have been included in the submission.
"We are pleased with the announcement and are now looking forward to continuing to work with Sefton Council, who will be responsible for delivering a remarkable range of projects which will support our communities, business and young people and make Southport the place to be."
Sefton Council chief executive, Dwayne Johnson, said: "Fantastic news for Southport in Sefton with the award of £37.5m for the town. With the other developments across Sefton it demonstrates confidence in our borough and something to celebrate and gives hope to our communities."
Damien Moore, the town's MP, said: "This funding is an opportunity to present a vision not only of what we want for Southport now, but where we want to be in the future. This has always been my goal, to deliver a locally driven, joined-up package for Southport. I want Southport to be the best town it can be."
Meanwhile, Bolton Council has been offered up to £22.9m of funding to help regenerate its town centre. This is in addition to the £1m accelerated funding already secured.
The Cheadle Square area of Bolton town centre, which includes Bolton Market, Bolton Central Library, and Aquarium, is now set to see major improvements.
Bolton Council will also use the secured funds across four projects including an improvement to Bolton Market, which will involve refurbishing and upgrading the internal halls, and improving all entrances to the building.
The Wellsprings building will be redeveloped to create an innovation hub for growing and start-up businesses in the creative and digital sector.
A public realm project will create a greener town centre, creating improved footpaths and connections between key institutions improved, new pocket parks and new public spaces.
Finally, a redevelopment of Bolton Central Library, Museum and Archive will expand the Aquarium, modernise the libraries and introduce flexible workspaces for local businesses and community groups.
The next stage of the process will involve the council agreeing Heads of Terms with government and developing a full business case for each of the projects.
Chair of Bolton's Town Deal Board and director at Agitare Business Consultancy, Belinda Beaver, said: "I am overjoyed that Bolton's Town Fund has been successful and the money we receive will make a great difference to our town centre.
"The success is a testimony to Bolton's fantastic collaborative working with partners to provide upgraded facilities to businesses, residents and visitors alike."
Leader of Bolton Council, Cllr David Greenhalgh, said: "This money will help us realise our vision and enable us to deliver transformative projects which are a key part of our ambitious plans.
"These town fund projects result from extensive collaboration with residents, MPs and private and public sector partners and will reinforce our collective ambition, vision and commitment to regenerating Bolton's town centre."
Preston has been awarded £20.9m from the Towns Fund for a series of ambitious regeneration projects within the city's emerging Harris Quarter.
The funding will support redevelopment projects highlighted within the new Preston City Investment Plan (CIP) which sets out a bold 15-year vision and strategy to transform the city centre.
Projects that will benefit from the funding include:
#HarrisYourPlace: The refurbishment of the Grade I-listed Harris Museum, Art Gallery & Library, enhancing and protecting the building for generations to come
Animate – Cinema and Leisure Scheme: The delivery of a new cinema and bowling attraction with food and drink venues, a car park and public square next to Preston Markets
Renewal of Harris Quarter Assets: Investment to support the redevelopment of publicly-owned buildings in the Harris Quarter to support new cultural and community uses
Illuminate and Integrate: A project to deliver improved pedestrian and cycleway infrastructure, street lighting and other public realm improvements within the Harris Quarter
Animation of Public Spaces: A project to fund the co-ordination of events in new and existing public spaces in the Harris Quarter
Preston Youth Zone: The development of Preston Youth Zone as a state-of-the-art facility for young people in Preston aged eight to 19
The Pop-Ups project will bring together a new temporary event space, artworks, and improvements to public realm infrastructure, aimed at boosting visitor activity in the Harris Quarter as the city recovers from the impact of the coronavirus pandemic.
John Chesworth, chair of Preston Partnership and the Preston Towns Fund board, said: "The projects within the plan will not just regenerate buildings and public spaces, they will strengthen our leisure and cultural offering, creating jobs and economic growth. They will enable the city centre to have a thriving day and night-time economy which will be vital in the years ahead."
Cllr Matthew Brown, leader of Preston City Council, said: "What's really important to us about the regeneration of Preston is that it is guided by the people and businesses living and working here, so we're really proud of the way the City Investment Plan and the Preston Towns Fund bid has been developed and led by the Preston Partnership."