Law firm set to recruit 120 staff linked to latest expansion phase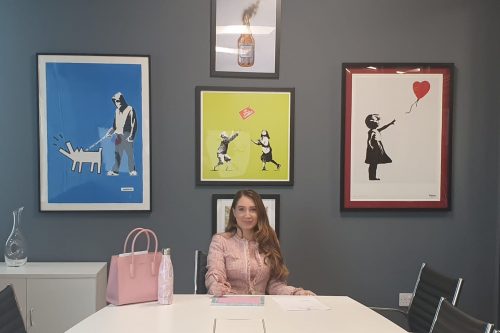 A Liverpool law firm plans to recruit 120 staff as part of a bold expansion plan.
Coinciding with International Women's Day and the firm's fourth anniversary, Jessica Hampson, director and owner of CEL Solicitors, revealed the civil litigation specialist is set to take further space at 20 Chapel Street where it already occupies the 12th floor.
Its workspace already boasts three bars, two 'think swings', a pool table and a 70-seater amphitheatre for its 65-strong workforce which deals across seven practice areas of housing disrepair, data breach claims, Japanese knotweed claims, financial mis-selling claims, land boundary disputes, fraud prevention claims and business interruption insurance.
Ms Hampson says the national law firm's latest expansion, to the sixth floor of 20 Chapel Street, will pave the way to hire 120 further members of staff over the next two years.
She said: "Since launching four years ago, we've gone from strength to strength, growing from just one service line to seven and massively increasing our headcount, which we absolutely could not have achieved without heavy investment in technology and a strong 'people before profits' ethos.
"To be able to mark our anniversary on International Women's Day is particularly poignant for me, as it was, of course, a major challenge – and risk – setting up a law firm in an already crowded market.
"But, I was passionate about creating a business that disrupted the industry, putting people before profits and rewarding effort and talent, regardless of background, experience or social demographic."
She said she created the office in 20 Chapel Street with the team's wellbeing at its core: "Everything here is designed to foster a collaborative, engaging workspace, from the 'think swings', bars and Banksy artwork on the walls to the panoramic views over the River Mersey.
"We wanted the office to be somewhere that the team look forward to coming into, so to now be announcing an expansion onto the sixth floor is incredible and will allow us to continue our growth."
The new sixth floor space occupies 7,168 sq ft, with fit-out works set to begin next month.
Initial plans include design inputs from the team, such as a seven metre-long aquarium and further games and chill-out areas similar to the 12th floor.
And, having bolstered its team by 100% during the past 12 months, Ms Hampson said they are now looking forward to welcoming more new members and increasing investment in tech to help facilitate the company's expansion.
"We're proud that, despite the challenges of the last year, we've managed to expand our team and also add two brand new practice areas to our offering.
"This is a true testament to the dedication, tenacity and talents of the team.
"We are passionate about securing the very best outcomes for our clients – whether that's a social housing tenant living in uninhabitable conditions and pursuing a housing disrepair claim, or an individual whose personal data privacy has been breached.
"Working with Barclay Eagle Labs, we're now exploring how we step up our already innovative approach to client handling using technology such as AI – we've previously been dubbed as a 'Scouse Silicon Valley' for our disruptive approach, which we've really embraced and ran with.
"I'm extremely passionate about investing in the right tech to achieve the most efficient and high quality outcomes for clients, helping the business to grow, as well as modernising the legal sector, which can often be viewed as 'traditional and stuffy'."
She added: "As a firm, we believe that people with passion really can make a difference – and that's what we're doing at 20 Chapel Street … one office at a time."