Leading Manchester arts venues unite to create 40 Kickstart roles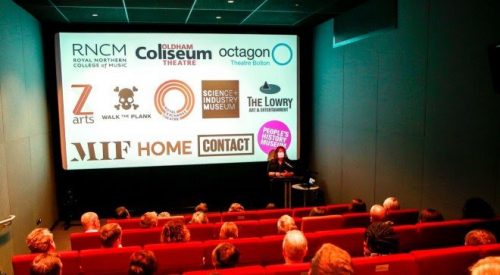 A consortium of leading arts organisations in Greater Manchester have joined forces to create job opportunities for 40 young people.
The roles for unemployed 19-24-year-olds are funded by the government Kickstart Scheme.
The GM Cultural Consortium, which includes Manchester International Festival (MIF), the Royal Exchange, Contact, The Lowry, and HOME, took part in a joint application led by MIF's The Factory Academy, Cultural & Creative Skills and Curious Minds, to successfully secure funding for the roles.
The roles will commence over the next few months and cover all aspects of the industry from press, producing, marketing, sustainability, touring, community engagement, skills and training and artist liaison to creative development and front of house and operations.
In advance of the Kickstart jobs roll-out, MIF has already engaged with 50 Kickstart-eligible students who have taken part in pre-employment training as part of its skills and training programme, The Factory Academy.
Jocelyne Underwood, skills and training director at MIF & The Factory says: "This collaborative approach is a key part of our vision to put skills and training opportunities at the heart of The Factory.
"Over the next five years we're creating thousands more training opportunities with the aim of opening up the creative sector to the widest pool of talent and helping to equip young people with skills that will be useful post -COVID."
Dave Moutrey, director of culture, Manchester City Council and director and CEO of HOME said: "Greater Manchester has a history of cultural organisations working together to provide platforms for young people to develop their skills and experience.
"These Kickstart roles offer new opportunities for young people to build their confidence and skills in a dynamic industry, and the wide range of roles available across the scheme reflects the diversity of skills and experience employed within cultural organisations."
Julia Fawcett, CEO of The Lowry in Salford, said: "This is a great example of arts organisations across Greater Manchester working together to open-up the industry to new talent.
"The Lowry is already consulting with our local community on specifically which areas of our business Kickstart positions should be based to amplify those new voices."
Sheralee Lockhart, director of business and operations at Royal Exchange Theatre said: "A thriving cultural industry has always been part of Greater Manchester's history, and what better way to ensure a dynamic future than to open-up skills and training opportunities for young people from across the region."