Property round-up: DTZ Investors; Beech Holdings; Christie & Co; Pugh; Anchorage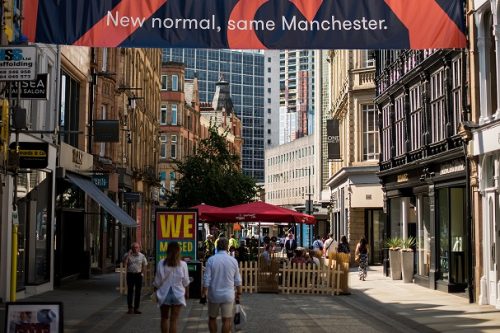 A jewellery operator has signed-up to Manchester's King Street, after DTZ Investors – the district's majority landlord – completed a further two deals in the wider neighbourhood.
Lyons Thompson Letts (LTL) orchestrated the trio of lettings on behalf of DTZ Investors and HMG, which will see Yorkshire Building Society and Smile Direct Club both take space from DTZ Investors in National House and fronting Cross Street, situated adjacently to King Street.
Yorkshire Building Society will take 1,591 sq ft at 36 Cross Street on a 10-year lease. Smile Direct Club, the global cosmetic dentistry clinic, has also taken a new lease at 46 Cross Street. The clinic has opened and will be operational during lockdown.
Silver Lining Jewellery & Piercings has taken its first store in the North West agreeing a deal with HMG on 56 King Street. It currently has stores in Leeds, Harrogate and Sheffield.
Tom Royston at DTZ Investors, said: "Our placemaking strategy for King Street, which has been to diversify the offering, is clearly resonating – the announcement of Silver Lining comes quickly after the lettings of two leading national and international brands, which will help to enhance the experience and amenity available to King Street's visitors.
"Our approach is also helping to form a cohesive neighbourhood which extends beyond just King Street and percolates through the neighbouring streets such as Cross Street – with unique retail, dining, leisure, and event-driven experiences all within a stone's throw of each other."
::
A North West-based PRS developer has purchased a landmark building in Newcastle with plans to refurbish it into 250 low-carbon, high-specification co-living apartments – its first development in its planned expansion across regional UK cities.
Cale Cross House, situated next to the Tyne Bridge, was built in the 1970s as commercial office space, but has since been unused for several years . Manchester based Beech Holdings, a company with more than 20 years' experience in the residential property market, has purchased the site for £5.35m, and will invest a further £18m into Newcastle. The company plans to employ at least 15 permanent staff at the site, will contract hundreds of local tradespeople and use local suppliers during the construction period.
The scheme will see 250 studio and one-bed apartments being created with co-living communal spaces on the lower ground floors. These will include a commercial sized gym, private residents' coffee lounge, yoga and spin studios, a Newcastle community accessible event space, co-working area, bookable private dining rooms and kitchen for holding dinner parties and an AV/cinema lounge.
Chief executive Stephen Beech said: "We've been working on this deal for some time, it's an exciting next step for Beech Holdings expanding into regional cities. This area of Newcastle city centre has been somewhat overlooked in recent years, but this is where we excel, transforming unloved properties into modern, beautiful homes for residents."
Beech Holdings has solely funded the purchase of Cale Cross House and has been advised by Sandra Manson, senior director at Pegasus Group planning consultants. The development work will be carried out by the company's design and build arm – Beech Design and Build. Construction is expected to start next month with an expectation to complete by September 2022.
::
Specialist business property adviser, Christie & Co, has announced the sale of Ponda's Chemists in Cheshire to an established Manchester-based partnership group in a deal worth more than £1m.
Ponda's Chemists is a pair of well-established standard-hour pharmacies, comprising one community pharmacy and one located within a popular shopping precinct. Both sit in locations just half a mile apart from each other serving the town of Winsford, Cheshire.
The pharmacies' previous owner, Mr Raju Ponda, passed away more than 30 years ago and left his estate to be fully managed by his trustees. The board of trustees believed it was the right time to exit from pharmacy ownership.
Ponda's Chemists has been purchased by SZ Enterprise Ltd, a group of independent contractors with more than 40 years of pharmacy sales and acquisitions experience between them. They are strategically acquiring pharmacies in the local region.
Dr Mike Benson, trustee and accountant for Ponda's Chemists Limited, said: "We're delighted to be handing this brilliant pair of pharmacies over to SZ Group who I'm sure, with their wealth of experience and knowledge in the sector, will bring them to further success. On behalf of all trustees, I'd like to wish the new owners all the best."
::
An historic three-storey building off St Peter's Square in Manchester city centre is due to go under the hammer at the next Pugh property auction in April.
Number 65 Princess Street, which adjoins the Waterhouse Wetherspoons pub, is Grade II-listed and was built as one of a row of four three-storey townhouses with basements, at the end of the 18th century.
Most recently used as the offices of a recruitment company, the 2,900 sq ft property is being auctioned with planning consent for conversion into an eight-bedroom boutique hotel and has been given a guide price of £650,000. A planning application has also been submitted to redevelop the building as a six-bedroom, four-reception-room townhouse.
Edward Feather, associate director of Pugh auction house, said: "It's highly unusual for a historic property like 65 Princess Street, in the heart of the city centre, to come up for auction, especially with planning permission for redevelopment as a hotel. The potential to return it to its original 18th century use as a townhouse is also an exciting possibility if planning consent is given and not surprisingly there has been a great deal of interest in the building."
He added: "It has been unoccupied for some time and it will be fantastic to see this property, which has been centre-stage in Manchester's development as a great city, become an asset once again."
::
FixMyRun, Manchester's running technique specialist, has selected Anchorage Salford Quays as its new home.
The new occupiers will take up 1,184 sq ft, within the scheme's wellbeing studio in the recently renovated ground floor of Anchorage 2, providing tenants and other local running enthusiasts with easy access to professional support.
Headed up by business partners Joe Best and osteopath Alex Green, FixMyRun will provide training sessions and injury rehabilitation, as well as specially curated programmes designed to help both keen and aspiring athletes reach peak performance when training. Anchorage 2 is now fully let, with circa 30,000 sq ft of space remaining at Anchorage 1 following the completion of extensive renovation works in autumn 2020.
Joe Best, rehabilitation, speed and performance director at FixMyRun, said: "We're really excited about our move to Anchorage. Salford Quays is a very up and coming part of the city and this location is perfect for us, both geographically and strategically."
As well as training programmes, the facility aims to develop a corporate package for businesses operating within the local area. Joe added: "Although our specialism is running, we understand that many office workers develop desk-related injuries, and we can help with that, too. A common problem is lower back pain and our rehab facility is designed to identify movement dysfunction, then strengthen and mobilise the muscles and joints which are causing pain. This is really important for pain reduction and overall ease of movement."