People: Genr8; Stenprop; Hyatt Regency; Kroll; GM Chamber of Commerce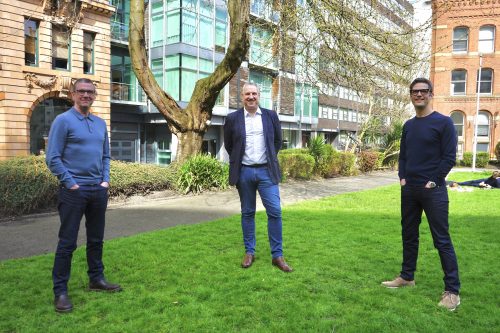 Manchester-based Genr8 Developments has announced that it has strengthened its development team, making a senior hire following a period of planned and sustained growth.
Warwick Smither joins the team as development director after more than 20 years with boutique retail and leisure specialist Cheetham & Mortimer.
During his tenure he gave development and agency advice on schemes as far ranging as MediaCityUK, Rochdale Riverside, Kampus Manchester and Preston Fishergate, as well as strategic advice to clients including Tesco, M&S, Morrisons, and Boots.
He will be driving new opportunities for the developer, seeking prime sites for regeneration across the country.
Warwick said: "I've worked with the team at Genr8 for a number of years and know how talented they all are. It is fantastic to now be joining them at what is a pivotal time for the business, with projects completing and an exciting pipeline of development on the horizon.
"I'm looking forward to getting started and leading what is a brilliant development team."
Warwick's appointment comes off the back of consistent growth for the firm, which saw Genr8 recently announce its extended partnership with Japanese fund Kajima – a leading developer that manages 75 social infrastructure assets in the UK with a gross value of £5bn – to form Genr8 Kajima Regeneration Ltd.
This will build on the success of the partnership at Rochdale Riverside, where together they have delivered 200,000 sq ft of leisure and retail space which is now 90% let. The JV partnership will work with aspirational councils to deliver transformational regeneration projects alongside the Government's levelling up agenda.
Mike Smith, partner at Genr8, said: "We have known and worked with Warwick over a number of years, so he is no stranger to our business.
"He is one of the most respected and talented figures in the regional market and will be a huge asset as we drive the business forward alongside our partners Kajima and deliver transformational change to our town and city centres."
Stephen Perrett of Cheetham & Mortimer said: "Having worked with Warwick for over 20 years it will be sad to see a good friend and colleague leave the business, but we understand the appeal of joining the Genr8 team and we look forward to continuing to work with them all."
Genr8 has delivered more than £150m of development in the past five years. Recently, it has supported the regeneration of Rochdale town centre with the Riverside development, 200,000 sq ft of retail and leisure space which opened for trade at Easter 2020. The next phase, delivering 240 build to rent apartments and a 146-bed Hilton hotel is already under way.
Genr8 Developments was founded in 2008 by partners John Early, Mike Smith, and Richard Ingham.
::
Stenprop, the UK multi-let industrial (MLI) property company, has appointed Paul Batho to the newly-created role of senior development manager.
Paul will be responsible for both sourcing acquisitions of operating assets which offer development and refurbishment opportunities, as well as assessing and managing similar activities across Stenprop's existing 5.5 million sq ft UK MLI portfolio.
Paul joins Stenprop with extensive experience of development projects across the North West of England. He spent 18 years at St Modwen where he was responsible for the delivery of more than 1,000,000 sq ft of new accommodation over a wide range of use classes.
Paul, who will report directly to Will Lutton (head of investment), will be based in Stenprop's Stockport office, as the company continues to strengthen its footprint across the UK's regions in order to best service its growing portfolio and meet changing customer needs.
Julian Carey, Stenprop managing director, said: "We have a strong pipeline of value-add initiatives including the development or refurbishment of over 100,000 sq ft of space within our existing MLI portfolio.
"Paul has been brought on board as senior development manager to help us execute on these opportunities so we can maximise the value of our assets and better meet the requirements of our diverse customer base.
"In addition, Paul will play an integral role in sourcing and appraising new MLI acquisitions which offer both existing income streams and the opportunity for us to add value through refurbishment and development angles."
Paul said: "Stenprop is a business which has clear ambitions to be the market leader in the UK MLI sector and has a proven track record of delivering against its objectives both in terms of the repositioning of the business and of providing excellent customer service.
"There are already plenty of value-add activities under way across the portfolio and I am looking forward to progressing these, while at the same time seeking new opportunities where the refurbishment and development expertise within our platform can be exploited to deliver modern warehouse space suitable for immediate occupation and a range of uses."
::
Jodi Hinks has been appointed as director of commercial strategy for Hyatt Regency and Hyatt House Manchester, reporting into the properties' general manager, Assumpta McDonald.
Previously the director of sales & marketing with Rocco Forte Hotels in Manchester and Prague, Jodi's 20+ years of experience in the hospitality sector encompasses a number of leading hotel, catering and sports industry brands.
Born and raised in Bolton, Jodi said: "I am passionate about working in the hotel and hospitality industries, especially within the North of England, there is no better satisfaction than a customer or guest leaving with a smile knowing that we have provided a fantastic experience.
"I have seen first hand how hotels are places where remarkable talent from all genders and diverse backgrounds can thrive. I love that no two days are the same – I'm thrilled to be joining the Hyatt Regency and Hyatt House Manchester hotels at such an exciting time."
Assumpta McDonald said: "We are incredibly happy to have Jodi on board. Leading her teams, she will oversee partnerships, deliver sales and marketing campaigns and be responsible for developing the brand's growth strategy and driving MICE, corporate and leisure travellers. "
Hyatt Regency and Hyatt House Manchester hotels opened on January 10, 2020. Owned by M&L Hospitality, the hotels are managed by affiliates of the Hyatt Hotel Corporation. Their openings represented a significant milestone for Hyatt's brand growth in the UK as well as the debut of Hyatt's extended stay segment, the Hyatt House brand.
::
Kroll, the global provider of services and digital products related to governance, risk and transparency, has promoted four existing senior directors within the UK restructuring team to the role of managing director, further strengthening the UK team.
The promotions of Eddie Bines, Martin Gray, Mike Lennon and Jimmy Saunders comes on the back of Kroll's announcement late last year of its global restructuring team expansion with the acquisition of Borrelli Walsh.
Eddy Bines will be based in London, but Gray, Lennon and Saunders are all based in Manchester.
David Fleming, head of UK restructuring, Kroll, said: "I am pleased to congratulate these colleagues who have shown outstanding dedication to our business and clients in what is a challenging time for our clients. These promotions are reflective of the talent we have in the UK – it's a team that is growing both in terms of size and skillset.
"These promotions recognise the unique contribution each one has made to the broader restructuring team both here in the UK and internationally. They will continue to provide high quality advisory work at a time when we are beginning to see the full impact of the COVID-19 pandemic.
"Now more than ever, having access to a senior team of specialists enables us to provide the expertise required to enable UK businesses to get through this difficult time."
Kroll's Global Restructuring Advisory team has more than 400 experts based in the UK and Europe, the US, the Caribbean, Asia and Australia. The team originally operated under the Duff & Phelps brand, which was unified under the Kroll name in February 2021, allowing it to represent the full suite of services the firm provides to clients and to offer a cohesive approach for delivering tech-forward solutions to the market.
::
Sharon Seville, director of First Executive Recruitment, has recently become Stockport Local President for Greater Manchester Chamber of Commerce.
She has been a member of the Greater Manchester Chamber of Commerce (Stockport) for more than 10 years.
Sharon said: "Since then my business has drawn on the resources the chamber has to offer and I've watched it evolve over the years to meet the changing needs of its members and the wider business community."
In December 2019, she became vice president, which enabled her to be actively involved in various local partnerships and relationships while representing the chamber as a voice for business within Stockport.
This has included The Economic Resilience Forum, Town Improvement, Economic Alliance and Manufacturing and Engineering Forums.
She said: "Like so many organisations in the last 12 months, we have had to adapt and change the way we do things during the pandemic. The agility of our organisation to move from physical meetings and face-to-face networking to virtual networking and support for our members has been the challenge we have met head on. It has allowed us to carry on the work we are good at."
Sharon added: "As President my key focus will be to strengthen relationships between the chamber, the council, businesses and the wider community in Stockport.
"I want us to be more visible and accessible to our members and our partnerships. I want us to engage and contribute to the creation of opportunities we have as a region."
Stockport Council welcomed Sharon's appointment. Caroline Simpson, deputy chief executive at Stockport Council, said: "Having worked with Sharon on Stockport's Economic Resilience Forum to support local businesses to survive the pandemic, I know that her appointment as Stockport Local President is brilliant news for the borough's businesses, the local community, the chamber, and the council."