People: Realm Recruit; Cassidy + Ashton; Artorius; Fisher German; Statiflo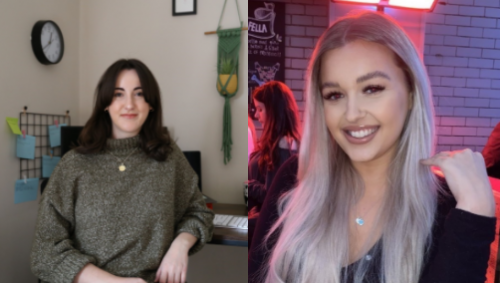 Legal recruitment consultancy Realm Recruit has strengthened its specialist team with the appointment of a new junior consultant and associate marketing executive.
Michaela Baddeley has swapped the law for legal recruitment after previously working as a litigation executive and has joined as a junior consultant. She will be progressing through Realm's comprehensive training programme with a view to becoming a practice area specialist.
The business has also decided to bolster its marketing team and welcome Lucy Cade as an associate marketing executive. Lucy, who has joined from another in-house role, will be looking after Realm's social media and contributing to the growth of the brand.
As the Altrincham business grows, her hire will help to make sure that it is maintaining a good ratio of support-staff to fee-earning recruiters.
Realm director, Duane Cormell, said: "I'm thrilled to welcome Michaela and Lucy to Realm.
"Their joining represents almost 100% headcount growth from the same point last year and as the team continues to expand, we are moving closer to achieving our aim of becoming the North West's largest team of specialist legal recruiters."
::
Architectural, planning and building surveying practice, Cassidy + Ashton, has appointed architect Lawrence McBurney to its board of directors.
Lawrence, who joined in 2000, will become a shareholder of the practice, which has offices in Preston, Chester, Mold and London.
The appointment recognises Lawrence's loyalty and commitment over the past 21 years and the positive role he has played in helping to expand the client base across the region.
Chairman, Alistair Baines, said: "The appointment recognises Lawrence's loyalty and commitment to our practice and the significant contribution he has made to our clients, business and team.
"Lawrence is a hugely talented architect and is unwavering in his commitment to his clients, while nurturing and supporting colleagues.
"In recent years he has been instrumental in securing some very exciting new projects across a range of sectors, helping the practice grow. The whole practice is delighted to see Lawrence join the board."
Lawrence joined shortly after completing his first honours degree at Queens University in Belfast and prior to finishing his studies at John Moore's University in Liverpool. In 2007 he became an associate at the practice with a particular interest in developing the quality and level of its design work. He was appointed a director in 2016.
He was instrumental in Cassidy + Ashton winning a prestigious RIBA National Award for the work on Preston Bus Station and has helped secure many other awards including Civic Trust awards and RTPI awards.
He said: "It is a great pleasure to accept this important appointment. Our client relationships are nurtured through a 'hands on' approach by the senior management team and we are greatly involved throughout each client project. In my new role, I will be able to build on my working relationships with clients and consultants and I am keen to ensure we continue to advance the quality of our architectural design work.
"We have seen the construction sector bounce back quickly after an initial halt due to the first lockdown in early 2020, and we are now busier than ever. Our extensive ranges of services stretch across all areas of the construction industry, so we remain in a strong position to react quickly to changes to supply and demand for services and we continue to deliver."
::
Independently owned wealth advisory firm Artorius has recruited Justin Minien to the role of senior lending partner.
In this newly-created role Justin will report to chief executive Paddy Lewis as Artorius expands its lending advisory capabilities.
Justin has previously worked as a lending specialist at Coutts, Metro Bank and Deutsche Bank, and his appointment follows recent Artorius hires including Paddy Lewis and Gareth Thomas, head of investment management.
Justin said: "I am delighted to be joining Artorius at this pivotal time in their expansion. The business has a distinctive client focused offering, and I am excited to be joining the team to develop lending advisory solutions for their client base who are financial services professionals and entrepreneurs across the UK requiring bespoke services specific to their individual needs, which can be complex."
Paddy Lewis said: "The group has demonstrated strong growth in recent years and is well placed to continue that trajectory with a compelling and differentiated client offering. Having a well thought through credit advisory solution, with whole of market access, will add another string to our bow in order to help our clients with their lending needs either in relation to their businesses, residential mortgages or for wealth planning purposes."
Artorius Wealth reported an adjusted EBITDA loss of £2m for the financial year April 30, 2020, versus a £500,000 loss in the prior year following significant investment in headcount during 2019 and 2020. The group anticipates recording turnover of more than £6m for fiscal year April 2021 during a break-even year, moving to profitability during fiscal year April 2022.
CFO Ian Bennett said "We are pleased with the continual progression on turnover and the development of our client offering, whilst maintaining control over costs in line with our business plan.
"Adjusted EBITDA has been impacted during FY 2019 and 2020 as we have invested significantly into client experience, systems and people. Our strategy has been rewarded with AUM (assets under management) growing by over £400m over the last two years, and a platform capable of taking us to our medium-term goals and beyond."
Established in 2015, Artorius is headquartered in Manchester and advises clients across the UK from its offices in Manchester, London and Zurich. The firm provides wealth planning and investment advice for financial services professionals, UK business owners and entrepreneurs, private equity professionals and individuals inheriting wealth.
Artorius manages about £1.3bn in assets and is owned by management, employees, and a small group of high net worth individual shareholders. Assets grew by £250m (circa 25%) in the nine months since April 2020.
::
Property consultancy Fisher German has made two senior promotions in the North West as part of the firm's ongoing growth.
It has promoted Stephen Buckingham, who is part of the firm's rural property management department, to associate director and building surveyor Alex Broad to senior associate.
Stephen joined the firm in 2018 and focuses on clients in the North West of England, working across property management, property sales and advising on matters such as Basic Payment Scheme (BPS) subsidies. He is also actively involved in the Cheshire Agricultural Valuers Association.
Alex Broad, based at the firm's Chester office, joined the firm in 2012 and leads the North West building surveying team.
Fisher German has made a total of 21 promotions across its offices, including three partner promotions, marking the firm's continuing success across a number of specialisms.
Stephen said: "The fact that Fisher German has made so many promotions this year shows both its resilience in these extraordinary times, and its commitment to rewarding those who have worked so hard during the last 12 months, keeping the business moving forward."
The announcement comes as the business formally merges with Birmingham-based Vine Property Management, which manages 51 million sq ft of retail, industrial and office property, following a deal in 2020.
Fisher German senior partner, Tim Shuldham, said it is fantastic to be in a position to make such a strong number of promotions after what has been an unprecedented year for the sector: "I would like to congratulate all of those who have been promoted and thank everyone across the business who has helped us progress during what has been an incredibly challenging time for the sector.
"It is a tribute to the quality and hard work of all our colleagues, the strength of our client base and the robust foundations of our business that we are able to make this announcement.
"Not only have we made 21 promotions across a variety of disciplines, we have also recruited 28 graduates into the firm with more positions to fill. During the last year Fisher German has maintained a seamless and quality service to our clients which we will continue to deliver going forward as we grow and strengthen the business further."
::
Engineering business Statiflo has promoted its general sales manager to director level and appointed him to the company's board.
Paul Buck, 37, joined Statiflo in 2008 as an applications engineer and has worked his way through the ranks to now become sales director.
Since moving into sales, Paul has helped grow exports in territories including Europe, the Middle East and Asia Pacific and has represented the company at a series of international trade shows and exhibitions.
Statiflo, which has its headquarters in Macclesfield, Cheshire, and subsidiaries in Germany and the US, says it is a world leader in the design and distribution of static mixers and other process equipment.
The company exports to more than 80 countries, supplying the water and waste water treatment industries and the oil and gas, petrochemical, marine, food and drink, pharmaceutical, pulp and paper sectors.
Paul, who graduated from Coventry University in design and technology, said: "I'm extremely honoured to join the board of Statiflo as sales director. What attracted me to the company back in 2008 was the wide range of industries and applications I would be involved with, coupled with the opportunity to travel to visit a truly global customer base.
"During my 13 years in the business I have gained a wealth of experience in the static mixer market while helping to grow our exports. I'm confident that, with such a strong sales team alongside me, we can maintain Statiflo's position as a world leader in the design and development of static mixing technology."
Managing director, Gareth Fry, said: "Paul has been general sales manager for some time and has demonstrated superb organisational skills. He has a customer-first focus and is a motivational leader of the team.
"It is always gratifying to be able to offer talented colleagues the opportunity to further their careers with us, and Paul fully deserves his promotion. He will play a key role in the future direction and growth of the business."