Approval recommended for 116-home scheme at former Horwich Loco Works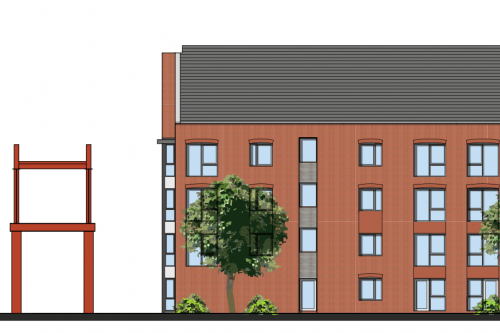 Manchester property group Bluemantle said plans have been submitted to Bolton Council for an affordable housing development at Rivington Chase, a 187-acre brownfield site on the former Horwich Loco Works.
The plans will provide affordable housing for 385 local people through a combination of family houses and apartments that total 116 residential units.
The site is being developed by Lane End Group for two social housing providers. Paddock Johnson is the architect behind the scheme with Cass associates as masterplan architects and Avison Young working as planning advisor.
Of the proposed 116 units, there are 40 one-bedroom apartments, 38 two-bedroom apartments, nine two-bedroom houses, 19 three-bedroom houses and 10 four-bedroom houses.
The four-storey apartments are split into two blocks either side of a central corridor, while the houses are arranged in terraced blocks of four to five to recreate the appearance of the former Loco Works, first opened in 1886.
To further mirror the distinctive character of the original site, the homes will use its materials palette and be located next to the heritage and community core of the Rivington Chase redevelopment. Key artefacts relating to the site's history and heritage will also be displayed throughout the development as an additional tribute.
The development will maximise the abundant open space throughout Rivington Chase with two pocket parks that will form part of a series of heritage parks across the site.
Bluemantle chief executive, Mark Caldwell, said: "I'm really pleased that we have managed to accelerate a development that will not only provide vital affordable housing for the community, but which also pays homage to history of the Loco Works.
"We understand the special place that the Loco Works holds in the hearts of local people, and I'm delighted that we will be able to give Bolton's next generation a place that they will be proud to call home."
The Lane End Group development forms a part of the £262m Rivington Chase regeneration scheme that was granted outline permission in 2015 for 1,700 homes and associated retail and leisure space on the former industrial site.
The wider Loco Works development is being developed by Bluemantle alongside Bolton Council, Homes England, HKR, and Network Rail.
In 2019, planning permission was granted for a £12m link road which will connect the site to Middlebrook Retail Park, Horwich Parkway Railway Station and junction six of the M61. It is understood that this affordable housing scheme will help accelerate the first phase of the construction on the link road joining the Lane End development to Chorley New Road.
The apartments will have 85 car park spaces to allow for both resident and visitor parking. Each two- and three-bedroom homes will have one space, while two spaces will be provided for the four-bedroom homes. To encourage the use of sustainable transport, covered cycle enclosures are provided for each of the apartment blocks.
The development will be built with sustainability at its heart, with measures taken to harvest rainwater and reduce water consumption both in the construction and operational phases, as well as the use of increased levels of insulation, low carbon technologies and renewable energy sources in the build, wherever possible.
Richard Harrison, Lane End Group managing director, said: "This is our first scheme in Bolton and we are delighted to be bringing much needed affordable homes to this area.
"Our business is based on strong partnerships and values and we are committed to developing a successful scheme and a quality product for our partners.
"We know the local community holds this area close to their hearts and that's why it's a great fit for our business as we continue to develop our expanding portfolio and for our social enterprise, Lane End New Beginnings, who will be very active once the site commences, working with not for profit organisations and those in need of support."
The development will be heard by Bolton Council at its planning committee on April 22. Bolton's planning officers have recommended it for approval.
Subject to planning, it is expected to be complete by February 2024.
It will be built on a phased basis and in coordination with the construction of a new link road and roundabout. The first phase of construction will be the northern part of the open space and the link road.