Opening preparations under way for Cumbrian country inn and hotel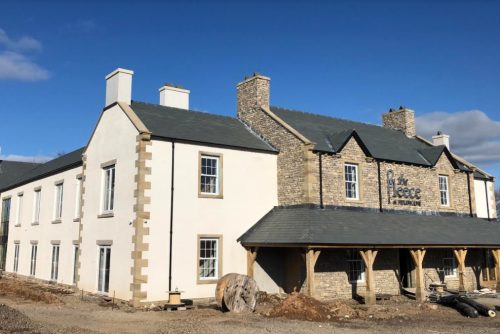 Building work on a multimillion-pound premium Cumbrian country inn and hotel is set to finish next month, with an opening panned for June when lockdown restrictions are due to be fully lifted.
The Fleece, at Ruleholme, Brampton, near Carlisle, has risen from the ground during the pandemic.
The team at the new venture, which sits alongside the A689, is promising customers a 'wow factor' when the doors to the pub, fine dining restaurant, function room and 23-bedrooms are thrown open.
Directors David Corkill and Robert Cowan say they are confident The Fleece will be a hit with customers keen to enjoy eating out and socialising again as the third lockdown eases.
Robert said: "This is a major investment at a time of great uncertainty.
"But we are forging ahead as we believe The Fleece will offer something unique for North Cumbria. It will attract residents and visitors in the county, from neighbouring Northumberland, from over the border and further afield."
There will be a unique 'theatre kitchen' experience where diners will be able to watch from their tables as their meals are prepared and cooked on giant vertical rotisseries and a charcoal grill.
Private booths will provide a more intimate eating experience for family and friends and weddings and events in Hadrian's Suite will step out into a landscaped garden area with views across the countryside.
Group executive chef, Stevie Murray, manager Scott Nicholson and weddings and events manager Scott MacGregor are busy behind the scenes working on the interior decor, choosing suppliers and designing menus.
Stevie, who was previously head chef at Walwick Hall Country Estate and Spa in Northumberland, and who has worked under world famous chef Albert Roux, said: "It's a very exciting time.
"The Fleece is stunning and I'm confident foodwise and just in general there isn't anything in the area of the same ilk, we are going to be very different."
He added: "I think when people walk in through the reception they will be blown away. It has a real 'wow' factor. Seeing the carpenters working on the oak beams with the old wooden mallets and chisels on the joints, it's just brilliant. You don't see things like that anymore."
The Fleece is currently recruiting its next layer of managers and it is expected around 50 more junior positions will need to be filled before the opening, currently set for June 21.