People: Napthens; Promedica24; Snowball; Key Group; AspinallVerdi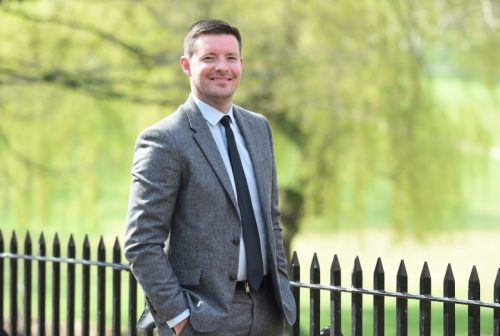 X

Register for free to receive latest news stories direct to your inbox
Register
North West law firm Napthens has welcomed senior associate solicitor James Stephenson to its Liverpool office, as part of its commercial litigation team.
Having qualified in 2010, James brings more than 10 years' experience in handling high value and complex litigation to the firm, having dealt with proceedings in all courts, including the County Court, High Court and Court of Appeal.
Acting for individuals and businesses in a wide range of industry sectors, James has spent his career working at major national and international law firms, gathering significant expertise and regularly advising on contractual disputes, professional negligence claims, shareholder disputes, commercial debt recovery and insolvency proceedings – relating to both bankruptcy and winding-up orders.
James has been recognised in the prestigious Legal 500 and has previously been recognised as a 'Rising Star' for both commercial litigation and debt recovery and listed as a next generation lawyer.
He said: "Napthens is a leading name in the North West legal sector and has truly established itself as a key player in Liverpool over the past few years. There's a real ambition within the team to make a mark, not just in the North West, but across the UK, so I'm excited to play a part in that over the coming years.
"The firm has a reputation for building strong, lasting relationships with its clients through quality service and that provides a solid foundation for the future."
In 2018 Napthens opened an office in The Plaza, Old Hall Street, to develop its presence in the city region and complement its existing locations across the North West, in Lancashire, Cumbria and Merseyside.
Gareth McIntegart, head of Napthens' Liverpool office, said: "Liverpool City Region is a key part of Napthens' future growth plans and James is another exciting addition to the growing team.
"Honing his craft here for the past 10 years, James knows Liverpool inside out and is exactly the kind of talent we are looking to attract. We have no doubt he'll build excellent relationships with our clients and his expertise will further enhance the skillset of our market leading commercial litigation team.
"Scaling our Liverpool office presence is firmly on the agenda at Napthens, and with James being our third significant appointment during lockdown, we are planning a number of further exciting announcements over the coming months that will benefit our internal teams and clients alike."
::
European live-in care provider Promedica24 has announced the appointment of Deborah Roxburgh as the new business development manager to drive growth in the UK market.
Deborah will be heading up business development in Southport and the surrounding areas, ensuring older and vulnerable people can easily access high quality, affordable and personalised care solutions in their own homes. She will be responsible for promoting the concept of live-in care in communities and identifying opportunities for local partnerships.
Deborah brings her expertise gained over an 11-year-long career in the care industry, having worked previously with young people and adults in residential homes and secure settings.
With an excellent understanding of care standards and regulations, more than four years of managerial experience, and first hand knowledge of caring for vulnerable people, her new position is a perfect fit. Most recently, Deborah worked as a care manager for a provider of specialist care for people with learning disabilities, autism, brain injuries and other complex needs.
Deborah said she recognises very well the desire for people to remain in their own homes when they need support: "Working in the care sector is extremely rewarding, especially when you can bring happiness and relief to families by ensuring their loved ones are safe and well looked after.
"Sadly, too often, I see older and vulnerable people leaving their homes to stay in residential care facilities when they would prefer to be in their own home, for the simple reason that they or their families are unaware of alternative care options. Live-in care is a fantastic concept, and I'm looking forward to bringing Promedica24's services to Southport, networking in the community, and raising awareness of live-in care as a viable and affordable alternative to residential care."
Darren Housden, sales director at Promedica24, said: "We are delighted to welcome Deborah aboard, and her expertise and experience will be invaluable to the team as we embark on our growth plans."
::
Macclesfield finance consultancy business, Snowball, has recruited a head of business development.
In his new role, Alex MacDonald will lead the business development strategy and be responsible for driving its relationships with introducers and raising the profile of the group.
Prior to this Alex has spent more than 14 years in banking and finance, working in both a high street bank and challenger bank setting across business development and portfolio management.
He is a specialist in the structuring and ongoing management of ABL facilities, providing working capital solutions to companies in the UK.
Alex said: "The Snowball Group is entering a really exciting phase of its journey. I am delighted to be a part of it and excited to play a pivotal role in how the business continues to expand.
"I am very impressed with the standard of work carried out by the team, I'm looking forward to advising the market on the value we add and working alongside such high calibre individuals as we continue to support entrepreneurs and UK SME's."
The Snowball Group is an independent advisory business which acts as trusted partners to entrepreneurs, property firms and UK SME's.
Through its FCAs directly authorised business, Snowball Alternative Finance, it secures funding for businesses through specialist independent advice and tailored support that puts the client first.
Snowball has access to more than 250 lenders
Chief executive, Peter Black, said: "We are delighted to welcome Alex to the team and are certain he will build strong relationships with the introducer and professional community and raise our profile. This is the part of the next stage of our growth strategy.."
Snowball Alternative Finance was launched in 2019 by Peter Black, a former senior banker, and Alwin Thompson, North West entrepreneur, and expanded its business and funding advisory services in 2020.
::
Key Group, the specialist provider of financial solutions to the over-55's, has appointed Sarah Hughes as its first national provider account manager.
Sarah brings with her almost 10-years' worth of experience gained at Tenet Group in a variety of roles including external provider relationship management. She will use these skills to help define this newly-created role which is designed to support the UK's later life lenders as they work with the various brands across Preston-based Key Group.
Each brand will naturally maintain its own individual contacts but Sarah will help to ensure the smooth running of these relationships and co-ordinate multi brand engagement with lenders.
Sarah will report into Gary Little, business development director at Key Group, who said: "We are delighted to welcome Sarah to the team as our first national provider account manager. Key Group, with its range of brands has multiple contact points for providers and a wide range of projects that need to be delivered so it only makes sense to ensure these are as well coordinated as possible. I look forward to working with Sarah."
Sarah said: "With the later life lending market growing rapidly, there are multiple touch points for providers across the Key Group brands. I am delighted to join the team to help better coordinate this contact and ensure that we are able to provide the best possible value to all our provider partners."
::
Property regeneration consultants AspinallVerdi has made key appointments nationwide following growth in client numbers and a strengthening pipeline of post-pandemic work.
Founded in 2009 by chairman Atam Verdi and managing director Ben Aspinall, the independent provider of property regeneration consultancy to clients in the public and private sectors takes its workforce to 23 following the appointments at its headquarters in Leeds and regional offices in Liverpool and London.
Despite the past 12 months being impacted by the COVID-19 pandemic, AspinallVerdi has started 2021 with a strong pipeline of work while looking forward to the remainder of the year with confidence.
Joining the Liverpool office, headed by director Andy Delaney, are Richard Grocott and Jessica Lowe.
Andy joined AspinallVerdi in the summer of 2019 and has built up a strong portfolio of work for a range of clients including SSE, Homes England, Torus, Wirral MBC, BDP and Mott MacDonald.
Richard spent four years in the Westminster office of Fylde MP Mark Menzies including working on the MP's support for a successful bid by Fylde Council for Kirkham to secure almost £6.3m from the Government's Future High Streets Fund and was also involved in the long-running issue of fracking near Poulton-le-Fylde.
Prior to this experience, Richard graduated from Liverpool John Moores University (LJMU) in 2016, and having returned to his native North West, is completing his MSc in real estate at the university.
Jessica graduated from LJMU with a degree in business management and is also completing her MSc in real estate at the university.
Andy Delaney said: "I'm delighted that Richard and Jess have joined the Liverpool office and I look forward to seeing them develop their careers in real estate. The political angle is a very important part of regeneration and planning, so Richard's political experience is a really interesting addition to the company's collective skill set. Jess has hit the ground running and will be a great addition to the team."
Chairman Atam Verdi said: "The dedication and hard work of our staff allowed AspinallVerdi to emerge from the unprecedented challenges of the past year with a growing client base and bright prospects for the remainder of 2021, allowing us to create further career opportunities by recruiting these latest members of staff.
"Ben and I welcome them all as key additions to our team as we continue to provide best-in-class levels of service to our clients in the public and private sectors."