People: Dow Schofield Watts; One Manchester; Morecrofts; University of Manchester; Glaisyers Solicitors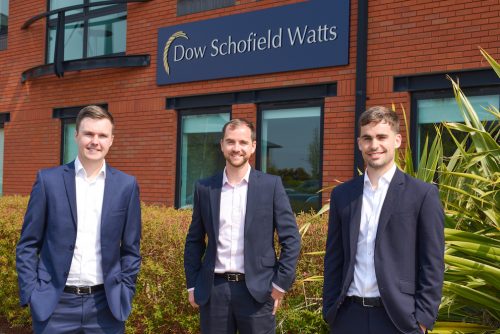 Independent advisory firm Dow Schofield Watts has announced a series of promotions at its North West office in Daresbury.
In the transaction services team, Rob Parker has been promoted to director and Rebecca Smith to manager. Rob joined Dow Schofield Watts in 2015, having previously worked at Grant Thornton, while Rebecca joined in 2019 from PWC.
Ed Brentnall, who heads the transaction services team, said: "The past 12 months has tested us all, but it has also been our busiest trading period to date. In view of the challenges, both promotions are hugely well deserved."
Meanwhile in the corporate finance team, Dan Walker and Tom Dutton have been promoted to the role of associate director, and Ross Thomas to manager. Dan and Tom joined the firm in 2017 from KPMG, while Ross arrived in 2019 from Kingspan plc. During their time at Dow Schofield Watts, they have advised on a combined total of more than 40 deals.
Gregg Pendlington, director in the corporate finance team, said: "These promotions recognise the hard work put in by Dan, Tom and Ross. They continue to make key contributions to our business."
::
Housing group One Manchester has appointed a new chair of the board, Yashar Turgut, who starts at the end of May.
Yashar is an entrepreneur and business owner with almost 20 years' commitment to the social housing sector through board membership. He has held positions on boards of locally based, single authority associations focused on large scale regeneration projects as well as a national provider.
He was previously chair of the board of a wholly owned repairs and maintenance company within an association, responsible for driving through significant improvements in customer experience, efficiency and substantial growth.
Having come to the city for his studies, Yashar lived in Greater Manchester with his family for more than 44 years, establishing businesses in electronic security, CCTV, fire systems and electrical contracting.
Yashar describes his appointment to One Manchester's board as "an honour".
He added: "I am delighted to have been appointed as the new chair of One Manchester. I'm a firm believer in the role of associations and the importance of the social value they deliver, and One Manchester is an excellent example of this in practice.
"I'm committed to the creation of inclusive organisations, services and places that allow everyone to achieve their potential. I look forward to joining the team and contributing to its continued success and I am excited to get started."
Nic Kershaw, One Manchester chief executive, said: "We're so pleased to welcome Yashar to One Manchester. His knowledge and expertise in customer experience and his dedication to inclusivity is a fantastic fit for our organisation.
"We're excited to have him on board, and we look forward to working with him to support our customers, colleagues and communities."
Current chair, Stephen Mole, is leaving to relocate and be closer to his family.
"The whole of One Manchester is extremely grateful to Stephen for his dedication and direction" said Nic. "We wish him all the best for the future."
::
Morecrofts Solicitors has recruited highly experienced employment lawyer Sarah Hobson as an associate and has also made several senior promotions and hires at its offices across the Liverpool City Region.
Hobson arrives following a 13-year spell at Weightmans, where she worked extensively with in-house legal and HR departments. She is also an experienced advocate and has appeared at tribunals on behalf of clients across the UK.
Her role within Morecrofts' employment and HR team will see her deal with a range of contentious and non-contentious matters, including settlement agreements, on behalf of employers and employees.
Among those earning promotion are Eleanor Cockrell, Kim Okell and Rhea Munro, who have each become senior associate solicitors. Michael Gossage and Simon Higgs have also been promoted to associate solicitors at the firm.
Secretary Tracey Winter has been promoted to the role of paralegal, while costs draftsperson Aimee Roberts has become team manager of the firm's fee unit. Meanwhile, two new paralegals, Ella Jackson and Kerry Bennion, have also been added to Morecrofts' award winning family law team.
Sarah Hobson said: "As a lawyer working in and around the city for many years, I have been impressed to watch the continued expansion of Morecrofts' client services around employment and HR issues. This feels like a natural new home for me to further develop my career and broaden my experience of supporting clients in a range of complex and sensitive issues."
Alison Lobb, managing partner at Morecrofts Solicitors, said: "Our employment and HR team continues to grow apace and Sarah is an excellent, high calibre addition to our firm. She brings a depth of distinguished experience, not only in legal services but also in advocacy, and her skill set will be an invaluable asset to our clients in future years.
"Across the firm, we are constantly looking for ways to develop our service to clients and reward the efforts of our staff and this is reflected in the high number of promotions and new recruits in various teams.
"We're proud that Morecrofts is a firm where exceptional people build their careers, as we invest a lot of time and resource into our younger lawyers and give them a clear pathway. This is reflected not only in the number of our senior team who have risen through the ranks, but also by the fact we have awarded our highest-ever number of training contracts this year. This latest round of promotions and recruitment is another chapter in that story of success."
::
Renowned scientist and venture capitalist, Dr Gerald Chan, has been made an Honorary Professor of Translational Medicine at the University of Manchester.
The appointment recognises Dr Chan's long standing commitment to using science to improve the health and wellbeing of society.
Through Morningside, a private investment group which he set up with his brother in 1986, Dr Chan has spent his career combining science and business leadership in the world of public health.
Together with academic scientists, Morningside has started more than a dozen biotech companies covering a variety of disease areas. The portfolio's geographic footprint spans across America, Europe, China and Australia.
In recent years, Morningside has been a pioneer in the digital transformation of medicine and healthcare by using data and machine learning to solve difficult problems in drug design, diagnosis of autism and neuro-degeneration, and provisioning of mental health support.
Dr Chan said: "Throughout my career as a scientist and as an investor, translating science into practical solutions that improve human health has been my core motivation. As someone who is passionate about finding innovative and affordable healthcare solutions that address global health inequalities, I am honoured to be affiliated with a university whose commitment to real world impact is genuinely world leading. I feel honoured to receive this recognition from The University of Manchester and look forward to partnering with the university to help shape its future research agenda."
The university's President and Vice Chancellor, Dame Nancy Rothwell, said: "We are extremely fortunate to benefit from Gerald's extraordinary passion and talent, both as a business leader and scientist. His vision to translate cutting-edge science into practical, affordable solutions mirrors our own commitment to address some of the world's most pressing health challenges."
Prof Graham Lord, Vice-President and Dean of the Faculty of Biology, Medicine and Health at The University of Manchester said: "Our faculty has a bold vision to revolutionise healthcare in a number of ways: Discovering the root causes of disease; preventing and detecting disease earlier; and developing the next generation of treatments that are tailored to each patient's individual needs.
"Having someone of Gerald's eminence as a partner and critical friend on this journey will be a huge asset to the university, and we warmly welcome his ideas and input."
::
Glaisyers Solicitors has taken on seven new members of staff as it continues to grow a number of its key practice areas. The new starters will bolster its Legal 500 ranked litigation practice, its property and costs teams, and its administration department.
The Manchester-based firm's growing litigation team, led by executive partner David Jones, has welcomed a further four new lawyers on board. These are senior associate Kathryn Parrish, solicitors Shameem Ali and Michael Wilson, and legal assistant Owen Coyle.
Ms Parrish, who join from Kuits, is recommended by the Legal 500 and has been recognised by the directory as a Rising Star in Commercial Litigation for two years running. Her role covers a wide range of high value and complex commercial disputes and she has a particular specialism acting for lenders, and associated professionals, in recoveries and enforcement work.
Her new role not only reunites her with David Jones, but also Glaisyers' managing partner and head of property David Marlor and commercial litigation partner Daniel Fitzgerald, all of whom had previously worked together at Kuits. Mr Jones and Mr Marlor left Kuits in 2018 to lead a management buy-in at Glaisyers with the backing of the international professional services group ETL Global.
Ms Ali, who most recently worked at SAS Daniels, qualified as a solicitor in 2017. She acts on behalf of companies, partnerships and private individuals on a wide range of commercial matters including property disputes, contractual disputes, and company and shareholder disputes.
Mr Wilson, who regularly acts for SMEs and high net worth individuals, has experience ranging from contract, shareholder, partnership, property, landlord and tenant, and business disputes to professional negligence and Inheritance Act claims. He has been involved in litigation for more than eight years and has joined Glaisyers from the Chester firm, Aaron & Partners.
Mr Coyle, who has almost a decade's experience in litigation, has previously worked for a number of law firms around the North West of England and will qualify as a solicitor imminently. He has recently worked on the high profile British Airways, VW Emissions and Mercedes Emissions class action claims.
David Jones, executive partner and head of litigation, said: "Our litigation team continues to grow at pace, and I am thrilled to be joined by such a skilled group of lawyers. Demand for litigation is likely to grow rapidly over the months ahead, as businesses come out of lockdown and take stock, but we are also building a superb team for the long term and are determined to become even more of a force to be reckoned with, regardless of market conditions."
Glaisyers' fast growing property practice, meanwhile, has welcomed solicitor Kathryn O'Rourke to its team. Ms O'Rourke, who previously worked at Gorvins, is a residential property specialist whose experience includes freehold, leasehold, new build and re-mortgage transactions.
Maariyah Patel, who holds a Masters Degree with Distinction in Law, has joined the firm's well respected costs division as a consultant. Working alongside Glaisyers' head of costs, Michael Fletcher, her role involves preparing bills and statements of costs, negotiating costs and drafting points of dispute.
The firm's administrative team, which is led by partner and practice manager Sue Rocca, has also expanded with the appointment of Simon Waterworth as credit controller. Mr Waterworth has previously held similar roles at Lloyds Bank and other professional services firms.
Mr Jones added: "I am incredibly proud of the way we have managed to continue to grow the firm throughout the pandemic, which is testament both to my amazing colleagues and the support we have continued to receive from our corporate partner, ETL Global. I would like to welcome all of our new team members on board – I am sure each of them will play a big role in what is shaping up to be one of the most exciting years in our firm's history."