Strong demand drives expansion of China-Liverpool container service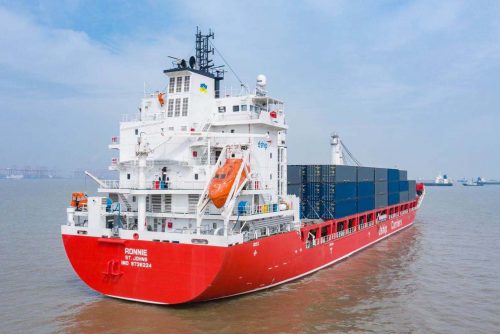 Shipping line DKT Allseas is extending its services between China and Liverpool.
This follows the success of its temporary supply chain critical services from Shanghai and Ningbo to Liverpool.
Now, DKT Allseas – part of Allseas Global Logistics – has announced it will create further Far East services.
In response to overwhelming demand, the first of the additional services has been scheduled for early May 2021, with plans to continue operating the service as a regular call in the future.
The new initiative was launched by Allseas at the start of the month to provide relief to customers facing increased ocean freight rates, as well as reduced reliability, as a result of knock-on effects relating to the global pandemic.
Allseas has worked closely with Peel Ports to ensure it can offer its customer supply chain resilience, bypassing southern ports and move its cargo entry point to the Port of Liverpool, which is closer to its end destination.
Its first three sailings will be operated at full capacity, from the Far East direct to Liverpool.
Darren Wright, managing director, Allseas Global Logistics, said: "The early success of our China to Liverpool service highlights the need of cargo owners for resilient, reliable and cost effective supply chain solutions.
"Our first three sailings were completely sold out in short order and we have now fixed an additional three sailings and looking to introduce further services over the next few months, working towards a longer term frequent Far East service for our customers."
He added: "The unique advantage of focusing on Single Port of Loading and Single Port of Discharge offers a more robust solution, especially for time-sensitive goods as we mitigate the serious problems of port congestion, our aim is to fix longer term vessel contracts and close the transit gap to give rail freight a run for its money, but at a much more cost effective proposition."
Owner and operator of Port of Liverpool, Peel Ports, has worked with Allseas since February to facilitate this new Far East service, which will offer greater reliability and competitive freight options for cargo owners.
Port of Liverpool, along with its multimillion-pound deep water container terminal, Liverpool2, is well positioned as a viable call for Far East services and deep sea lines. It offers close proximity to markets, creating a more reliable and sustainable way for cargo owners to get their goods to their end destination – a need which has been crucial during the past 12 months.
David Huck, Peel Ports managing director, said: "The success of the Allseas services shows there is demand for a direct China to Liverpool service.
"We've worked closely with Allseas over the last few months to provide a gateway from the Far East direct into the heart of the UK's cargo owning community.
"We've even been able to use our networks to introduce them to new customers who have previously expressed a desire to switch cargo to direct call services to Liverpool due to the reliability, resilience and cost benefits offered to their wider supply chain."
He added: "Whilst this service accommodates the smaller feeder-size vessels, our continued investment into our Liverpool2 deep water container terminal also means we can handle some of the world's largest vessels and facilitate deep sea routes, strengthening our position as a viable call for Far East trade."
Simon Dixon, head of commercial (containers), said: "A reliable supply chain partner provides assurance to cargo owners during challenging times to ensure the safe and timely delivery of their goods to their end destination.
"As a business, we have continued to drive forward with planned investment in people, infrastructure and technologies and by working with Allseas we hope to encourage, off the back of the inherent need of cargo owners, a successful Far East direct call into Liverpool on a permanent basis.